New Amsterdam Producer Drops Details On How Max Will Forge On Without Helen In Season 5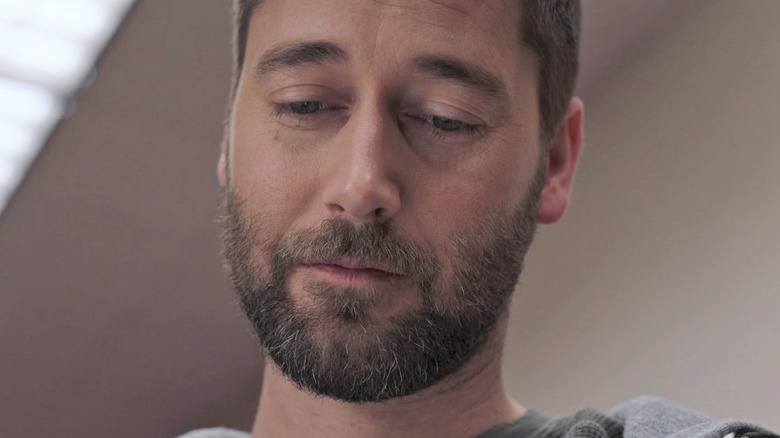 NBC
Over the first four seasons of its primetime run on NBC, "New Amsterdam" has proven to be an emotional rollercoaster for anyone who's engaged in the drama within the walls of the titular hospital. Much of that drama has, of course, been centered around Dr. Max Goodwin (Ryan Eggold), whose romance with fellow doc Helen Sharpe (Freema Agyeman) became central to the series' overarching narrative in its 4th season.
Fans of the series were rightfully devastated by the show's Season 4 finale, which found Sharpe leaving Max at the alter via a weepy phone call. Indeed, that goodbye turned out to be permanent, with Agyeman announcing she would not be returning to "New Amsterdam" for its final season in a heartfelt Instagram post back in July. Series executive producer Peter Horton confirmed her departure with his own statement to Entertainment Weekly, which more than left the door open for a possible final season return. "We wish Freema the best of luck on her next chapter," he said, "and the doors of 'New Amsterdam' will always be open if she wishes to return!"
That return seems unlikely, however, with Horton recently telling TV Insider that Sharpe's absence will play a big part in Max's Season 5 arc. Here's how the "New Amsterdam" frontman will forge ahead without her.  
Tough times may be ahead for Max in New Amsterdam's final season
As most "New Amsterdam" fans have surely surmised by now, things are going to be tough for Dr. Max Goodwin when the series returns for its final season. Peter Horton himself confirmed that very fact in his comments to TV Insider, offering, "The right thing at the wrong time ceases to be the right thing anymore." Horton went on to add, "This is a theme Max will have to wrestle with in his relentless longing for Helen ..." 
From those statements, it's clear that not only will Max still be reeling from the heartbreaking departure of Dr. Helen Sharpe when Season 5 of "New Amsterdam" begins, but he may continue to do so throughout much of the final batch of episodes. According to Horton, Max will also spend much of that time channeling his emotions into keeping his pals and his hospital on track. And it'll no doubt help that he'll reportedly be back in charge of things at New Amsterdam in the final season after briefly stepping down in Season 4 as he'd planned to move to London with Helen.
With Helen out of the picture, and Max's love life likely taking a back seat in the final season, "New Amsterdam" fans should expect some of the series' supporting players to get a beefed-up role moving forward. Per the TV Insider piece, that includes Sandra Mae Frank's Dr. Elizabeth Wilder, who's getting bumped up to series regular. "New Amsterdam" fans can see for themselves how things play out when the final season debuts on September 20, 2022.