Looper Asks: What Do Fans Think Is Chris Hemsworth's Best Role? - Exclusive Survey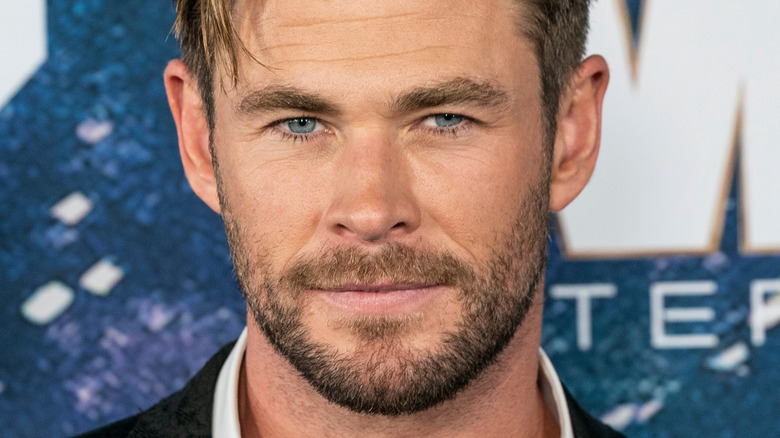 lev radin/Shutterstock
Chris Hemsworth's rise to fame went a little faster than others, kicking off his acting quest in 2002 on Australia's "Guinevere Jones." He landed one of his biggest gigs in 2004 on the soap opera "Home and Away," where he played Kim Hyde for 192 episodes. But in 2009, Hemsworth broke into American cinema in "Star Trek," where he played George Kirk, the father of Chris Pine's James T. Kirk.
Hemsworth has almost 50 credits to his name, appearing in some of Hollywood's biggest franchises. The Aussie has starred alongside some of the most prominent names in the business, including Christian Bale, Jeff Bridges, and Charlize Theron. While some not-so-great films are on his resume, many are loved by his fans. So we wanted to find out which role Hemsworth's supporters feel is his best to date. Looper polled over 600 United States residents, offering them six of Hemsworth's most well-known roles, and asked them to choose their favorites. We'll give you two guesses to name which character landed at the top of the list, but you'll only need one.
Chris Hemsworth fans are loyal to his biggest role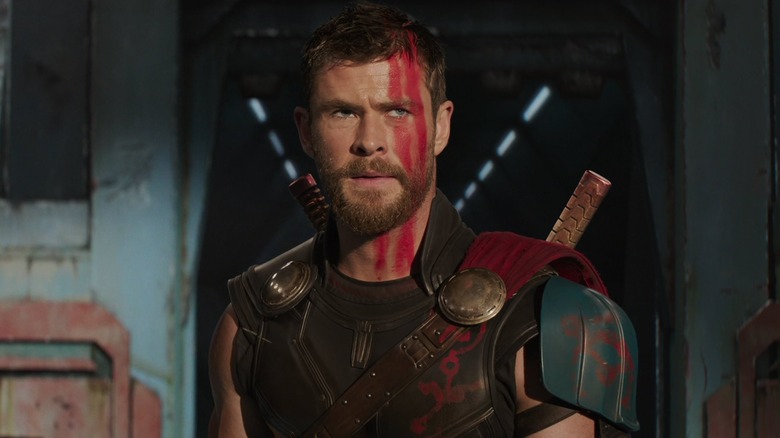 Marvel Studios/Disney
In a bombshell no one saw coming, respondents of Looper's survey chose Thor as Chris Hemsworth's best role ever. Almost 51% of the vote went to the God of Thunder, which Hemsworth has played since 2011's "Thor." Appearing in eight films, nine including the "Doctor Strange" post-credits scene, Hemsworth is one of the most active actors in the MCU. He's also not set to retire anytime soon and wants to keep the MCU role for as long as possible. We're guessing we'll see Thor in the upcoming fifth and sixth "Avengers" films, which will premiere in 2025 — but Hemsworth is yet to be confirmed.
The number two spot in our poll is where things get less unpredictable. With 14.12% of the vote is Kevin from "Ghostbusters." Hemsworth has a minor role in the film, playing the assistant to the female team of Ghostbusters. The film showed Hemsworth could deliver in a comedy film, and some would argue that he stole the show. Despite only having a handful of scenes, Hemsworth was one of the only good things about the film, which moviegoers absolutely destroyed despite critics giving it a break.
In third place, with 11.69% of survey participants selecting it is James Hunt, from 2013's critically-acclaimed "Rush." Following rival Formula One drivers in 1976, "Rush" proved Hemsworth could play a serious drama role and was praised for his performance. The film received an 88% score on Rotten Tomatoes for both the critic and audience responses.
Fans of Hemsworth also love his earlier works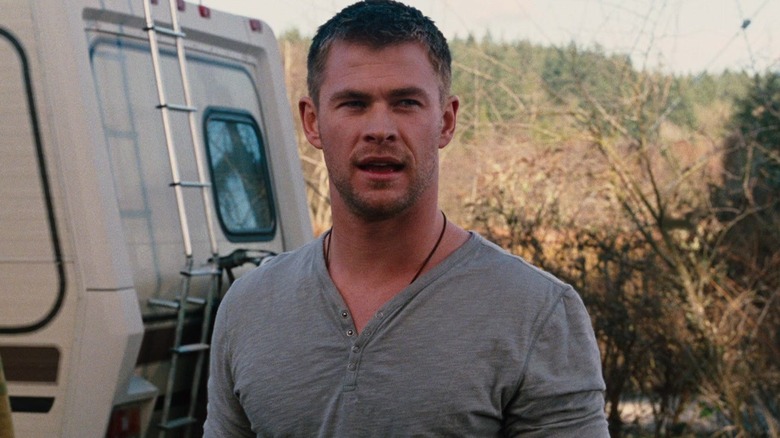 Lionsgate
Falling in the fourth spot, just barely behind James Hunt, is Curt from "The Cabin in the Woods" with 11.36% of the vote. Perhaps one of Chris Hemsworth's most under-appreciated gems, "The Cabin in the Woods" is a fantastic horror-comedy worthy of a watch. Among a group of college students staying at a friend's cabin, Curt is the athlete fulfilling the traditional trope in a horror film that plays a more significant part than you'd expect.
With 6.17% of the vote is Tyler Rake of Netflix hit, "Extraction." Hemsworth's Rake was a former Australian Special Agent, now a black market mercenary for hire. When an Indian drug lord's son is kidnapped, Rake is hired to bring him home. Despite seemingly dying in the end, Rake makes it out alive and will appear in the upcoming "Extraction" sequel set to release at the end of 2022.
Falling at the bottom of our poll is Billy Lee from "Bad Times at the El Royale" with 5.68% of voters selecting it. In a stacked cast led by Jeff Bridges, Hemsworth's Billy Lee is a cult leader who preys on the weak and gathers a group of loyal followers willing to kill. The film was appreciated by critics and moviegoers and is undoubtedly one of the better Hemsworth films outside the MCU.