The Evil Yet Genius Prank Alexander Dreymon Played On His The Last Kingdom Co-Stars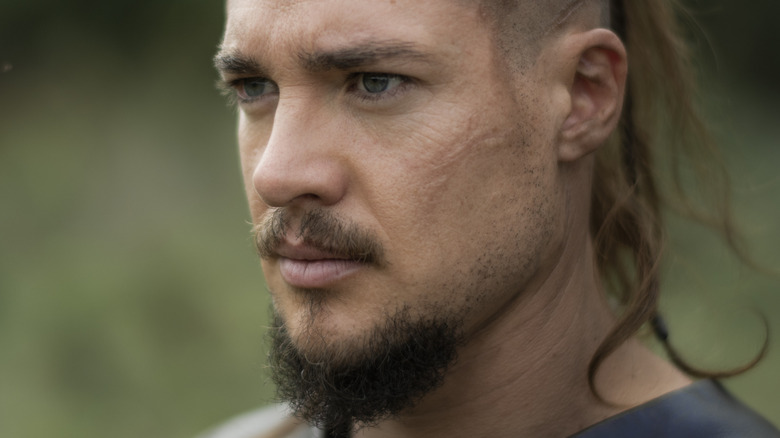 Netflix
Based on the book series "The Saxon Stories" by Bernard Cornwell, the historical fiction show "The Last Kingdom" aired for five seasons from 2015 to 2022. The series focuses on a Saxon-born warrior named Uhtred (Alexander Dreymon), whose father is killed by an invading Viking army when he's still just a child. He is then taken in by Danish warlord Earl Ragnar (Peter Gantzler) and raised in a Viking camp alongside another captive named Brida (Emily Cox). Uhtred grows up to become a formidable fighter, but tragedy strikes for a second time when a fire set by a rival Viking kills most of his adoptive family, including Ragnar. Enraged, he sets out to avenge Ragnar's death.
The series features an impressive ensemble cast — alongside Dreymon, Gantzler, and Cox, the main cast of Season 1 includes the likes of David Dawson as King Alfred and Norwegian actor Rune Temte, best known for playing Bron-Char in the Marvel Cinematic Universe. Plenty of other talented actors joined the ranks along the way. As it turns out, Dreymon had a prank planned for one of the incoming cast members as a way of welcoming them to the set — and it was as evil as it was genius.
Dreymon used costuming to prank a new cast member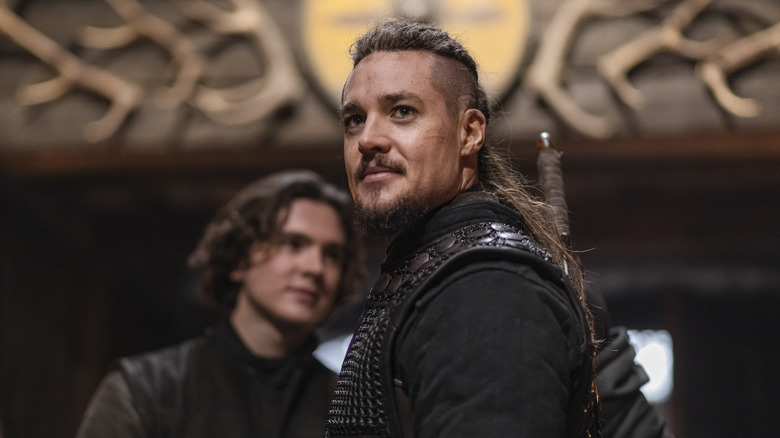 Netflix
In March of 2022, some of the cast members of "The Last Kingdom," including star Alexander Dreymon, sat down with Cosmopolitan to promote the fifth season of the show. During the conversation, Dreymon revealed that he pranked one of the new cast members, Harry Gilby, who had been brought on board to play the character Aethelstan.
Dreymon explained that he presented the makeup team with a picture of Angus Imrie's Prince Arthur from the series "The Spanish Princess." The character has a short bob with bangs that only cover half of his forehead. The Starz show contains a number of historical inaccuracies, though this isn't one of them. "This haircut was all the rage for teenage boys in Tudor England — and Arthur genuinely rocked this tragic bowl-cut look," Entertainment Weekly said after the show premiered. Dreymon thought it would be hilarious to make Gilby think his character was going to have the same haircut.
"We got [our makeup artist] to prepare this wig for him and we fitted him with the wig," Dreymon revealed. "He was too shy at the beginning. He didn't know yet how much he could push [back] or how much influence he could have on it. He kept saying, 'Are you guys sure? Because I feel like he's supposed to be a warrior and it doesn't really look like a warrior. He doesn't feel tough enough.' We kept it going for a long time."
The actor noted that he would tend to prank cast members right at the beginning — before they realized his affinity for pranks. Dreymon concluded, "Since then [Gilby] doesn't believe in anything we say anymore."
Dreymon has nothing but love and praise for his castmates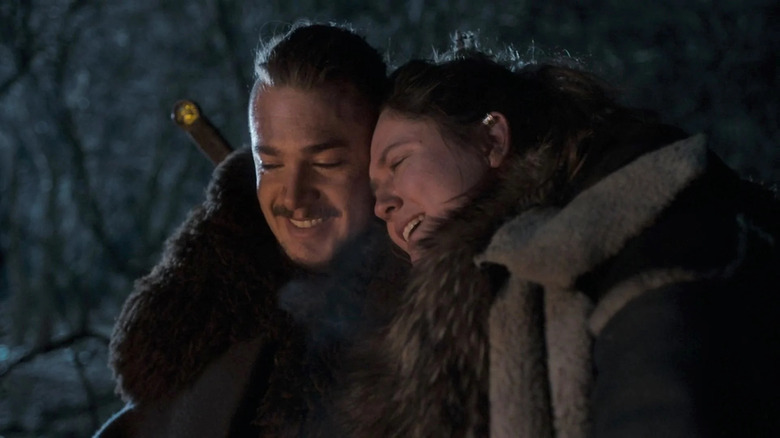 Netflix
Despite all the pranks he pulled on them, Alexander Dreymon has nothing but love and respect for his castmates on "The Last Kingdom." In an August 2020 interview with Backstage, Dreymon was asked how close he is with the rest of the cast and his answer shows how fond he is of them. "It's like coming out to play with your best friends every day," the actor said. "It's truly amazing. Of course, that affects the time on screen, you live through so many experiences together. I think it makes your time as an actor a lot easier because I trust the people I work with on 'TLK' so much. Whatever I throw at them, I know that they're going to have my back, and vice versa."
Later, in a March 2022 interview with Variety, Dreymon sung the praises of some of his cast members on an individual basis. For example, Dreymon noted that Emily Cox, who plays Brida, makes for a fantastic scene partner because of her spontaneity as an actor. "She is open and willing to run with anything that you throw at her and she gives you so much back," he said. "And you know that when it comes to an emotional scene like that you're in great hands working with somebody like Emily." He also said that he was blown away by the performances of Timothy Innes as Edward, Millie Brady as Aethelflaed, and Ruby Hartley as Stiorra.