The One Person We Can Thank For The Adam Sandler We Know And Love Today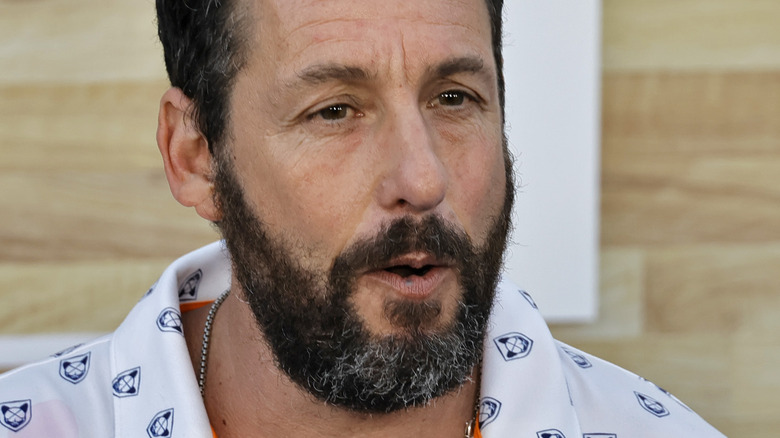 Kevin Winter/Getty Images
Actor and comedian Adam Sandler has been providing full-bellied laughter to families for generations with classic funny films like 1995's "Billy Madison," 1996's "Happy Gilmore," and 1998's "The Waterboy." He's notorious for his comedic style and family movies that he often stars in with fellow comedians.
Sandler got his big break in 1990 when he joined the cast of the popular live comedy show "Saturday Night Live" (per IMDb). While on the show, he became known for songs that provided a hilarious take on everyday subjects, like his Season 19 song "Lunch Lady Land," where he played guitar and sang while fellow legendary comic Chris Farley danced around him in full high school lunch lady attire. More recently, Sandler has taken on more than just comedy with his role in the 2019 film "Uncut Gems," where he plays a jeweler who landed himself indebted to the wrong people.
How did the masses get so lucky to have a personality such as Sandler provide entertainment to multiple generations? Well, there are a lot of things many of us probably never knew about Sandler. While his movies stand the test of time and keep audiences happy to watch whatever project he puts out, there's a slight chance that the world might not have gotten to experience Sandler if not for one person.
Adam Sandler trusted his family enough to take the leap into showbiz
Featureflash Photo Agency/Shutterstock
In a 1994 interview, republished in 2020 by Interview Magazine, Adam Sandler sat down with fellow actor Ben Stiller. He said he wouldn't have leaped into the world of show business had it not been for his brother giving him the push he needed. "My brother told me to do it, so I did it." Sandler continued, "If he hadn't said to do it, I wouldn't have thought it was a normal thing to do. I would have said, 'Mom and Dad are going to get mad at me.' But because he told me to do it, and I knew that my parents respected his brain, I was like, 'He said to do it, so it must be okay.'"
Thankfully, this major family influence gave Sandler the courage to pursue his career in acting. He even had to fight to work through his stage fright to climb to the top. He did this through his guitar, as he details in an interview with "60 Minutes" published by CBS. "I was so nervous every time. Then I'd get up there, and I wouldn't remember what I was supposed to say and go blank. And you have the guitar in your hands, and that way, I was at least doing something." This creative approach to overcoming fear led to some of his most well-loved performances. Fans of Sandler can be forever grateful to his brother for giving him the confidence to pursue comedy, as there are things that happen in every Sandler movie that audiences will no doubt continue to love for years to come.