The One Argument That Convinced Angelina Jolie To Play Lara Croft In Tomb Raider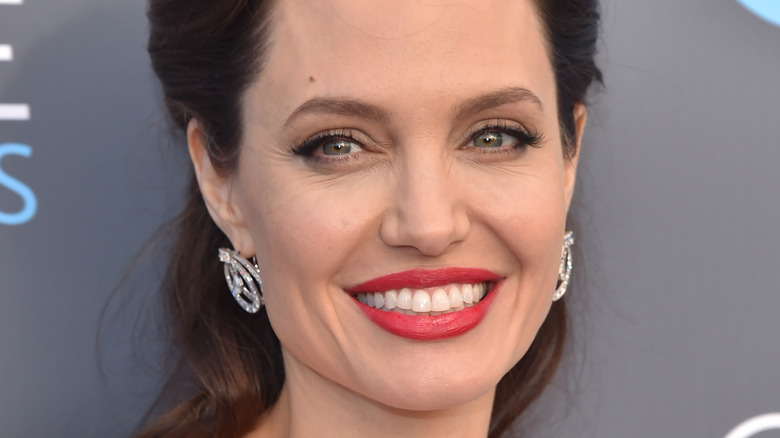 DFree/Shutterstock
Angelina Jolie has dazzled audiences in a variety of roles that naturally have become a staple of Hollywood. From her action-packed part in Marvel's "Eternals" to her tender and terrifying titular character in "Maleficent," Jolie is an unstoppable force consistently delivering distinctive performances. Her range of talent is undeniable, and can be encapsulated in films like the techno-thriller "Hackers," family animated hit "Kung-Fu Panda" voicing the fierce Tigress, skilled bullet curving assassin Fox in "Wanted," and vulnerable portrayal as Lisa in "Girl, Interrupted."  
Lisa won Jolie her well deserved Academy Award for Best Supporting Actress in 2000. She would then go on to front run the video game adaptation series "Tomb Raider" in 2001, which was unfortunately met with dismal reviews. Rotten Tomatoes gave "Laura Croft: Tomb Raider" an upsetting and rotten 20% score from critics. Fans, however, were more forgiving and scored the film a more generous 47%. 
Video game adaptations are notoriously difficult in the film industry. The 2018 "Tomb Raider" remake starring Alicia Vikander set out to revive the franchise but was similarly met with a disappointing 55% on Rotten Tomatoes. Notably, the problems with the original film weren't the failings of actress Angelina Jolie. The main review on Rotten Tomatoes praised her performance and flawless embodiment of the character. However, the failures lie in a messy script lacking both clarity and emotion that Jolie could've easily equipped Croft with given the proper tools. 
A once in a lifetime experience drove Jolie to Tomb Raider
Angelina Jolie was apprehensive at first to take on the task of embodying such a legendary character. The video game series is a pop-culture hit etched deep into the hearts of passionate fans. Portraying such a popular character can be very daunting, especially if a positive response isn't all but guaranteed. 
When doing press for her heart-pounding 2021 firefighter drama "Those Who Wish Me Dead," Jolie took a moment to sit down with Collider. The acclaimed actress went behind the scenes revealing the interesting casting process for "Laura Croft: Tomb Raider." At first, she was extremely hesitant to take on the role, unsure if it was quite right for her. She then reveled in the value of doing her own stunt work and what the experience meant to her.
"I actually didn't at first want to do it; I said no. But they said you can travel the world and train with the British Military and so I had three months of seeing what I could do." She then gave valuable life advice that has no doubt helped her immensely in her career. "I would encourage anybody to do that. Sign up for as much as you can, give yourself a few months, push yourself to the limit and see, 'What can I do?'"