12 Best Shows Like Ms. Marvel That You Should Watch Next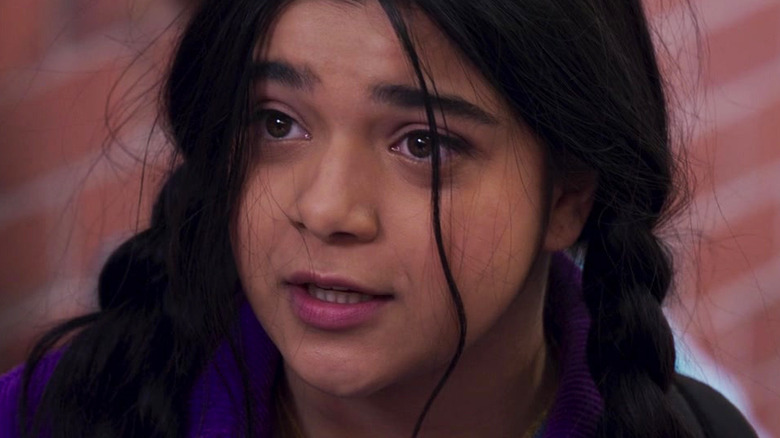 Disney+
Disney+ series "Ms. Marvel" brings New Jersey teen Kamala Khan (Iman Vellani) into the Marvel Cinematic Universe. A Captain Marvel fangirl with a truly massive imagination, Kamala's superhero dreams suddenly come true after a mysterious bangle grants her cosmic powers. This charming series received an avalanche of positive press that praised the show's fun visual style, heartwarming characters, nuanced exploration of Pakistani American culture, and refreshing optimism. The cast overflows with charisma, especially Vellani: Her performance in the lead role is an absolute triumph. 
Even within the crowded confines of the MCU, "Ms. Marvel" manages to feel like something totally new. That's exciting, but it also presents a problem: What's a fan who's devoured all six episodes supposed to follow it up with? Not to worry — we have the answer. While "Ms. Marvel" definitely breaks new ground, it's not the only series to tackle superpowered teens inheriting complex legacies. From supernatural sagas to coming-of-age anime series, these are the 12 best shows fans of "Ms. Marvel" should watch next.
Avatar: The Legend of Korra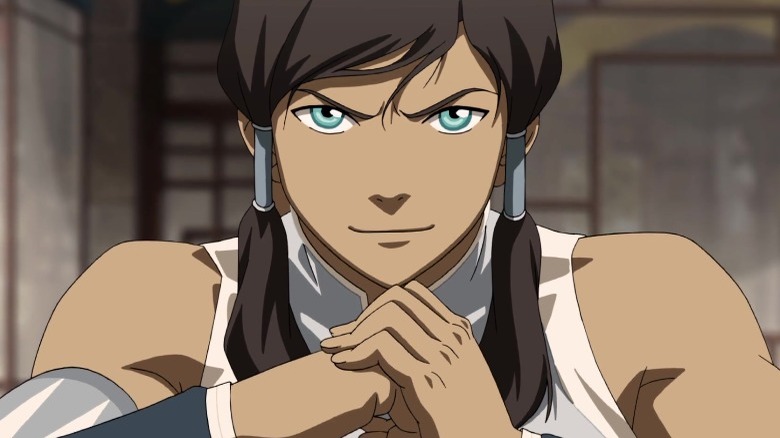 Nickelodeon
Set 70 years after the events of "Avatar: The Last Airbender," "The Legend of Korra" takes viewers into a 1920s-inspired world where many people can control, or "bend," air, fire, water, and earth. The Avatar, who bridges the material and spiritual worlds, is the only person capable of bending all four elements. Korra, who hails from the Southern Water Tribe, is the current Avatar. Having already mastered water, fire, and earth, she moves to Republic City to learn airbending from the previous Avatar's son, Tenzin.
Throughout the show's four-season run, Korra and her friends face multiple enemies, meet fascinating benders, and encounter all sorts of spirits. This vivid cast of characters is voiced by a vast array of excellent actors, including Janet Varney, J.K. Simmons, Kiernan Shipka, Daniel Dae Kim, and Steven Yeun. Like "Ms. Marvel," it zeroes in on its heroine's coming-of-age story. Korra grapples with issues of self-worth, leadership, and responsibility, especially when it comes to the tremendous powers she's been given. Being the Avatar makes Korra part of a long historical chain that's more than a little reminiscent of the one that links Kamala to her family's past. "The Legend of Korra" also explores the experiences of marginalized people, ranging from the airbenders, who endured a genocide nearly 200 years prior, to the unfortunate souls living on Republic City's streets.
Chilling Adventures of Sabrina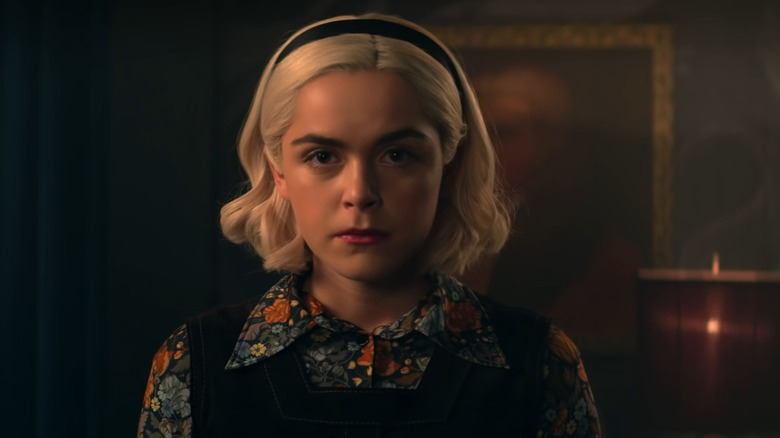 Netflix/YouTube
Based on the Archie Comics series of the same name, "Chilling Adventures of Sabrina" revolves around Sabrina Spellman, a teenage girl trying her best to balance her life as a witch with her life as a high school student. Things get especially intense after her 16th birthday, when Sabrina is pressured to give up her humanity and fully accept her supernatural side. Can she embrace the dark forces of the world and keep her human loved ones safe? Maybe — but it won't be easy. "Mad Men" alum Kiernan Shipka received praise for her charismatic portrayal of the titular teenage witch, while the series as a whole earned positive reviews for its dark humor and distinct visuals. "Riverdale" fans will also be happy to know that "Chilling Adventures of Sabrina" crosses over with that series multiple times.
"Ms. Marvel" fans who are into horror and dark fantasy are sure to find a lot to love in "Chilling Adventures of Sabrina." Sabrina and Kamala share the same core dilemmas: They must figure out how to balance their personal relationships, identities as superpowered beings, and interactions with the universe's larger forces. Just like Sabrina faces choosing between her humanity and her witch side, Kamala struggles to become a superhero while remaining a dutiful daughter to her parents.
Stargirl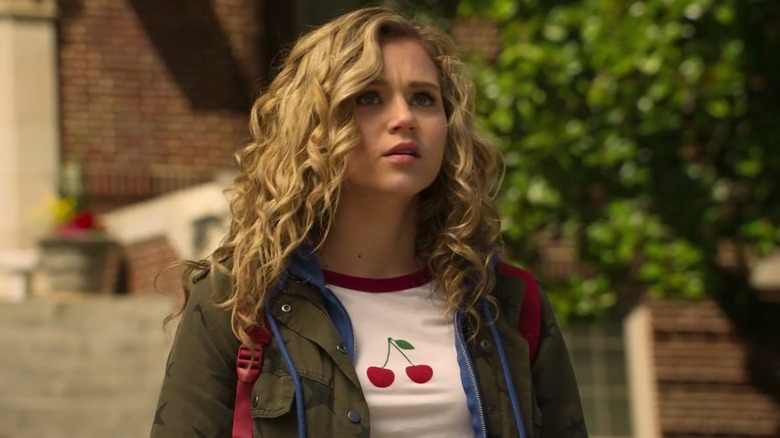 The CW
After her mother gets remarried to a mechanic named Pat, high school student Courtney Whitmore unwillingly moves to the small town of Blue Valley. Soon, her attention gravitates towards a magical golden staff hidden in the basement. She unexpectedly forms a bond with this Cosmic Staff, which allows her to easily perform all kinds of wonders. Through this revelation, she discovers Pat's secret identity: He was once a sidekick to Starman, one of the founding members of the Justice Society of America. The Staff's original wielder, Starman was defeated a decade earlier by the evil forces of the Injustice Society. Transformed into Stargirl by the Staff's fantastic powers, Courtney leads a new generation of the JSA alongside her friends, who take on the mantles of Doctor Mid-Nite, Wildcat, and Hourman.
"Stargirl" received positive reviews for its endearing storylines and cinematic visuals. "Ms. Marvel" fans will find such praise familiar, and will definitely love Courtney as much as they love Kamala Khan. These two superheroines go through very similar journeys after they're drawn to the magical objects that suddenly change their lives. Moreover, they're both awkward but charming teenage girls looking to balance homework and friends with their superpowered do-gooding. Former Nickelodeon star Brec Bassinger is wonderful in the role of Courtney, and benefits from the sort of strong, youthful ensemble cast that makes a coming-of-age story soar.
Fate: The Winx Saga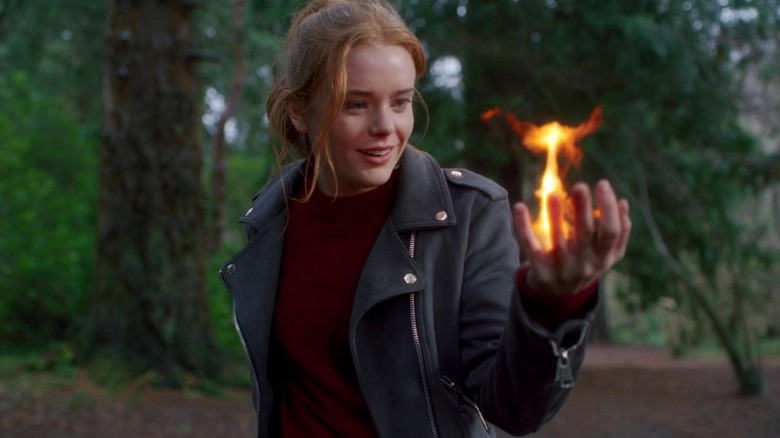 Netflix
"Fate: The Winx Saga" is a live-action adaptation of "Winx Club," a beloved fantasy cartoon of the '00s. Unlike the kid-friendly original series, which features colorful visuals and an energetic tone, "Fate: The Winx Saga" is a TV-MA affair that offers a more grounded story and far more terrifying supernatural creatures. Fire fairy Bloom is new to Alfea, a boarding school for otherworldly beings. There, she befriends four other elemental fairies named Musa, Stella, Terra, and Aisha. Soon, Bloom discovers she's being targeted by the mysterious and sinister Burned Ones, due to her unrealized powers. 
Brimming with action, drama, romance, and tragedy, "Fate: The Winx Saga" is fundamentally about friendship. Bloom, Musa, Stella, Terra, and Aisha find strength and unity in each other, time and time again. This is something "Ms. Marvel" fans will find familiar: The bond between Kamala, Bruno, and Nakia is one of the Disney+ series' main highlights. Despite receiving lackluster reviews, "Fate: The Winx Saga" proved to be enough of a success that it earned a Season 2. Its rough patches are well worth enduring for the sake of the show's compelling characters, complex worldbuilding, and lead performances from Abigail Cowen, Hannah van der Westhuysen, Precious Mustapha, Eliot Salt, and Elisha Applebaum. 
Runaways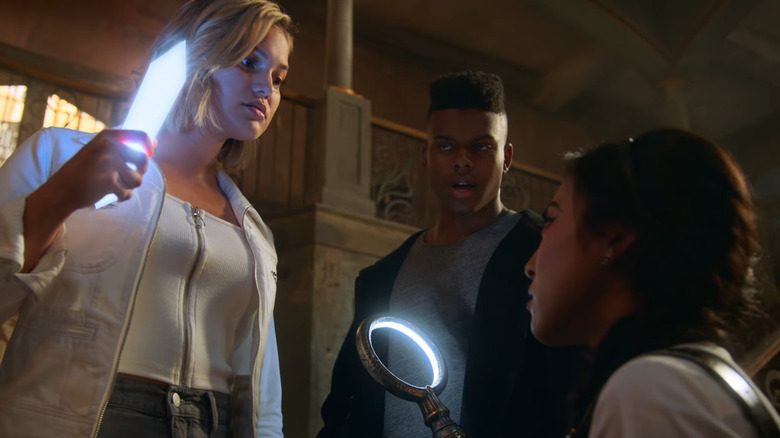 Hulu/YouTube
"Runaways," a teen comedy-drama based on the Marvel Comics team of the same name, follows six childhood friends: Alex Wilder (Rhenzy Feliz), Nico Minoru (Lyrica Okano), Karolina Dean (Virginia Gardner), Chase Stein (Gregg Sulkin), Gert Yorkes (Ariela Barer), and Molly Hernandez (Allegra Acosta). After two years of distance following a personal tragedy, they reunite. But an awkward hang-out turns sinister when they accidentally open a secret passage. This leads them to a clandestine room, where they witness their parents sacrifice a young girl in a cult-like ritual. 
Shocked by their parents' evil doings, the teens band together to stop them from continuing with their plans — whatever they are. Along the way, they discover their real identities and the hidden powers that lie within them. The similarities to "Ms. Marvel" are obvious: Both shows are about Marvel Cinematic Universe teens realizing they've inherited a complex destiny. "Runaways" also shares an interest in the complicated relationships between parents and children, and the weight of family history. Kamala might not have a supervillain for a mom, but she does know what it's like to face a seriously complicated legacy.
Misfits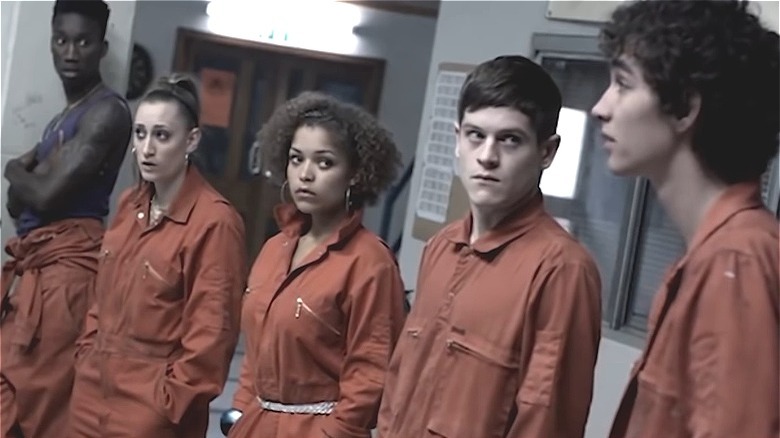 E4/ YouTube
"Misfits" revolves around five troublemaking young people who gain superpowers while performing court-mandated community service. Being juvenile offenders who can alter time and become invisible is tough enough, but things get really complicated when one of their number is forced to kill their probation officer in self defense. Desperate to conceal the truth about their involvement with this death, these five delinquents become ever more tightly tangled together — and that's before the weird cults, masked men, and zombies get involved.
"Misfits," which features "Game of Thrones" star Iwan Rheon and "The Umbrella Academy" favorite Robert Sheehan in lead roles, is darker and sharper in tone than "Ms. Marvel." But "Ms. Marvel" fans will find that the "Misfits" characters' dilemmas are quite similar to Kamala and Kamran's struggle to understand their powers. Lacking real guidance, their powers threaten to harm innocent people — something the "Misfits" characters experience the hard way. "Misfits" earned multiple awards and plenty of positive reviews, with many critics specifically complimenting the show's humor and the cast's excellent performances.
My Hero Academia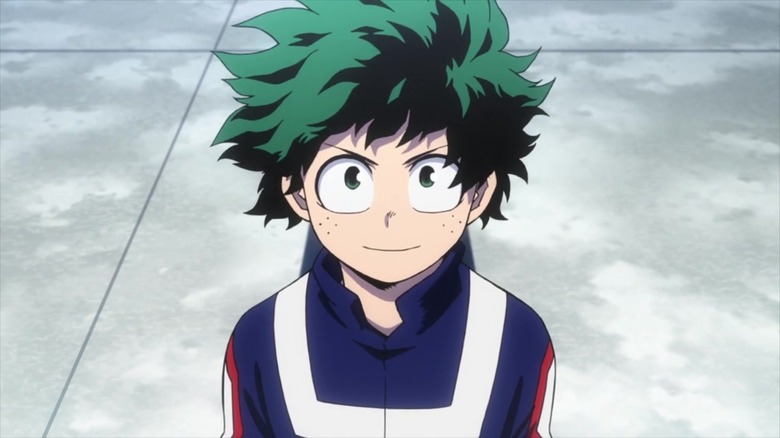 Toho
Based on Kōhei Horikoshi's acclaimed manga series of the same name, "My Hero Academia" is set in a world where having superpowers, aka "quirks," is completely commonplace. Because of this, becoming a superhero is a viable life path for people who want to help those in need. But Izuku Midoriya was born without a quirk. He leaves his dreams of following in the footsteps of his hero, All Might, behind him ... until All Might bequeaths his own quirk, One For All, to the brave young lad. Izuku promptly enrolls in the premiere school for heroes-in-training and sets his sights on the future. With the help of his friends, his mentor, and his teachers, he strives to become a defender of peace, justice, and goodwill.
"Ms. Marvel" fans will immediately notice how much Izuku has in common with Kamala Khan. They share a near-obsessive love of superheroes and nurture individual dreams of someday joining them. These coming-of-age tales also have well-written arcs, engagingly action-packed visuals, incredible soundtracks, and an abundance of likable characters in common. "My Hero Academia" is an especially strong choice for anime newbies, given its use of classic superhero tropes. Diehard fans won't lack for things to love either: This anime's vision of a world with superheroes is as complex as it is delightful.
Ragnarok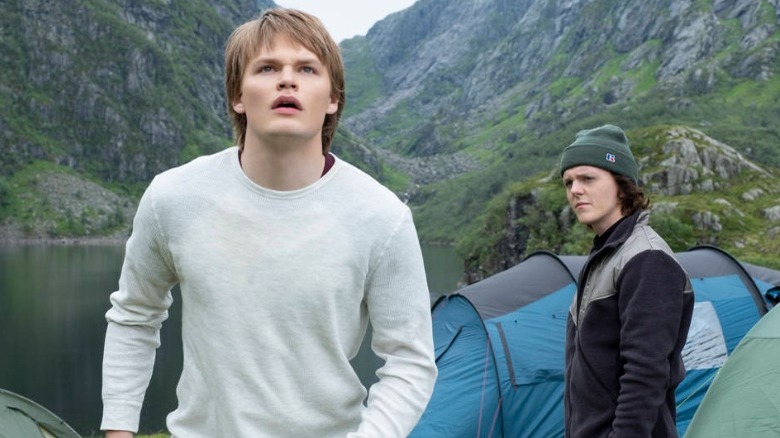 Netflix
Norwegian coming-of-age drama "Ragnarok" is set in the fictional town of Edda, which is suffering through climate change and a deluge of industrial pollution. Things begin to change with the arrival of teen brothers Magne (David Stakston) and Laurits (Jonas Strand Gravli), who move to Edda with their widowed mother in the hopes of starting a new life. There, Magne and Laurits begin to manifest superhuman powers, and soon discover they're actually reincarnations of the ancient Norse gods Thor and Loki. Following the mysterious death of a friend who was investigating the cause of Edda's pollution crisis, Magne decides to continue her fight against all who would destroy the environment.
"Ragnarok" earned solid critical praise and a loyal fandom through its beautiful cinematography, addictive storylines, and refreshing take on the superhero genre. "Ms. Marvel" fans who love the lore behind Kamala's bracelet will be especially intrigued by this show's clever and compelling connections to Norse mythology. Magne and Laurits might face a different sort of crisis than Kamala does, but they reckon with similar questions of legacy, belonging, and tradition.
She-Ra and the Princesses of Power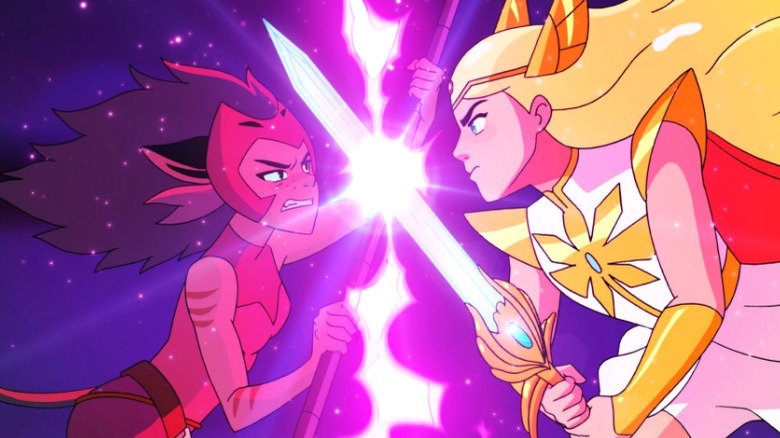 Netflix
"She-Ra and the Princesses of Power," a 2018 reboot of the classic 1980s cartoon "She-Ra: Princess of Power," takes place on the luminous planet Etheria. It begins with Adora and Catra, two orphaned teenagers who have been raised within the sinister Horde. They've spent their lives training to become fierce soldiers, but everything changes when Adora finds a mysterious sword that transforms her into a glowing warrior named She-Ra. Awakened to a new path in life, Adora leaves the Horde for the Rebellion, where she fights for freedom alongside the realm's magical princesses. Brutally betrayed by this defection, Catra throws away their friendship and becomes her nemesis.
"She-Ra and the Princesses of Power" earned major critical acclaim for its top-notch animation, intriguing world, complex characters, and groundbreaking LGBTQ+ representation. At its center is an incredibly earnest heart fans of "Ms. Marvel" are sure to appreciate. Adora and Catra are both reminiscent of Kamala, albeit in very different ways: They're young people bearing huge responsibilities, who just want to figure out who they're supposed to be. Immense sacrifices are demanded of them, and their mistakes have major consequences. But in the end, they learn they're not as alone as they think they are, and that heroism, kindness, and love can be found in even the most shadowy places.
The Uncanny Counter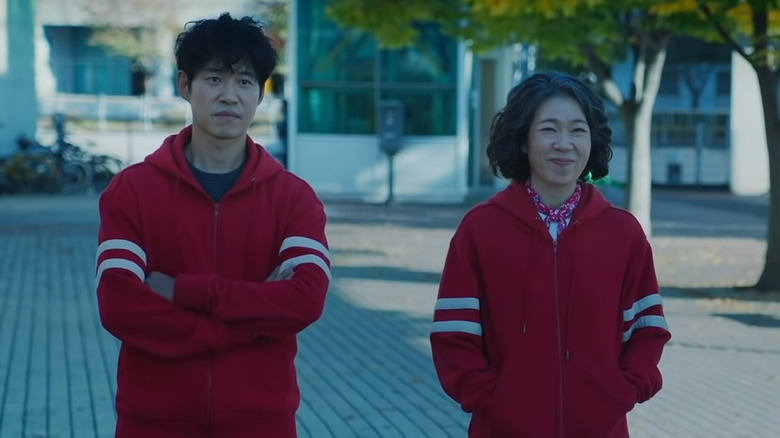 OCN/YouTube
Based on Jang Yi's popular webtoon series "Amazing Rumor," "The Uncanny Counter" centers around So Mun, a bright and energetic high school student who lost his parents in a car accident when he was just a kid. His life gets even more complex after he's transformed into the new avatar of afterlife spirit guide Wi-gen, who grants him superhuman abilities like psychokinesis and incredible speed. Soon, he becomes the newest member of the Counters, a superpowered group that hunts demons by night and runs a noodle shop by day. Though he's now able to save his friends from bullies, Mun is also obligated to go on high-risk missions to protect humans from sinister entities.
Starring Jo Byung-gyu of "SKY Castle" fame and K-Pop singer-turned-actress Kim Se-jeong, "The Uncanny Counter" is brimming with the sort of fresh, vibrant talent that makes "Ms. Marvel" so memorable. Those who love the Disney+ series' vivid visuals will especially enjoy the fantastical action sequences featured in "The Uncanny Counter." Moreover, the South Korean series boasts a similar balance of lighthearted content to heavier themes. Saving the world from demons does tend to get complicated, but the laughs are never far behind.
Titans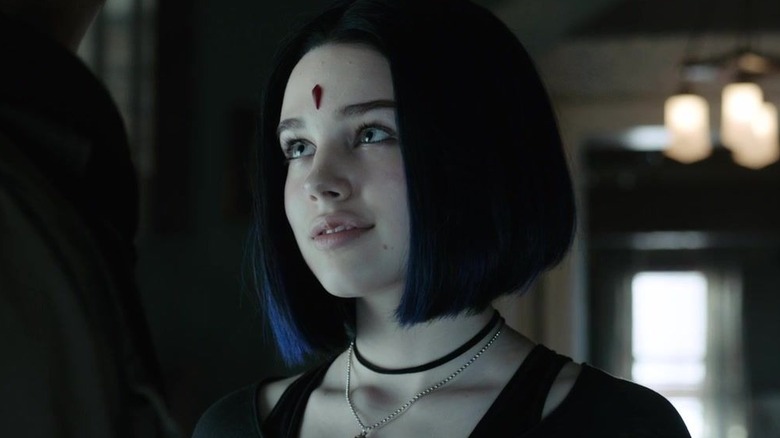 HBO Max/YouTube
"Titans" offers a dark and gritty take on DC Comics' beloved Teen Titans. Created by Akiva Goldsman, Geoff Johns, and "Arrowverse" architect Greg Berlanti, this series follows iconic DC heroes including Robin (Brenton Thwaites), Starfire (Anna Diop), Raven (Teagan Croft), and Beast Boy (Ryan Potter) as they form a team to take down powerful enemies like Trigon and Deathstroke. Though you might recognize these names from the team's animated incarnations, "Titans" is definitely not Cartoon Network's "Teen Titans" or "Teen Titans Go!" — it's a brutal, violent, action-packed thrill ride. Critics have praised its ensemble cast and solid storytelling, which have both become even stronger as the series has gone on.
Like "Ms. Marvel," "Titans" features young characters trying their best to come to terms with their powers and responsibilities. It does this in far more R-rated fashion than "Ms. Marvel" — there are no high school hijinks on this show. But if the idea of a series with similar themes but a bit more bite sounds appealing, then "Titans" is an excellent follow-up to Kamala's story.
Young Justice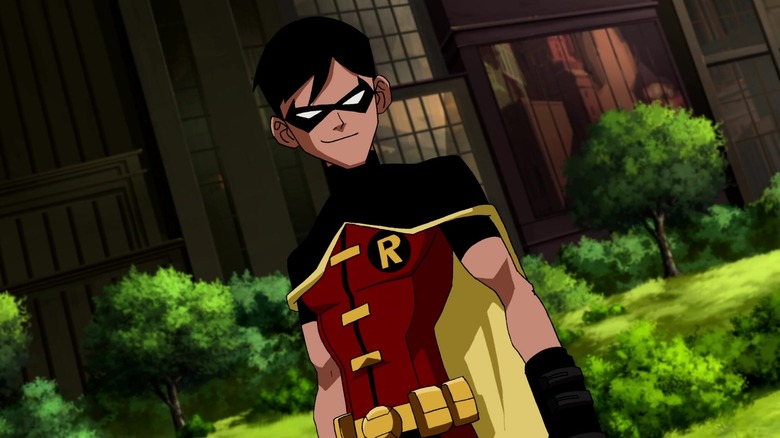 Cartoon Network
Acclaimed animated series "Young Justice" begins with a gaggle of Justice League sidekicks, who step out of their mentors' shadows when they form the titular team. Founding members Robin, Kid Flash, Speedy, Aqualad, Superboy, Miss Martian, and Artemis are soon joined by new recruits, including Zatanna, Beast Boy, Blue Beetle, Wonder Girl, Batgirl, Impulse, Cyborg, and many more. They might be young, but these superheroes go on some seriously intense adventures, ranging from deep cover missions to interstellar wars. People die in "Young Justice," and they stay dead — a rarity for any superhero story, let alone one that debuted on Cartoon Network.
Though they're from different superhero universes, Kamala Khan and the heroes of "Young Justice" share the same burden of constantly having to prove their worth as newbie heroes. They also operate in more famous heroes' shadows, and must embrace their own identities. "Young Justice" explores many characters' individual paths — the team is positively enormous by the time the series ends. Though their experiences differ wildly, many of them are just as quirky, earnest, and good-hearted as Kamala. No wonder "Young Justice" garnered praise for its intelligent storylines, polished animation, and excellent performances from Jesse McCartney, Khary Payton, Nolan North, Danica McKellar, and many others.