The SNL Sketches That Made Kate McKinnon Feel Like One With The Audience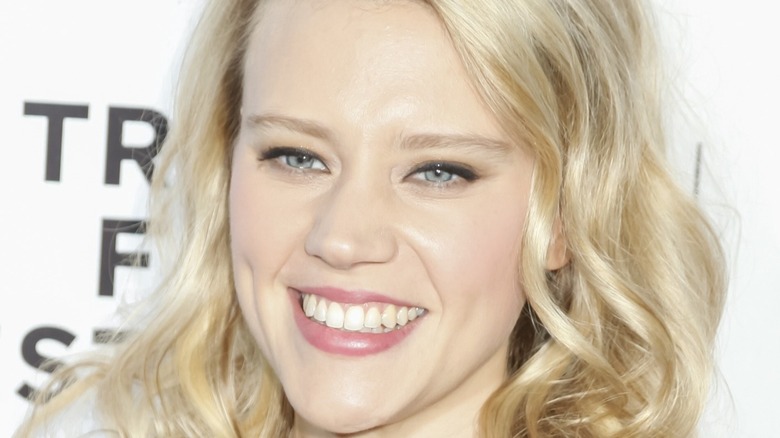 Sam Aronov/Shutterstock
The long-running popular prime time show "Saturday Night Live" wrapped up its 47th season on May 21, 2022, with four longtime cast members appearing in their final episodes (per NPR). The exit of Pete Davidson, Aidy Bryant, and Kyle Mooney will certainly take its toll on the series when it returns in the fall of 2022, robbing fans of hilarious moments from the zany characters these performers brought to life each week.
But perhaps the biggest void left in the "SNL" world will be the one created by the departure of Kate McKinnon. McKinnon was able to generate uproarious laughter with every part, often stealing the scenes she was in. Considering the abundance of talent she's offered over the years, this was been no easy feat.
Her talent did not go unrecognized either. Over her 11 seasons on the show, McKinnon was nominated for a staggering nine Prime Time Emmy Awards, including eight in the category of Outstanding Supporting Actress in a Comedy Series (per IMDb). She won two of those years, with back-to-back awards in 2016-2017. In 2014, she was also an Emmy nominee for Outstanding Original Music and Lyrics.
Throughout 200 plus episodes, hundreds of sketches, and scores of memorable characters, one might think it would be difficult for McKinnon to recall what moments generated a connection with her audiences. But in a recent interview on the Vulture Podcast, the actress said there were two times on "SNL" that she felt a strong sense of oneness with those she loved to entertain.
McKinnon's rendention of Leonard Cohen's Hallelujah was a somber moment on the show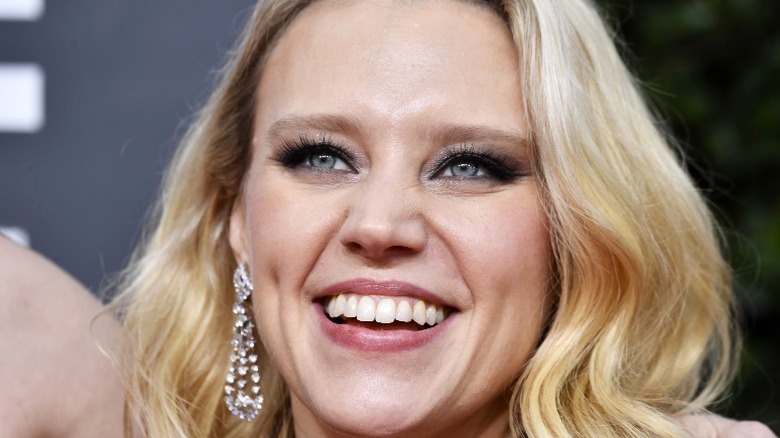 Frazer Harrison/Getty Images
People Magazine reports that during her Vulture podcast interview, McKinnon spent a great deal of time discussing her time on "SNL." She rehashed the various characters she played as well as what it was like behind the scenes. She offered her insight as to those two occasions that she "felt most connected" to the audience.
The first experience she relayed was her part in the cold opening of the show on Saturday, November 12, 2016. The U.S. Presidential election had just been held the previous Tuesday, and emotions were still running high. As many supporters of Hillary Clinton were optimistic about the pending election, the fallout from her narrow defeat was a bitter pill for many to swallow. 
McKinnon exuded the emotional aftermath of Clinton's election loss that night, on stage alone and seated at a piano. There, she played the 1984 Leonard Cohen classic "Hallelujah," singing the somber tune that fit the morose demeanor that the crowd must have been feeling that evening. 
During her performance that night, McKinnon recalled that she "felt that for the people for whom that was a tragic event," and that she "felt very connected and in a very real way" (via People Magazine). McKinnon's other connection to the audience wasn't quite as emotional of an experience.
The time McKinnon made Ryan Gosling laugh on set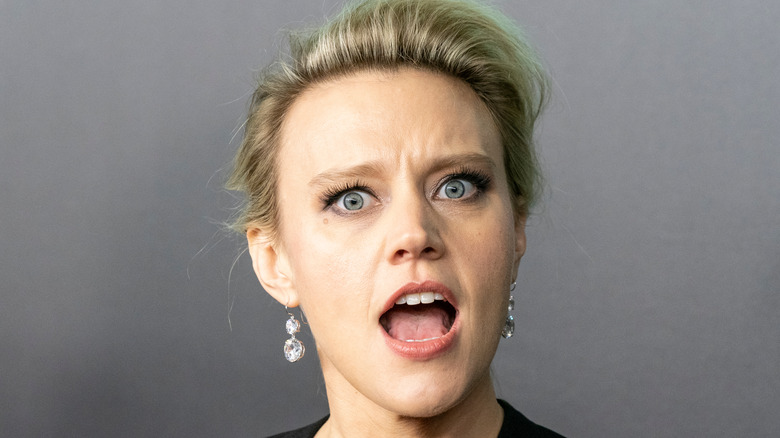 lev radin/Shutterstock
When discussing the second time she felt as one with the audience, McKinnon told of a sketch that many "SNL" fans will recall as one of her most memorable moments on the show. During McKinnon's infamous "Close Encounter" alien abduction sketch in 2015, host Ryan Gosling broke character midway through, which caused "SNL" cast members Aidy Bryant, Cecily Strong, and Bobby Moynihan to erupt with uncontrollable giggles.
It all began when McKinnon's character described getting her "knockers touched by gray aliens," at which point Gosling couldn't contain himself any longer. The crowd reacted with even more laughter, which only increased as others on set began to lose it too.
McKinnon reflected on this experience and compared it to the one she had a year later following that fateful election night. "It was a completely different experience — people were laughing instead of crying — and yet it was the same recognition of, like, We're all in this together, guys. We all feel the same way about something" (per People Magazine).
It's worth noting that on her final episode on SNL, McKinnon resumed her role as an alien abductee survivor. People Magazine reports that the sketch again featured Gosling, who *spoiler alert* once again got a case of the giggles and spread its contagion to Aidy Bryant.