10 Awesome Movies Like Bad Boys You'll Probably Love
Sony Pictures Releasing
In 1995, Michael Bay's first feature film "Bad Boys" set a new standard for the buddy cop genre. Starring Will Smith and Martin Lawrence, the action-packed blockbuster sees Miami detectives Mike Lowrey and Marcus Burnett investigate the theft of heroin worth more than $100 million from police headquarters. It proved to be a huge success at the box office, earning $141 million against a budget of just $19 million despite mixed reviews from critics. With plenty of fans, it isn't that much of a surprise that the movie spawned two sequels, 2003's "Bad Boys II" and 2020's "Bad Boys for Life."
What makes "Bad Boys" so popular is that it combines everything you'd want from a buddy cop film. There's plenty of humor, authentic chemistry between two very different lead characters, and a huge amount of action in the form of dramatic shootouts, exciting car chases, and massive explosions. Ultimately, it's an entertaining way to spend two hours as it ratchets up the tension with every passing scene and keeps viewers on the edge of their seats.
Fortunately, "Bad Boys" is not the only great example of this type of film. Fans of the series will find there are lots of other movies out there that have a similar mix of comedy and action. So if you've already seen the entire "Bad Boys" trilogy and you're looking for another dose of buddy cop comedy, here are some worthy alternatives that might just become your new favorites.
Ride Along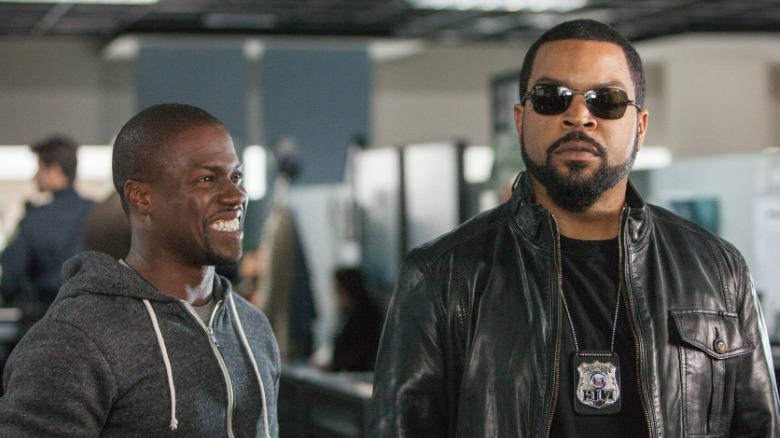 Universal Pictures
Kevin Hart and Ice Cube might seem like an unlikely duo to be at the heart of a buddy cop movie, but that might just be why "Ride Along" works so well. Hart plays a security guard named Ben who intends to marry his girlfriend, Angela. Before they can walk down the aisle, though, Ben is forced by Angela's brother, undercover police officer James, to prove that he has it in him to be a good husband. James arranges a ride along in order to put Ben to the test, but the unlikely pair quickly gets caught up in an investigation into Omar, a drug kingpin and smuggler played by Laurence Fishburne.
Although the film was negatively received by critics, holding an approval rating of 18% on Rotten Tomatoes, it was given an audience score of A in a poll of moviegoers by CinemaScore. Many viewers seemingly enjoyed the banter between Hart and Ice Cube, and that quick-witted comedy present throughout "Ride Along" made it enough of a financial success — grossing $154 million, according to Box Office Mojo – to persuade Universal to greenlight a sequel. Featuring Ice Cube and Hart once again, "Ride Along 2" arrived in 2016 to similar critical reception.
48 Hrs.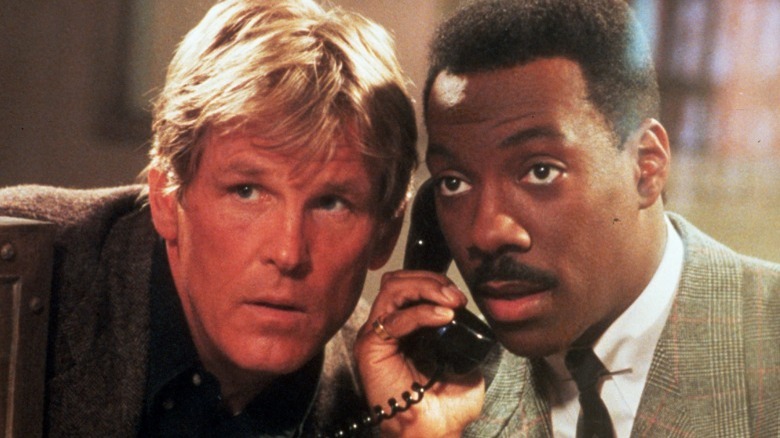 Paramount Pictures
Before he made his name as a true Hollywood leading man with "Beverly Hills Cop," Eddie Murphy had already appeared in another cop movie. "48 Hrs." marked his feature film debut, teaming up with co-star Nick Nolte and filmmaker Walter Hill, who had made a name for himself as the director of "The Warriors" and a co-writer on "Alien." Often viewed as one of the earliest buddy cop movies, "48 Hrs." stars Nolte as San Francisco Detective Inspector Jack Cates and Murphy as the convicted criminal Reggie Hammond. When a prisoner escapes a road gang and murders several police officers, Jack secures Reggie's 48-hour release from jail so he can help the detective track down his former associates and bring them to justice.
"48 Hrs." was a runaway success, taking in almost $80 million at the box office on a relatively small budget of just $12 million (via Box Office Mojo). Setting the standard for just about all films in the genre that would come in the future, it laid out the essential elements, including laugh-out-loud banter and thrilling action sequences, that have been staples of buddy cop films ever since. Of course, there's also the interplay between the main characters as they put aside their differences and work together as a team, gradually developing an unlikely friendship. The movie holds a Rotten Tomatoes approval rating of 94% and earned Murphy a Golden Globe nomination for his performance as Reggie. Its success paved the way for countless imitators, more starring roles for Murphy, and the 1990 sequel "Another 48 Hours."
Die Hard with a Vengeance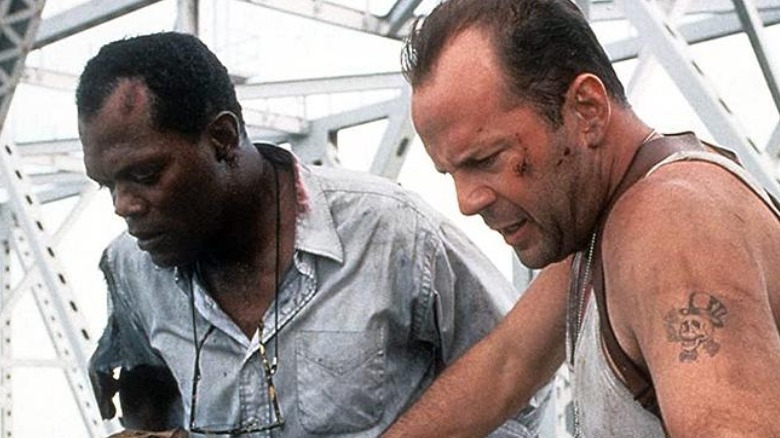 20th Century Studios
Where the first two "Die Hard" films had been about lone cop John McClane (Bruce Willis) going up against criminal organizations, 1995's "Die Hard with a Vengeance" is more of a buddy cop film that sees the NYPD police officer back on his home turf and teaming up with a reluctant but determined partner in Zeus Carver (Samuel L. Jackson). The two inadvertently meet when Carver, who is an ordinary electrician, gets caught up in assisting the police as they race against the clock to prevent a series of bombs from being detonated across New York City by a riddle-spouting terrorist with a secret connection to McClane's past (Jeremy Irons).
The series was already well established by this point, with the two previous films being critical and commercial successes. But this third installment breathed new life into the franchise, switching up the setting and the dynamic, and introducing a partner for McClane to bounce off with his trademark quips. With the new comedy dimension created by the addition of this double act, the formula feels fresh and there's no chance of the action getting stale as they are thrust into absurd and frantic situations. All of this means that this film is widely considered to be the best sequel, in the franchise and is arguably only surpassed in terms of quality by the original 1988 film.
Midnight Run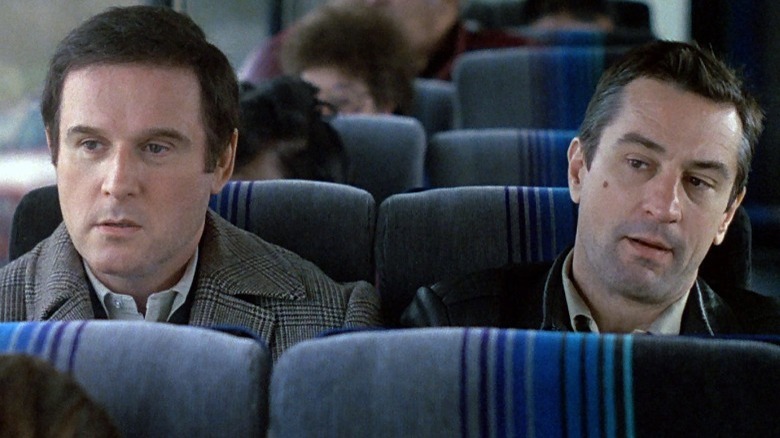 Universal Pictures
Helmed by "Beverly Hills Cop" director Martin Brest and featuring a cast led by Robert De Niro and Charles Grodin, "Midnight Run" certainly has a lot of pedigree. In the film, De Niro portrays bounty hunter Jack Walsh, who is tasked with capturing and handing over Jonathan Mardukas. Known as The Duke, this former Mafia accountant has stolen millions of dollars from mob boss Jimmy Serrano. This puts Walsh in a difficult position, as Mardukas is wanted by the bail bondsman, the FBI, and mobsters who want revenge against him.
That forces the two to form an unlikely team, despite being on opposite sides of the law, as they avoid Serrano's men and rival bounty hunters alike. While De Niro was not exactly known for his comedy roles at the time, "Midnight Run" turned out to be the perfect opportunity to showcase his comedic talents. It's not as filled to the brim with quippy one-liners as some other buddy cop movies, but the interactions between De Niro's easily irritated Walsh and Grodin's indifferent Mardukas set the stage for some hilarious chemistry.
Critics praised the relationship between the unlikely pair of leads, which feels as genuine as it is funny, on this suspenseful ride that rarely gives you a second to breathe. The film went on to be nominated for an American Comedy Award and two Golden Globes, with De Niro put forward for his comedy performance by both award bodies.
21 Jump Street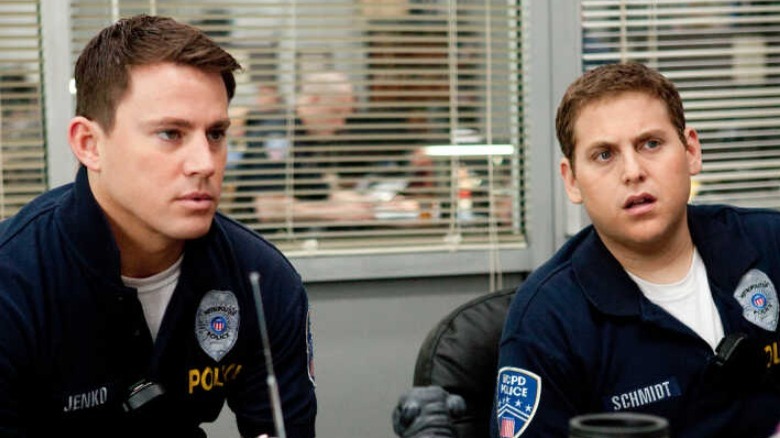 Columbia Pictures
Based loosely on the television series of the same name, which was created by Stephen J. Cannell and Patrick Hasburgh back in the late '80s, "21 Jump Street" is something of a standout in the genre because of its almost complete focus on comedy. Written by Jonah Hill and Michael Bacall, it stars Hill and Channing Tatum as two police officers who are sent to their old high school to work undercover and find the supplier of a new drug that's becoming popular with the students.
Like "Bad Boys," the focus is largely on the relationship between the two main characters, Morton Schmidt and Greg Jenko. Hill and Tatum bring two very distinct personalities to the leads, who manage to get along and make an effective partnership despite their differences. Most of the humor comes from the clash in appearance and behavior between the two of them, creating a classic double act and effortlessly carrying the movie.
"21 Jump Street" was a financial success, earning $200 million according to Box Office Mojo, and was a hit with critics. Most reviewers agreed that the film managed to combine great jokes with a heavy dose of nostalgia for the '80s in a way that doesn't seem overdone or cheesy. Since then, there has been a successful sequel in the form of "22 Jump Street," as well as plans (which may or may not come to fruition) for a "Men in Black" crossover and a female-led spin-off.
The Heat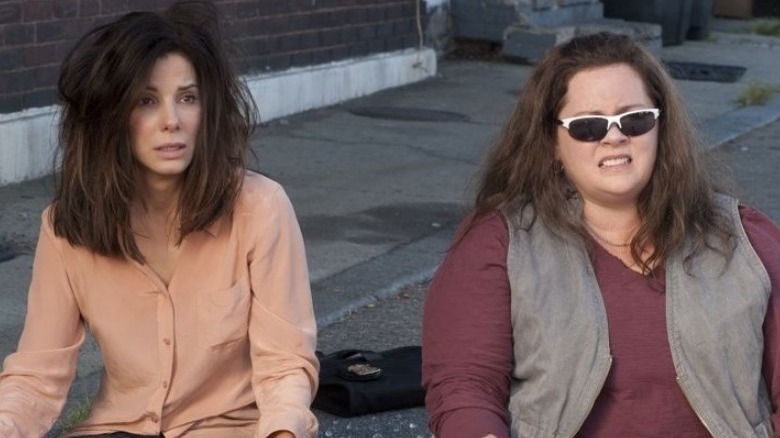 20th Century Studios
While most buddy cop movies tend to be male-orientated affairs, there have been a few standout examples that feature women in the main cast. The best of them is undoubtedly "The Heat," a 2013 film that stars Sandra Bullock and Melissa McCarthy as an FBI agent and a local police detective, respectively. The two investigate a series of criminals involved in the drug trade in Boston, but clash due to the fact that Bullock's character is all about control and protocol, while McCarthy's is vulgar and runs on a short fuse. Over the course of the investigation, the two grow close and eventually come to consider each other as sisters.
On a budget of just over $40 million, "The Heat" took in a box office gross of $230 million (via Box Office Mojo), proving a big financial success for the studio. Fans and critics alike praised the duo for their performances, which were founded on what noted reviewer Christy Lemire writing, "[McCarthy] and Bullock enjoy gangbusters chemistry with each other." The plot may not set out to radically reinvent the formula, but as with most action movies, viewers are here for charming characters and crude jokes — both of which are delivered expertly by writer Katie Dippold, director Paul Feig, and their engaging cast.
Although there were briefly rumors that a follow-up was in the works, The Huffington Post reported that Bullock had confirmed that she was not interested in reprising her role, citing bad experiences on previous sequels. She did, however, confirm that she'd love to work with McCarthy again.
Beverly Hills Cop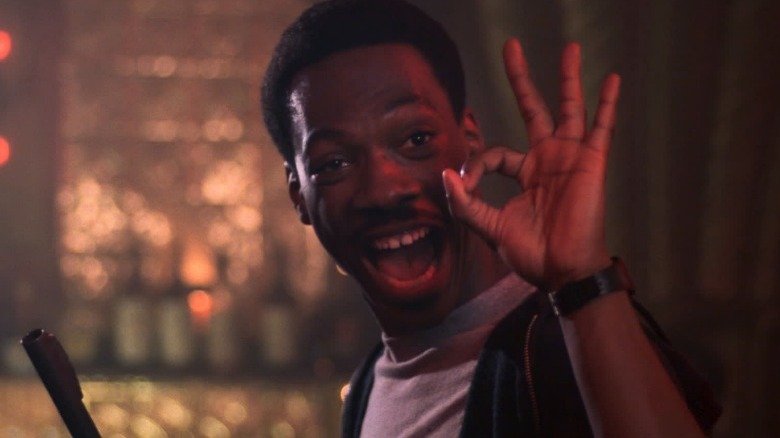 Paramount Pictures
Having earned his blockbuster credentials as a criminal in "48 Hrs.," Eddie Murphy switched it up and became a cop himself in 1984's "Beverly Hills Cop." It was this movie that truly established Murphy as a bankable Hollywood star who could sell tickets as a solo act. The story revolves around the murder of a security guard who happens to be the best friend of Detroit detective Axel Foley. Upon discovering what's happened, Foley travels to Beverly Hills to solve the murder and bring the perpetrators down.
With his unorthodox methods and fast-talking nature, the two officers assigned to follow him and keep Foley out of trouble — known as Taggart and Billy — take an instant dislike to their compatriot, but soon develop a begrudging respect for his skills. This allows the three cops to solve the case and uncover a larger drug trade taking place in the city.
As Vulture notes, the movie allowed Murphy to express all of his comic ability as his antics regularly threaten his relationship with Taggart and Billy. But the picture manages to carefully blend the humor and more serious action elements to create a compelling and entertaining experience. With an incredibly modest budget, "Beverly Hills Cop" grossed $316 million around the world, according to Box Office Mojo. That success led to two sequels being released over the following decade.
Rush Hour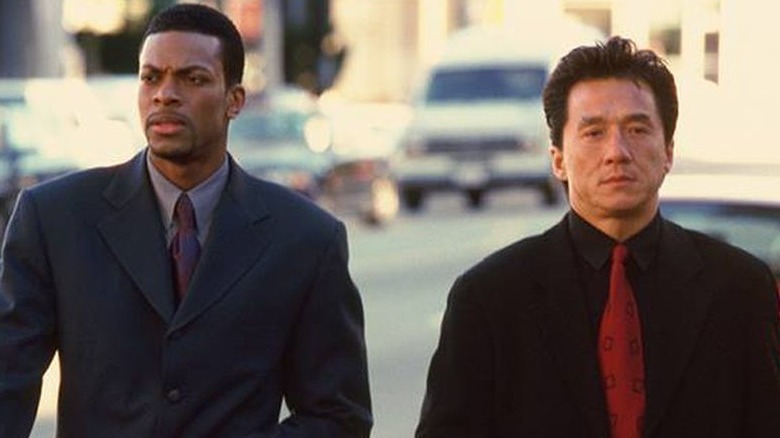 New Line Cinema
While the buddy cop genre was at its height in the late '80s, that doesn't mean there weren't plenty of fantastic examples in the decades that followed. "Rush Hour" first hit cinema screens in 1998, and led to two sequels. As you'd expect, these action-comedies see two police officers from completely different backgrounds team up to solve international cases. Jackie Chan plays top Hong Kong officer Detective Inspector Lee, while Chris Tucker portrays motormouthed LAPD Detective James Carter.
Lee arrives in Los Angeles at the insistence of consul Solon Han when his daughter is kidnapped, although the FBI does not want Lee involved and tasks Carter with babysitting the foreign officer. With both officers dissatisfied in their roles, they investigate the kidnapping separately, managing to track down the missing girl and figure out who the mysterious crime lord Juntao really is. To close the case, though, they'll have to finally work together.
There is so much to enjoy in "Rush Hour," between Chan's expert martial arts stunts and Tucker's constant barrage of jokes that rarely miss the mark. The two actors engage in witty and engaging banter throughout the movie, their bond growing as they face off against criminals and stand up to their own allies at the FBI and LAPD. The audience gets a real sense of the fun everyone had making the film, which comes across constantly and is evidenced in the blooper reel that runs during the credits.
Lethal Weapon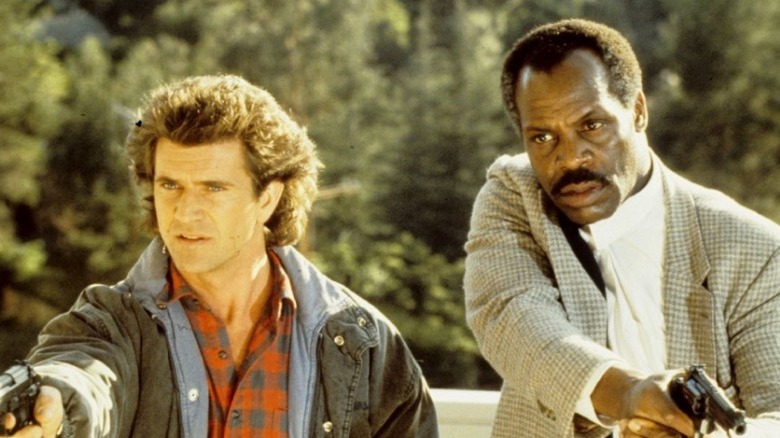 Warner Bros.
For many people, "Lethal Weapon" will be the first movie they think of when they envision buddy cop films. Written by Shane Black and directed by Richard Donner, the film follows two police officers, Martin Riggs (Mel Gibson) and Roger Murtaugh (Danny Glover). The captain of the LAPD forces them to work as partners as a way of getting Riggs motivated again after the death of his wife, which has left him despondent. This dubious experiment in psychology is exacerbated by the trauma they both carry as veterans in the Vietnam War.
The pair clash constantly, largely due to the fact that Murtaugh is a family man who likes to play by the book and Riggs is an erratic and unpredictable individual who seems destined to get himself killed. Yet the two cops slowly form a true friendship as they become embroiled in a conspiracy involving a military-backed organized crime group that's flooding the U.S. with heroin.
Critics hailed the non-stop action and the sheer excitement of the film's more violent moments, with Rotten Tomatoes certifying it as fresh with a critic approval rating of 80%. On top of that, Gibson and Glover's characters share a touching relationship that sees Riggs develop and evolve. However, the stark contrast between them still leads to plenty of hilarious arguments and silly antics.
Men in Black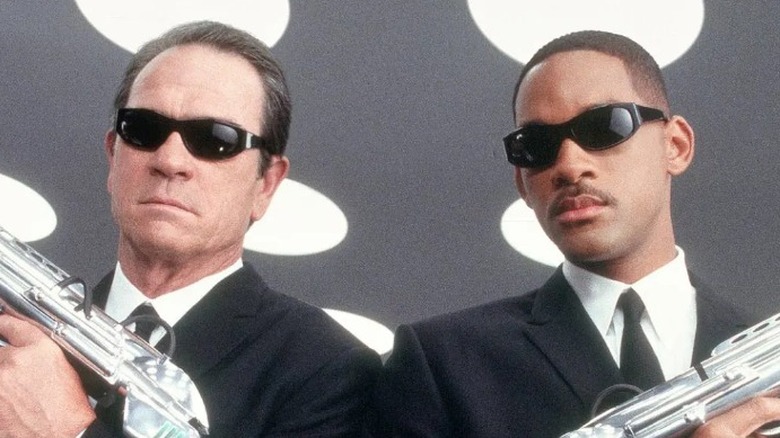 Sony Pictures Releasing
"Men in Black" is another action comedy that's technically an adaptation of another property. Inspired by Lowel Cunningham's comic series, the Barry Sonnenfeld film follows Agent K (Tommy Lee Jones) as he joins up with a new partner known as Agent J (Will Smith) and trains him while battling an alien threat that risks destroying the entire planet. The pair work for the Men in Black, an agency that watches over all extraterrestrial life on Earth and works to keep the existence of aliens a secret from the public.
While most buddy cop movies see the protagonists dealing with drug dealers or murderers, "Men in Black" switches things up by having the villain be an alien from outer space. But in most other ways it's a classic example of the formula, with two conflicting partners forming a bond as they unravel a case. It's also genuinely funny, with Roger Ebert making note of its consistently amusing references and jokes, not to mention its fair share of frantic chases, fight scenes, impressive special effects, and huge guns.
Essentially, "Men in Black" is a typical buddy cop film with a sci-fi twist, giving the movie an extra unique edge that no doubt helped it stand out from the crowd. That might be why it proved to be such a big hit for Sony, earning almost $600 million at the box office (via Box Office Mojo) and launching a franchise that would eventually include three more movies and an animated TV series.