Why Galadriel On Amazon's Rings Of Power Looks So Familiar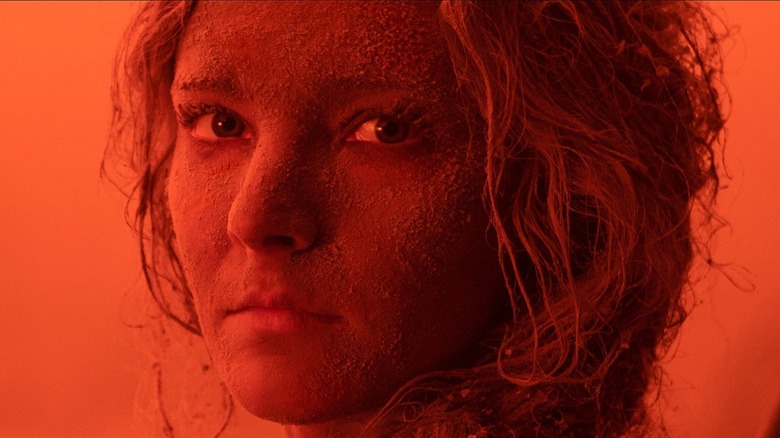 Ben Rothstein/Amazon Studios
Fans of the "Lord of the Rings" trilogy will undoubtedly already be familiar with Galadriel before watching "The Lord of the Rings: The Rings of Power." Guardian of the woods of Lothlórien, the long-lived lady has seen much and knows much about how things work in Middle-earth. Though her childhood remains muddled and many different versions of the tale have been told over time, she is known as honest, true, and determined to eliminate Sauron's wickedness from Middle-earth.
Galadriel observes the corruption following the forging of the One Ring leading into the War of the Ring and Sauron's ultimate demise. How much of this history will end up playing out during "The Rings of Power?" That's up in the air, though the show's promotional material and trailers have been enough to concern fans. What's not up for debate is that the actor playing this younger version of Galadriel is quite the familiar face. If you like costume dramas or horror movies, then you probably recognize her.
Morfydd Clark began her acting career in 2014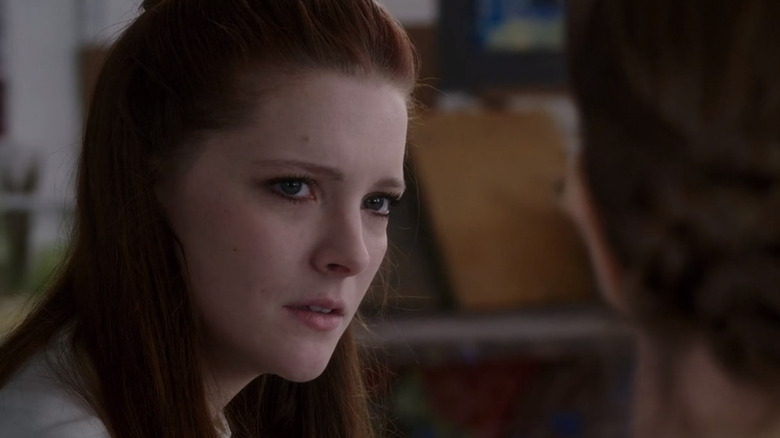 Metrodome UK
Morfydd Clark has only been in the acting game since 2014, but she's already carved out a hearty place for herself in the entertainment world. Her first role was in the Channel 4 miniseries "New Worlds," where she portrayed Amelia in two episodes. She then appeared in a TV movie about poet Dylan Thomas' death, "A Poet in New York," as Nancy Wickwire.
She next showed up in the Mia Wasikowska-starring adaptation of Gustave Flaubert's "Madame Bovary" as Camille and had a supporting part as Miss Pamela Charron in the British thriller "The Falling," which stars Maisie Williams and Florence Pugh as two best friends attending a girls' school in England. A fainting epidemic breaks out, and the notion that it might be tied to these teens' sexuality begins to rise and add to the already cloistered and paranoiac atmosphere of the school.
She was Mr. Darcy's younger sister in Pride and Prejudice and Zombies
One of Morfydd Clark's biggest breakthrough roles came in the form of Georgiana Darcy, the zombie-slaying sister of Colonel Fitzwilliam Darcy (Sam Riley) in "Pride and Prejudice and Zombies." Much like her character in Jane Austen's "Pride and Prejudice," she is timid and has narrowly escaped eloping with the terrible George Wickham (Jack Huston), who is interested only in her dowry. In this telling of the tale, however, he turns out to be much more horrifying.
For the first time, Clark got to flex her action film muscles and established herself as a horror heroine worth noting. In an interview with Rue Morgue, she admitted to being both a horror fan and surprised to be called upon to perform stunts for the film, explaining, "I arrived on set, and I had never done any kind of stunts, and we were in these Georgian dresses, and they asked me, 'Can you swing a mallet in that?' which was something I'd never imagined when I was watching Jane Austen growing up."
Crawl built a name for her in America
In 2019, Morfydd Clark appeared as Beth in the Sam Raimi-produced killer alligator picture "Crawl." The film features the story of Haley (Kaya Scodelario), a collegiate-level swimmer who ends up on Mother Nature's bad side when she chooses to rescue her estranged father, Dave (Barry Pepper), from his flooded house instead of clearing out when a Category 5 hurricane hits her Florida hometown. She soon finds herself trying to protect her injured father from a passel of hungry alligators, who trap them in the crawl space with the family dog, Sugar. It's the three of them against the world.
Meanwhile, Beth, Haley's sister, is safe at home, uninvolved in the down-and-dirty action. That explains why Clark later told Rue Morgue that she was so surprised by the film's heavy-duty horror content, saying, "It was so weird; I was on it for such a small amount of time, and obviously just doing a very domestic part of it. And then watching it, I was like, whoa, there are a lot of alligators in this, oh my God!"
Her dual role in The Personal History of David Copperfield won her fans
Morfydd Clark's next project was slightly Freudian in nature; she appeared as both Clara Copperfield and Dora Spenlow in "The Personal History of David Copperfield." Clara, naturally, is the titular character's (Dev Patel) widowed mother, who later marries into a family that emotionally abuses her son. Dora is the girl David comes to yearn for as a young man, but their courtship is nobly ended by Dora, who realizes he's better suited to Agnes Wickfield (Rosalind Eleazar). Agnes and David go on to marry, while Dora returns to her cloistered, spoiled life.
In a featurette titled "Love at First Sight," Clark said that her opinion of Dora is rather high, in spite of the fact that the movie doesn't always portray her in the best of lights. "She's not a brat; she's just utterly unaware of any of the life outside of her own," Clark explained. Pointing out that the attraction David has to Dora definitely relates to his feelings for his mother, Clara, Clark added, "She seems to represent just woman in all its delicateness, but he learns that's not necessarily all that women can be."
Saint Maud cemented her as a horror legend
Morfydd Clark's role in "Saint Maud," a psychological horror film, won her plaudits and raves from critics. It sits at a 93% certified fresh score on Rotten Tomatoes and launched Clark even further into the stratosphere as a horror star.
The movie takes a look at Maud, a hyper-religious hospice nurse. She tries to convert her latest patent, the terminally ill Amanda Köhl (Jennifer Ehle), a former dancer, from atheism. While Amanda initially seems receptive to her overtures, Maud soon begins to worry that she is unable to resist temptation. Maud has a past of debauchery she yearns to atone for and has run away from her former life as a nurse named Katie, but her attempt at reaching Amanda will have unexpected consequences for them both.
Clark is more than willing to jump into the fray to defend her complex character. She told Rue Morgue, "I'm a big Maud apologist; I found it very easy. My mum's a pediatrician who's worked a lot on inequality and social justice for children, and she has always blamed society for everything, and I think she's right. Like, you can't blame the individual; I think the real villain is the world that isn't kind to Maud, a world that isn't generous."
His Dark Materials continued to build her legacy
Morfydd Clark played Sister Clara in four episodes of Season 1 of HBO's "His Dark Materials," an adaption of Philip Pullman's fantasy novels. Sister Clara is a nurse at Bolvangar station who shows Lyra Silvertongue (Dafne Keen) around after she first arrives. She guards the place with authority and cheerily but falsely sings its praises.
Unlike the version of the character in the book, Clark's Sister Clara has undergone the process of intercision and is thus without her daemon, leaving her cold and detached. However, when Lyra reminds Sister Clara about her daemon, a white dog named Nicholas, the nurse allows Lyra to make her escape.
Although Sister Clara is unlikely to return now that Bolvangar station is out of the picture, fans are still waiting to watch the show's third and final season, which seems to be hanging in a mid-pandemic limbo.