This Look At Nathan Fillion As The MCU's Wonder Man Is Downright Amazing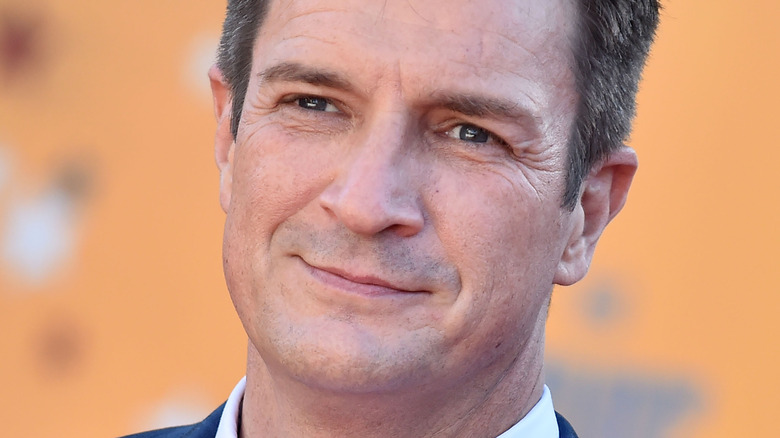 DFree/Shutterstock
It's an exciting time to be a fan of the Marvel Cinematic Universe, especially if you're in for some character introductions. In addition to numerous tenured favorites like Thor (Chris Hemsworth) and Spider-Man (Tom Holland) continuing to dazzle audiences at the movies and on television, more and more fresh faces are joining the hero roster. She-Hulk (Tatiana Maslany), Ms. Marvel (Iman Vellani), Moon Knight (Oscar Isaac), and several others have joined the blockbuster franchise throughout Phase Four, and it stands to reason that this trend will continue into Phase Five and beyond.
One such name that will make his way into the MCU in the coming years is Wonder Man — real name Simon Williams. As revealed by The Hollywood Reporter on June 16, 2022, he's on track to star in his own Disney+ series courtesy of creatives Destin Daniel Cretton and Andrew Guest. Considering how recent this announcement is, details about the show are sparse at the time of this writing, though we do know that Trevor Slattery (Sir Ben Kingsley) will factor in. At the same time, it's currently a mystery who will take on the title role. Thus, the internet is full of fan dream castings for the Wonder Man character, with Nathan Fillion rising as a fan frontrunner.
To visualize what Fillion's take on Wonder Man could look like in the MCU, digital artist Daniel Savage has put together an excellent mock-up.
Fillion is a picture-perfect Wonder Man in this piece of fan art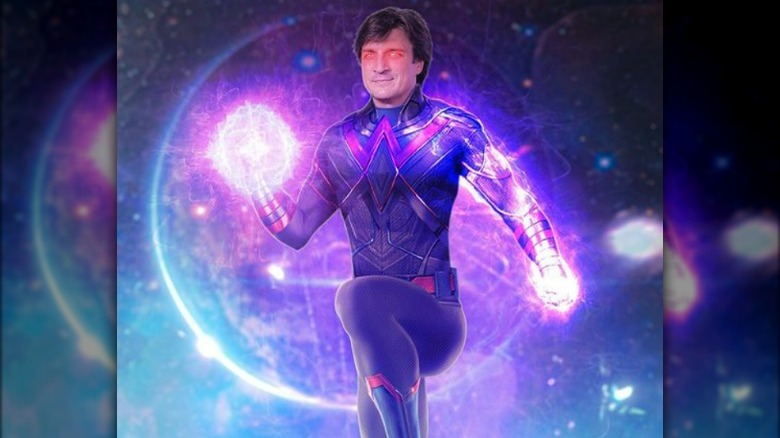 @savagecomics/Instagram
In June of 2021, Daniel Savage posted his rendition of Nathan Fillion's Wonder Man on his Instagram page, @savagecomics. Taking visual cues from the red and blue long-sleeved costume Simon Williams wears toward the end of his 1990s solo comic series, the art depicts the character levitating above the ground with his eyes glowing red. The second version of the art is largely the same, except that it includes glowing purple ionic energy effects on his hands and arms. Suffice to say, if this is anything close to what Wonder Man will look like in the MCU, then Marvel Studios will have done a great job with his costume.
Of course, this is just a piece of Wonder Man fan art, so it's nothing official by any means. The same goes for Fillion's casting, or at least that's how things look. As it turns out, Fillion nearly played Williams in the MCU via "Guardians of the Galaxy Vol. 2," according to director James Gunn himself. He planned to include a scene highlighting Williams' acting career, complete with a bunch of fictional movie posters. However, for the sake of the film's pacing, this moment wound up on the cutting room floor. Nevertheless, in Gunn's mind, the posters are indeed MCU canon (via CinemaBlend).
Hopefully, we'll find out soon who will take the lead role on "Wonder Man." Although, whoever lands the job will surely have a hard time convincing many MCU fans that they're a stronger pick than "Firefly" favorite Nathan Fillion.