The Krysten Ritter Comedy That Was Canceled Too Soon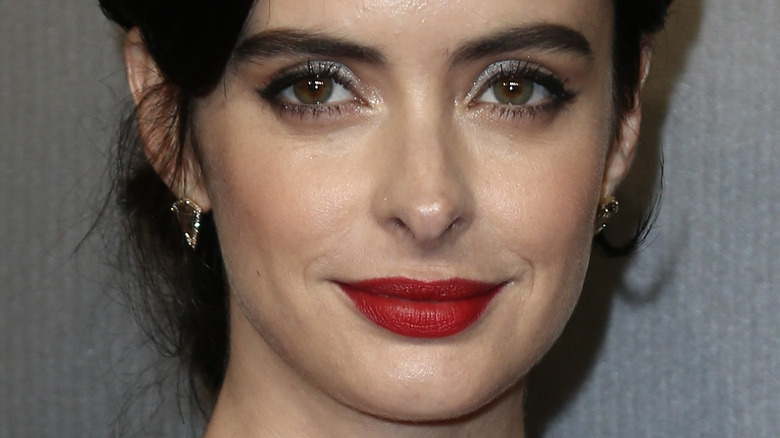 Debby Wong/Shutterstock
Krysten Ritter has made a name for herself in numerous works. Making her first credited appearance in the 2002 film "Garmento," Ritter then rose to prominence with her role as Gia Goodman in the detective mystery series "Veronica Mars." She followed that up with roles in shows such as "Gilmore Girls" and "Breaking Bad," reprising her role as Jane in the latter series in the sequel film "El Camino: A Breaking Bad Story."
2021 also saw Ritter take on directing duties, helming four of the eight episodes of the Peacock series "The Girl In The Woods," marking the first time she directed a series without being a performer.
To date, Ritter's most famous role has been in the Marvel series "Jessica Jones," with comic book fans speculating on her possible return to the role of Jessica Jones. However, this was not the first time Ritter had led a TV series. Her previous role came in the form of a comedy sitcom with its fair share of fans who lament its early cancellation. This is the Krysten Ritter comedy that was canceled too soon.
This short-lived ABC sitcom was a memorable role for Ritter
In 2012, Krysten Ritter starred in the ABC sitcom "Don't Trust the B in Apartment 23."
The show was created by Nahnatchka Khan, who went on to make "Fresh Off The Boat" and "Young Rock." Ritter starred as Chloe, the resident of Apartment 23, who gets a new roommate, June, played by Dreama Walker. June gets drawn into Chloe's chaotic life as the duo form an unlikely friendship. Other cast members included Liza Lapira as a neighbor, Eric Andre as June's co-worker and love interest, and James Van Der Beek, who played a fictionalized version of himself reliving his "Dawson's Creek" fame.
The sitcom was initially slated to air on Fox before the channel passed, allowing ABC to pick it up (per Variety). Unfortunately, the show suffered from airing issues; while ABC ordered 13 episodes for the first season, only seven episodes made it to air. Fortunately, the series was renewed for a second season, with the six additional episodes of the first season added for a 19-episode second season (via The Futon Critic).
ABC, however, pulled the show from its schedule only 11 episodes into the show's second season, opting to instead air back-to-back episodes of "Happy Endings" in its place (per The Hollywood Reporter). The final episodes of the show's second season were eventually released online.
The show suffered from issues during its airing as well
The abrupt cancellation was just the latest in numerous issues related to ABC's airing of the show.
ABC also opted to air episodes out of order during the show's original run (via Time), which led to confusion among many viewers as the overarching storylines of the show were left muddled. In addition, while ABC aired the short first season on a consistent weekly schedule, the second season frequently took a week's break. ABC abruptly decided to air new episodes on Sundays and Tuesdays shortly before its cancellation.
Despite ABC's mishandling of the series, "Don't Trust The B in Apartment 23" garnered praise from critics and audiences, with the first season receiving an 88% critic rating and an 85% audience rating on Rotten Tomatoes and the second season remaining equally strong with an 83% critic rating and 82% audience rating (via Rotten Tomatoes).
In a 2014 interview with The Hollywood Reporter, James Van Der Beek expressed a desire to do more comedy in the show's vein, saying, "You feel very safe when you're constantly destroying all those little things you keep precious as an actor. It's a very liberating feeling. I'll probably find a way to do more of it here and there."