Jordan Peele Suggests Nope Might Get Something None Of His Other Movies Have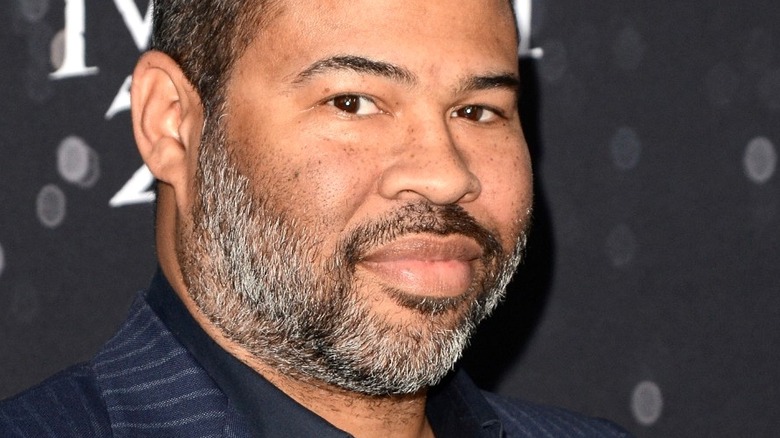 Kathy Hutchins/Shutterstock
It looks like "Nope" director Jordan Peele might have some interesting plans for his sci-fi-horror film. The project reunites Peele with "Get Out" star Daniel Kaluuya and also features Keke Palmer. The two appear together as the Haywood siblings, ranch owners who begin to notice strange anomalies plaguing their property. After a bewildering marketing campaign that kept the mysteries of the film under wraps, "Nope" hit cinemas earlier this summer, grossing over $100 million at the box office (via Box Office Mojo). This impressive feat marked Peele's third consecutive film (after "Get Out" and "Us") to break over $100 million, proving that the director is as bankable as he is critically successful.
"Nope" fans have continued to analyze the film's disturbing moments for its various details, themes, and secrets, trying to figure out just what Peele's sci-fi-horror blend means, especially now that the film is available to rent on VOD. Each new viewing seems to unravel more but Peele himself has admitted that a decent amount of the footage that was shot was cut. In an interview with Collider, Peele revealed that the initial "Nope" assembly cut was around 4 hours. While there's obviously a reason as to why the film wasn't released in its rough state, fans will be excited to know that certain elements that didn't make the final cut may be explored in future projects.
Jordan Peele has teased the prospect of a Nope follow-up film
While speaking with Jordan Peele, The New York Times took an opportunity to discuss a character seen in the "Nope" trailer who didn't appear in the film's final cut. The trailer briefly puts the focus on a white male with glasses, with one moment, in particular, highlighting the man's spectacles, which feature the reflection of a primate that we can assume is Gordy. Twitter users like @ThinkStoryYT have attempted to get to the bottom of who the character is — he's dubbed "Nobody" on IMDb and played by Michael Busch. As of now, details are slim on how exactly this scrapped character fits into the narrative of the film.
The New York Times pressed Peele for details, pointing out how audiences have been analyzing trailers to find out who Nobody is. Peele praised fans for their sleuthing skills and then went on to suggest that Nobody's story hasn't been fully realized. "The story of that character has yet to be told, I can tell you that. Which is another frustrating way of saying, I'm glad people are paying attention," the director revealed. 
Peele also implied that the character — or other cut elements of the film — could be explored in a future "Nope"-centric project. Should this story manifest, it would be the first time one of Peele's directorial efforts receives a follow-up. "I do think they will get more answers on some of these things in the future. We're not over telling all of these stories," the director said. Peele has also implied in the past that he is willing to revisit his debut "Get Out," though a sequel hasn't been officially announced.