What Only Marvel Comics Fans Know About She-Hulk's Mallory Book
Contains spoilers for "She-Hulk: Attorney at Law" Episode 3
The Marvel Cinematic Universe is really focusing on bringing new heroes and villains to the forefront of Kevin Feige's grand tapestry as part of this new era for Earth's Mightiest Heroes. Marvel Studios' presentation at San Diego Comic-Con 2022 confirmed that now that Thanos (Josh Brolin) has been defeated, the MCU is moving into the Multiverse Saga. Yes, in case it wasn't clear thanks to "Loki," "Spider-Man: No Way Home," and "Doctor Strange in the Multiverse of Madness," the series has jumped headfirst into the idea of alternate universes, timelines, and dimensions.
But it's also not afraid to explore smaller stories too, with shows like "Moon Knight," "Ms. Marvel," and "She-Hulk: Attorney at Law" all taking a different approach to superhero storytelling. Tatiana Maslany's green giant is more focused on balancing her legal career as Jennifer Walters than saving the world with her newfound gamma powers as She-Hulk.
Showrunner Jessica Gao recently told Collider that her dynamic with her best friend-slash-paralegal Nikki Ramos (Ginger Gonzaga) is one of her favorite things about the show, explaining, "I could watch the two of them all day because they're so funny together. They have such great chemistry, but they also just feel like real friends. A major theme of the show is just a portrait of womanhood."
Obviously, Nikki isn't the only woman Jennifer works with at Goodman, Lieber, Kurtzberg & Holliway — Mallory Book (Renée Elise Goldsberry) also shows up throughout the series. Science-fiction fans might recognize Goldsberry thanks to her role as Quellcrist Falconer in "Altered Carbon," but she's also starred in the likes of "Hamilton," "tick, tick...BOOM!," and "Evil." But there are a few things that only comics fans will know about Mallory Book in "She-Hulk."
Mallory Book has a rivalry with Jennifer Walters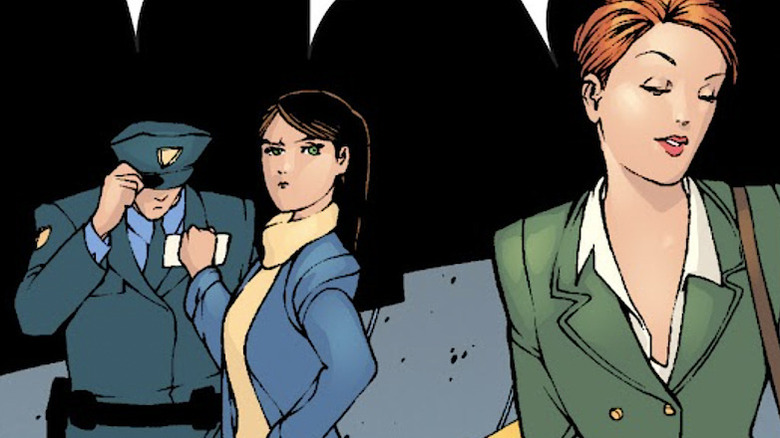 Marvel Comics
Although Jen and Mallory seem like they're on amicable terms in the series so far, comics fans know that they actually have a pretty intense rivalry. Mallory first appeared in the 2004 "She-Hulk" series by Dan Slott and Juan Bobillo and is already a high-flying lawyer at GLK&H by the time Jennifer gets hired (via Marvel Database). It's not until "She-Hulk" #3 that the two start to clash, mainly because Jen feels that Mallory uses her for her contacts within the superhuman community. It starts when Mallory has Jen assigned to defend someone on a murder charge, and the star witness is the victim's own ghost — brought into the living world by Doctor Strange, of course.
But when Mallory asks Jen to get in touch with Ben Grimm, aka the Thing, before swiftly leaving the office, Jen starts to get a little angry. And you won't like her when she's angry ... or maybe you will. It's easy to see why Jen gets irritated — she's not being used for her talents as a highly skilled lawyer but is simply a go-between for the firm and other superheroes. Ouch.
It also doesn't help that Mallory gets injured when Titania smashes her way into the office looking for She-Hulk — something the lawyer obviously blames on the part-time Avenger (via Marvel). Since the Disney+ series is pulling from the Slott and Bobillo run (via Variety), it's not impossible this rivalry will translate into live action. Titania (Jameela Jamil) has already made an appearance, so surely it's not going to be long until she comes looking for Jen. Mallory better watch out.