Bette Davis' Unfiltered Thoughts On Marilyn Monroe In All About Eve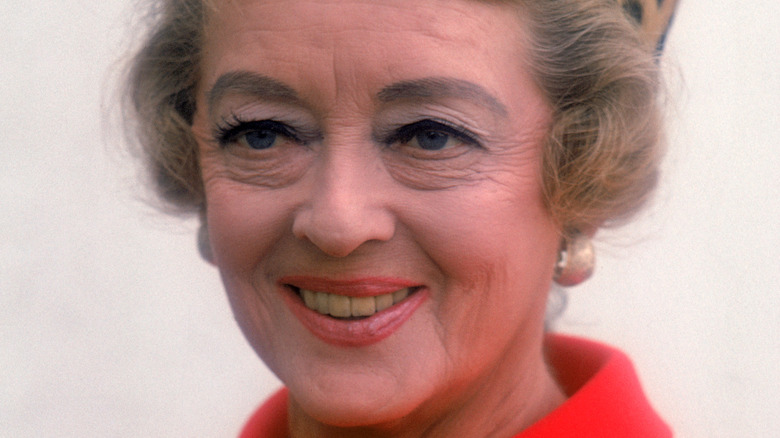 Martin Mills/Getty Images
The golden age of Hollywood of the 1930s to the 1960s was a pivotal time of cinema (via Studio Binder). A major component of what made this era so influential was that its performers were locked into the studio star system, where the promotion of an ideal took precedence over raw acting talent (via The New Yorker). One such star to challenge this promotional stronghold was Bette Davis. 
The legendary star was initially a Hollywood contract player, who was firmly committed to creating authentic performances, as opposed to merely playing herself (via Vanity Fair). As a result, Davis' contribution to acting and film transcends the scandals that surrounded her, such as the near-mythical vicious feud behind the camera between her and Joan Crawford on 1962's "Whatever Happened to Baby Jane?"
One of Davis' most renowned roles was in 1950's "All About Eve," which brought her on-screen with another soon-to-be Hollywood legend, Marilyn Monroe. Monroe's career was just kicking off in the 1950s thanks to a handful of memorable screen appearances and whether they were her best or worst movies, they still all contained Monroe's dynamic charisma.
Monroe started in the world of modeling and then signed a contract with 20th Century Fox in the late 1940s (via Britannica). "All About Eve" was one of her first major movie roles. Monroe tragically passed away in 1962 at the age of 36 (via The Los Angeles Times), but years later, Davis didn't hold back on her unfiltered thoughts about the late actress' acting abilities.
Marilyn Monroe played Claudia in All About Eve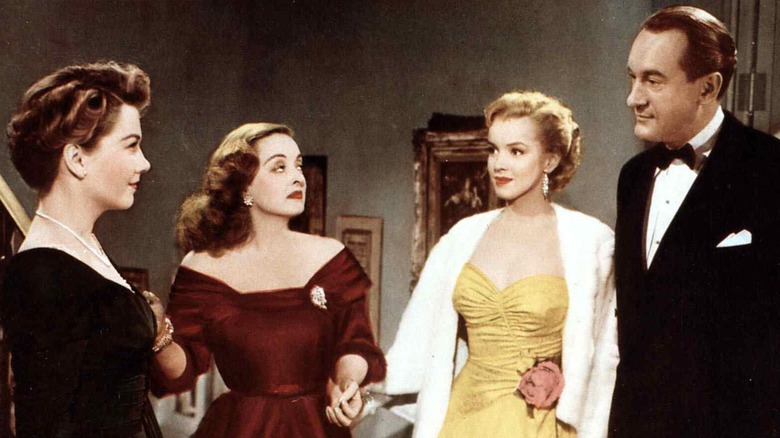 United Archives/Getty Images
In a 1977 interview with Stanley Siegel, Davis was asked about working with Monroe on the film and commented, "Oh, I knew she had a long way to go. Definitely, no question, I knew she was going to make it. She was a very ambitious girl, [and] knew what she wanted [and was] very serious about it." She later added, "I thought she had talent" and noted how the camera loved Monroe as well. For Davis to notice Monroe's acting ability speaks volumes. Given Davis' penchant for offering some ugly truths about her co-workers (via Vanity Fair), Monroe certainly fared well in Davis' memories of their working relationship.
But filming "All About Eve" was not an easy experience for Monroe, in large part because it was her first role of any real substance and screen time. The newcomer was also a bit intimidated at the prospect of filming with Davis, especially given the larger-than-life persona Davis was affecting for her character, Margo Channing. 
Monroe's nerves got the best of her, so she kept fumbling her lines, which led to multiple takes of her simple scene. After Davis lost her temper, Monroe had to run to the restroom and vomit due to her nervous stress (via Vanguard of Hollywood). The irony is, Bette Davis thought her performance was perfectly fine the entire time.