Sidney Poitier Only Accepted Roles Under One Important Condition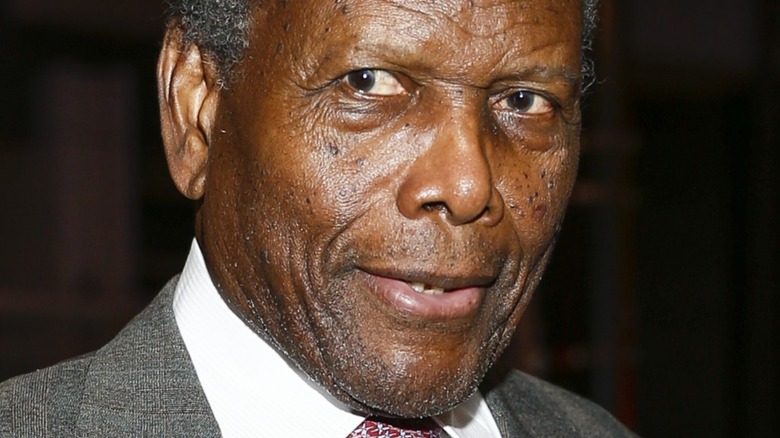 Rich Polk/Getty & undefined
One of the most iconic actors of all time, Sidney Poitier left behind a legendary career when he died in January of 2022. Poitier began his acting career in the late 1940s as an extra in "Sepia Cinderella" and landed his first prominent role in 1950's "No Way Out" (via IMDb). Some of Poitier's most notable roles include 1961's "A Raisin in the Sun," 1965's "A Patch of Blue," and 1967's "In the Heat of the Night" and "Guess Who's Coming to Dinner." 
Further, he made Oscar history, as he became the first Black man to be nominated for best actor in 1958's "The Defiant Ones" and his best actor win for his performance in "Lilies of the Field" made Poitier the first Black actor to take home the trophy in that category (via Reuters). He then received an Honorary Academy Award in 2001 as well.
Despite beginning his career back in the 1940s, Poitier only racked up 55 acting credits to his name (as well as nine directing credits once he began helming films in the 1970s). In other words, it's safe to assume that Poitier was picky about the movies that he decided to take on. So, what was the actor's criteria? In one interview, Poitier revealed the one important condition that he needed in order to accept a role — here's what it is.
Poitier wanted to play strong and educated characters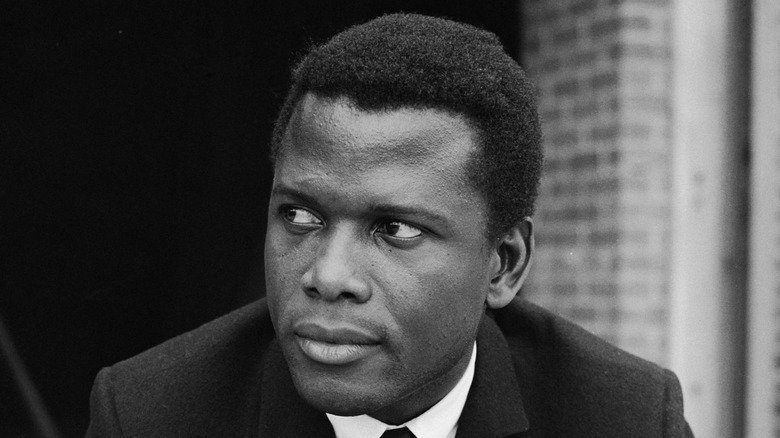 The Graham Stark Photographic Library/Getty Images
In 2013, Sidney Poitier sat down with Lesley Stahl at CBS Sunday Morning to discuss his long and successful career. Stahl noted that Poitier had made a point from the beginning of his career to only take on roles of men who were well-educated, upright, and ethical. It was also often the case that Poitier's character was stronger than the white characters that he came into contact with.
Poitier explained, "I did not go into the film business to be symbolized as someone else's vision of me. If the screen does not make room for me in the structure of the screenplay, I step back. I couldn't do it, I just couldn't do it." Revealing one way in which he made sure that his character was not looked down upon by the white characters, Poitier explained a script change he demanded in "In the Heat of the Night:" When his character is slapped by a white character, Poitier's character would slap him back. 
He also required that a written agreement be made and signed by the studio that no version of the film could edit his slap out. He felt that if there were a version where he just had to stand there and take this other character's abuse, "I would have been insulting every Black person in the world."
With the actor's strict criteria for his roles established, Poitier ended up portraying characters such as a homicide detective ("In the Heat of the Night"), a doctor ("Guess Who's Coming to Dinner"), and an engineer-turned-teacher ("To Sir, With Love").
Poitier had spoken on other occasions about being choosy with his roles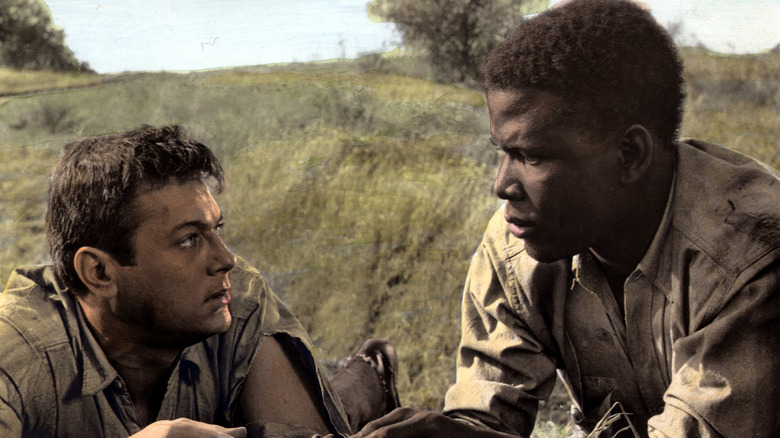 United Archives/Getty Images
In an interview with Oprah Winfrey for Oprah.com, Poitier elaborated on the importance of carefully choosing his roles, so as to not contribute to stereotypes about Black people. He only made two exceptions to this in his filmography: "Porgy and Bess" and "The Long Ships." With "Porgy and Bess," powerful producer Sam Goldwyn threatened to ruin Poitier's career if he didn't take on the role of Porgy. 
At the time, Poitier was more interested in appearing in "The Defiant Ones," but couldn't do so while he was on Goldwyn's bad side. So, Poitier played Porgy and not long after, got his first Oscar nomination for his work in "The Defiant Ones." 
Overall, Poitier held firm about his standards: "I was the most successful black actor in the history of the country. I was not in control of the kinds of films I would be offered, but I was totally in control of the kinds of films I would do. So I came to the mix with that power—the power to say, 'No, I will not do that.'"
Being picky about his roles also extended to which directors he worked with. Even though all of the directors he worked with were white, they were on the same page about what kinds of messages they wanted the films to convey. Poitier said, "The films I did were designed not just for blacks but for the mainstream. I was in concert with maybe a half-dozen filmmakers, and they were all white. And they chose to make films that would make a statement to a mainstream audience about the awful nature of racism."