Why A Camera On The Shootist Set Had John Wayne Seeing Red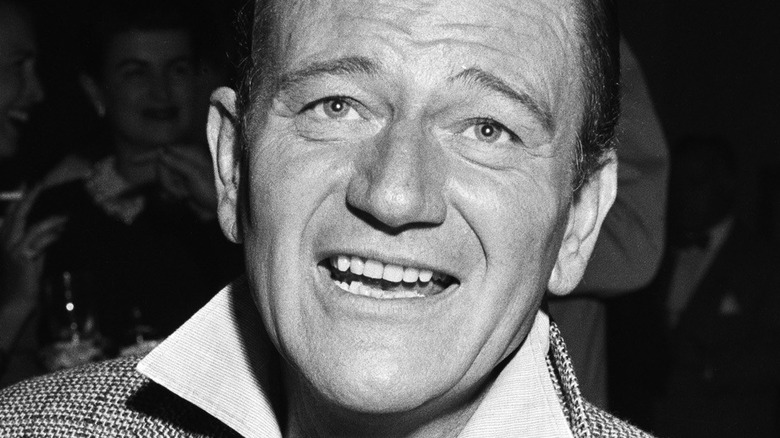 Michael Ochs Archives/Getty Images
One reason John Wayne still appears on rankings of America's favorite movie stars (per Broadway World) is his naturalistic, realist attitude to giving a performance. The actor explained part of his approach to Roger Ebert during a 1969 interview: "To stay a star, you have to bring along some of your own personality. Thousands of good actors can carry a scene, but a star has to carry the scene and still, without intruding, allow some of his character into it."
Wayne's innate charisma on screen made him one of the most bankable performers in Hollywood (via critic Emmanuel Levy), as well as an icon of American values. When Emperor Hirohito of Japan visited the United States in 1975, he requested to meet with Wayne because he saw the man as a representative of the country itself (per Legal Reader).
By 1976, however, an aging Wayne was struggling with serious health problems and clashed with director Don Siegel over the making of the star's final Western, "The Shootist." But it was a poor camera setup that made the older actor lose control on set. 
Wayne lost his temper over a camera placement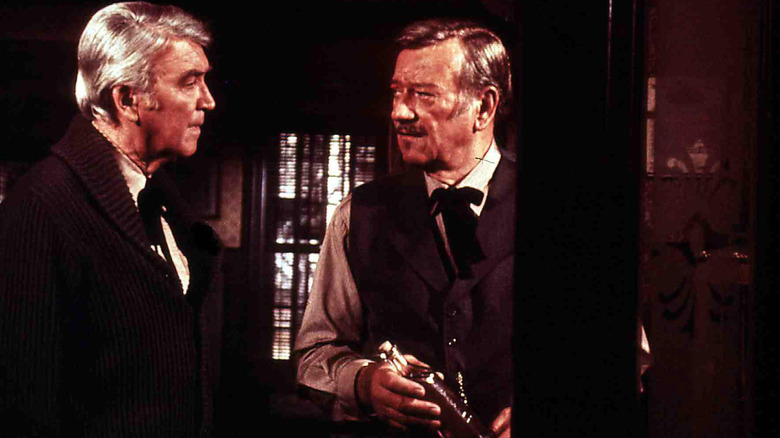 United Archives/Getty Images
Before and after making "The Shootist," Don Siegel often made films with Clint Eastwood, the star whose dark, angry anti-Westerns, such as "High Plains Drifter," felt like a retort to the simple heroism of John Wayne's movies. Siegel and Eastwood worked well together as television veterans who didn't fret over the script or the right camera angles. It's no wonder that Wayne, used to the visionary style of John Ford, didn't like Siegel's no-fuss directing (via TCM/YouTube).
The filming never broke down because of Siegel or Wayne, but according to co-star Ron Howard, Wayne did object during one take in a barn because of how a camera had been placed — in front of the actor, in a bale of hay. The shot wouldn't have been very flattering, mostly capturing Wayne's nose and cheeks, but he also thought it was obnoxious. Wayne first politely, then angrily told the camera operator to move the equipment upward, before snapping at Siegel that he was ready for the take.
Still, Howard admired Wayne's professionalism and his seemingly natural performance style. As Howard put it during a Tribeca Film Festival panel, "I've worked with Bette Davis, John Wayne, Jimmy Stewart, Henry Fonda. Here's the thing they all have in common: They all, even in their 70s, worked a little harder than everyone else" (via The Huffington Post).