The Cleveland Show Star You Likely Didn't Know Plays A Recurring Role In Succession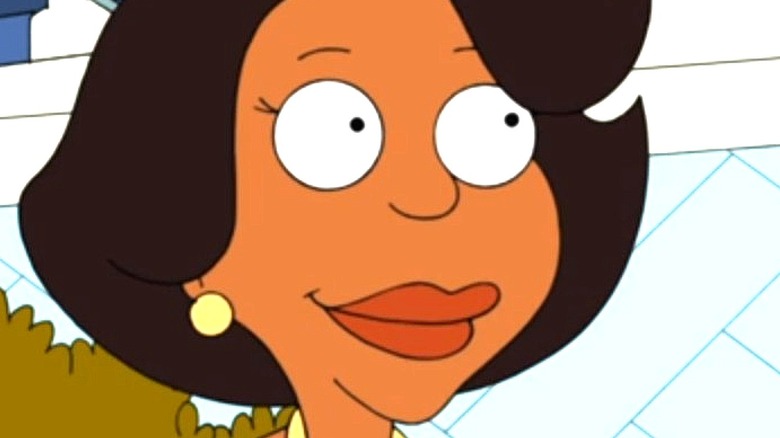 Fox
When it comes to voiceover performances, it's all too easy for the public to be unable to match the physical actor with the person's voice. This is in large part because voiceover actors do a great deal to disguise their real voice. Some, like Mel Blanc of "Looney Tunes" or June Foray, have a downright chameleonic ability to play a dozen characters simply by shifting in pitch or changing their accent.
Actress Sanaa Lathan has played various roles in animated shows and films, including Donna Tubbs on "The Cleveland Show" and "Family Guy," as well as a new iteration of Catwoman on HBO Max's "Harley Quinn." The actress told Blackfilm that she hadn't really been a fan of animation until she played Donna, but now she adores voice acting: "I'm always telling my agents, 'Get me out there for these animation shows because I just love doing it.' You can do crazy characters and flex those muscles."
You may know Lathan's voice because of the "Family Guy" universe, but "Succession" fans might recognize the actress too.
Lathan is Kendall's lawyer on Succession
Sanaa Lathan appears in a recurring role on Season 3 of "Succession" as Lisa Arthur, a high-profile lawyer who is friends with Shiv Roy (Sarah Snook). Arthur eventually takes on Kendall Roy (Jeremy Strong) as a client when he decides to leak incriminating documents from Waystar Royco. However, Kendall eventually drops Arthur after she warns him that these files aren't enough to bring down Kendall's father, Logan Roy (Brian Cox), and the Waystar leadership.
At first, Lathan was reluctant to join "Succession" because of the COVID-19 pandemic, but once she watched the show, "I was like, 'I gotta be a part of this'" (via Gold Derby). Lathan's gambit paid off, and her performance in the episode "What It Takes," where a frustrated Arthur confronts Kendall over his awful behavior, even earned the actress her first-ever Emmy nomination.
Lathan isn't sure yet whether she'll be returning for Season 4 of "Succession," but she loves working on a show with such a complex range of characters. The actress told Gold Derby that whether she's working in animation or live-action, "as an actress, you want juicy, layered roles that can really be challenging and have nuance."