Why Laura Dern Never Expected To Return To Her Jurassic Park Character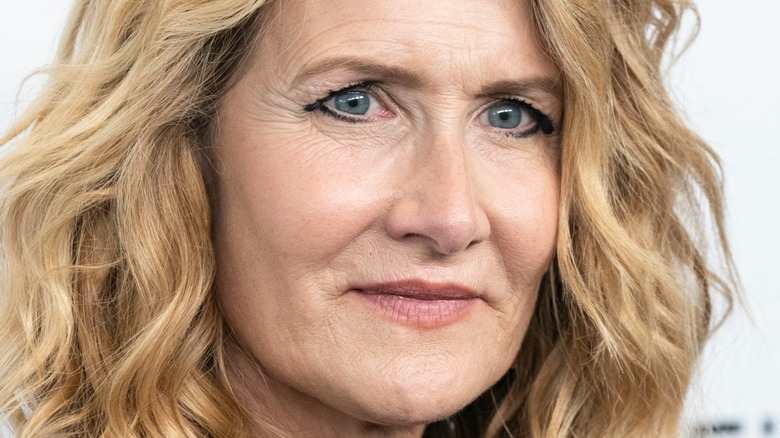 Lev Radin/Shutterstock
"Jurassic World Dominion" had some dino-sized shoes to fill. Not only was this the conclusion to the smash-hit "Jurassic World" trilogy that began with 2015's "Jurassic World," but it was also similarly intended to give finality to the entirety of the "Jurassic" saga, which began with 1993's "Jurassic Park." In doing so, the film chose to honor the roots of its lineage, telling another story that comments on man's feeble attempts to control nature. More specifically, it sees the ultimate clash between man and dinosaur since both must learn to share the planet with one another. While "Dominion" concludes the journey of "Jurassic World" trilogy characters Claire Dearing (Bryce Dallas Howard) and Owen Grady (Chris Pratt), it only made sense to bring in some familiar, fan-favorite faces as well.
These came in the form of Dr. Alan Grant (Sam Neill), Dr. Ian Malcolm (Jeff Goldblum), and Dr. Ellie Sattler (Laura Dern), who hadn't been seen together since the original 1993 film. Their return was a big one for fans, especially coupled with the promise that they would be more than mere cameos (via Yahoo Movies UK), but it equally meant quite a bit to the actors themselves. Laura Dern, in particular, had been eager to return to the franchise since the "Jurassic World" trilogy began (via Entertainment Weekly). However, before this, her viewpoints on coming back were much different.
She never would have considered it in 1993
Laura Dern's turn as the sharp-witted Dr. Ellie Sattler in "Jurassic Park" was an undeniable landmark for progressive female representation in science-fiction cinema, a fact that was not lost on Dern herself. Speaking to Republic World, she said, "What I love is that this franchise, from its beginning, [has] treated [women] equal to the men and it has continued to evolve with powerful women at the helm." Although it would seem natural for Dern to hope to return to the "Jurassic" playground, her initial thoughts on the subject weren't clear.
In an interview with the A.V. Club, Dern revealed, "[Dr. Ellie Satler is] a character I never imagined returning to, to be honest. In 1993, the franchise, there wasn't a commonality to it, so you would never consider that." Despite Dern's brief return in "Jurassic Park III," it seems as though the idea of her coming back in a substantial capacity was not in the cards for some time. Thankfully, her appearance worked out for "Dominion."