The Small Marjorie Detail You Likely Missed On CBS' Mom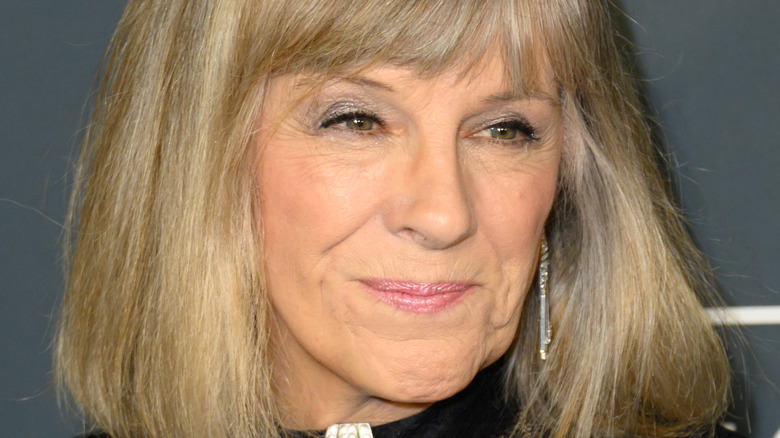 Silvia Elizabeth Pangaro/Shutterstock
During the eight-season run of "Mom," it slowly moved away from the focus on estranged mom and daughter addicts and alcoholics Bonnie and Christy (Allison Janney and Anna Faris) until it became more about the entire group of friends and support system as a whole. Viewers were as interested in who Marjorie (Mimi Kennedy), Wendy (Beth Hall), Jill (Jaime Pressly), and eventually Tammy (Kristen Johnston) were, and learning about their lives and problems brought more dimension to the show. And little did the writers know, but making fans care about all the characters — and not just the two — really helped when Faris decided to leave the show.
One character fans began to get to know right away in Season 1 was Marjorie, who became Christy's Alcoholics Anonymous sponsor. Offering guidance and support when she needed it, fans fell in love with the character. "Whenever I have bad thoughts about others and get into a rant, Mimi Kennedy sometimes pops up as a ghost with some inspirational quote, and I'm like, 'Yeah yeah, Marjorie; do unto others, and all that crap. Ugh,'" said u/DrewwwBjork in a "Mom" subreddit. Fans were thrilled when the answer to a small exchange between Marjorie and Christy in Season 5 was silently answered in a later episode, a detail most viewers probably missed.
Marjorie's sponsor made her a butterfly sweater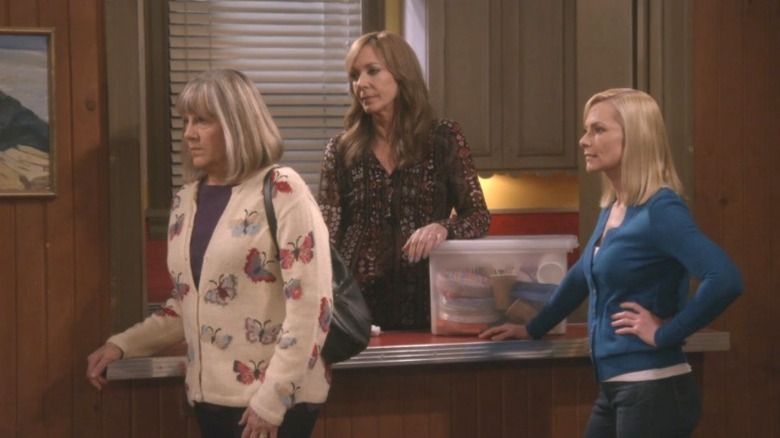 CBS
In Season 5 Episode 18 ("Spaghetti Sauce and a Dumpster Fire") of "Mom," Marjorie and Christy have a fight, and in the process, split up as sponsor and sponsee. While looking around their AA meeting for a possible replacement, Christy suggests Katherine to Jill, and Jill responds, "Are you crazy? You don't want a knitter!" She points out that Katherine's other sponsor, Denise, wears a butterfly sweater that Katherine made for her. Later Marjorie reveals to Christy that — a year since she lost her last sponsor — she finally has a new one: Katherine. "The knitter? She might make you a butterfly sweater," Christy tells Marjorie. "Wouldn't that be wonderful?" she replies in delight. Four episodes later, Marjorie's wish came true: she's shown wearing a butterfly sweater at the end of one of their AA meetings.
The small detail was caught by u/dietwater22, who posted the observation on a "Mom" subreddit. Another Redditor, u/zoomzoomkazoo commented, "I remember finally noticing this on one of my rewatches. Such a fun detail!" Fans loved how Marjorie didn't care if others found her too abrasive or too positive; she came across as genuine, and committed to looking at the bright side. The role was a true testament to what a fantastic actress Mimi Kennedy is.