New Look At Benicio Del Toro In Star Wars: The Last Jedi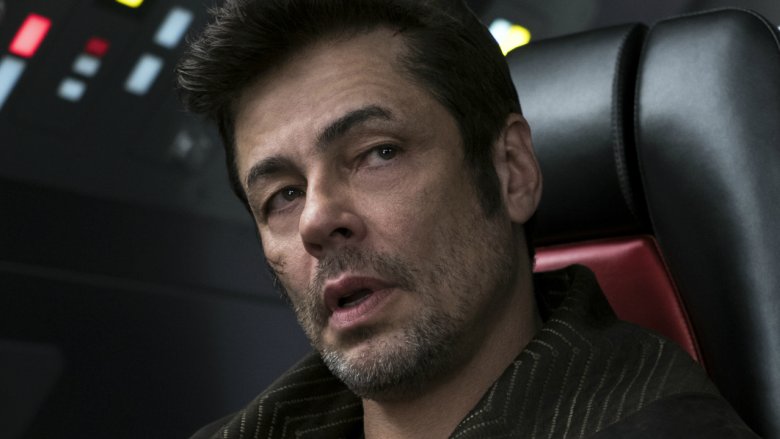 Lucasfilm
With just a few weeks until Star Wars: The Last Jedi finally hits theaters, we still don't know much about Benicio Del Toro's new character. But the more we hear, the more we're intrigued.
Empire has a new photo (below) of Del Toro as DJ, a mysterious underworld codebreaker known as a "slicer." It doesn't reveal all that much about the character, but it definitely implies that he's shady, scruffy, and at least a little dangerous.
"This character could come straight out of a Bob Dylan or Tom Waits song, or even a Dostoyevsky novel," Del Toro said. "He's like something out of Dickens; there have been characters like him in all kinds of literature... He's like a knife: if you grab him by the blade, he'll cut you. If you grab him by the handle, he can be very, very useful."
Finn (John Boyega) and Rose (Kelly Marie Tran) will encounter DJ in the casino city Canto Bight on the planet Cantonica. "We just need a codebreaker and he's the best in the galaxy," Boyega told Entertainment Weekly. "Unfortunately, he's very dodgy and only in it for financial gain. He doesn't fight for any side."
However, DJ does look out for one person: DJ. "The Resistance bombs the First Order one day, the First Order bombs the Resistance on another. It's an ongoing war that will never end," Boyega said. "For him, he's trying to benefit off of that–which doesn't make him the person you want to trust."
Del Toro isn't the only notable addition in The Last Jedi. Laura Dern (Jurassic Park) will also introduce the purple-haired Vice Admiral Amilyn Holdo. 
We'll find out much more about both characters when The Last Jedi lands in theaters on Dec. 15.
Hey Mr DJ! Exclusive new image of Benicio Del Toro's shady slicer.https://t.co/N9bIbdUc9h pic.twitter.com/JtKtvG3LnZ

— Empire Magazine (@empiremagazine) November 30, 2017