The Big Bang Theory Boasts A Dizzying Number Of Awards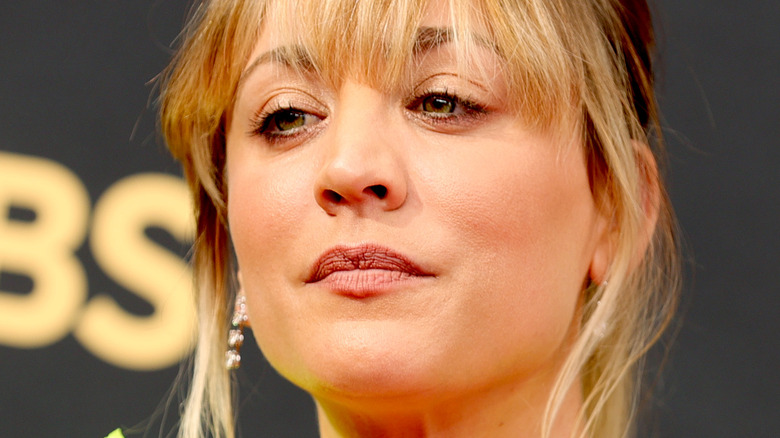 Rich Fury/Getty Images
"The Big Bang Theory," one of television's longest-running sitcoms, earned a very special place in fans' hearts from the very first "Bazinga." The series was a revolutionary depiction of fandom normalizing stereotypically ostracizing qualities while breaking down societal conventions. Created by Chuck Lorre and Bill Prady, "The Big Bang Theory" follows a lovable group of nerdy scientist friends navigating relationships, growing careers, and eventually even parenthood.
This comedy hit was universally well-received by critics and fans alike, with solid Rotten Tomatoes scores of 81% and 83%, respectively. For over 250 episodes, "The Big Bang Theory" attracted astonishing numbers in viewership, climbing as high as over 12 million for Season 12 (the final season) and ending with a whopping 23.4 million viewers (as first reported by Deadline). The series also launched the successful careers of breakout performer Jim Parsons (Sheldon Cooper), future Jeopardy host Mayim Bialik, and star of one of 2022's best shows, Kaley Cuoco. 
Over the series run, "The Big Bang Theory" featured an abundance of guest stars casting both comedy legends and film icons. From Sheldon's mother, Laurie Metcalf, to "Star Wars" space princess Carrie Fisher, the show recruited a variety of fan favorites for countless memorable episodes. Metcalf's role even inadvertently created a small "Roseanne" reunion with sitcom star Johnny Galecki as Sheldon's roommate and fellow physicist Leonard Hofstadter. The success of "The Big Bang Theory" continues with an abundance of awards, including a staggering amount of Emmy wins and nominations. 
The Big Bang Theory scored a massive amount of award recognition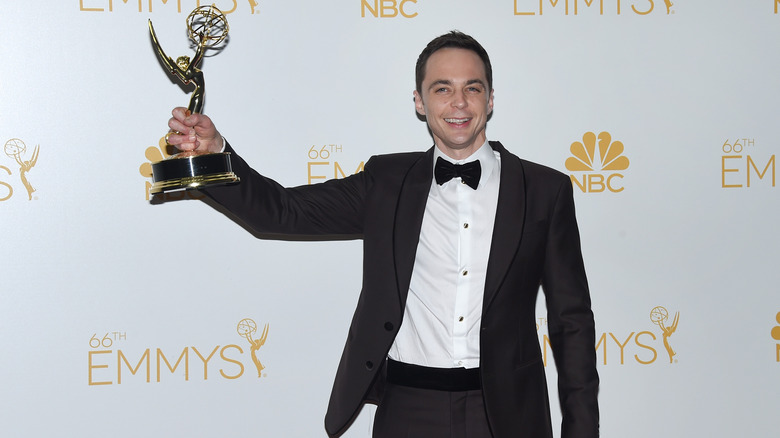 Jason Merritt/term/Getty Images
Though the accomplishments of a production certainly aren't measured in trophies, it's always nice to receive recognition for hard work and a job well done. The tireless efforts from the cast and crew of "The Big Bang Theory" paid off on numerous occasions over the series' run, awarding several golden Emmys in the process. Achievements poured in from several other places as well, including The Golden Globes, Critic's Choice Awards, and Screen Actors Guild Awards (SAG). These compile into a stunning total of 79 wins and 252x nominations across multiple platforms and distributors. 
"The Big Bang Theory's" first Emmy win was presented to Jim Parsons in 2010 (via IMDB) for his inspiring performance as the zany intellect Sheldon. Parsons was also nominated the year before with hilarious guest star Christine Baranski as Leonard's mother Beverly. He would win the award again in 2011, 2013, and 2014 while the series repeatedly won for editing and landed both Baranski and Metcalf Emmys for their outstanding guest roles.
The well-deserved list of merits continues as "The Big Bang Theory" was the recipient of the 2010 AFI Award for TV Program of the Year, praising the entire talented cast and crew. As a staple of television comedies, these achievements reflect the resounding reception of the series. While "The Big Bang Theory" may have ended, you can revisit the award-winning hit on HBO Max to celebrate this colossal amount of wins.