The Change That Was Made To Mayim Bialik's Jeopardy! Entrance To Make It More Authentic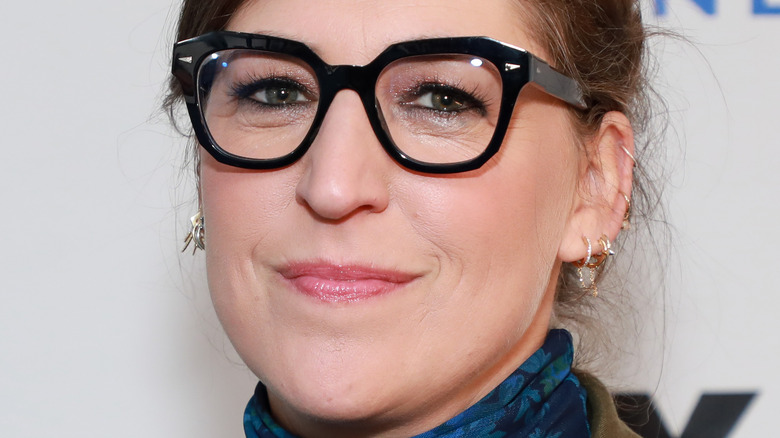 Jason Mendez/Getty Images
After 37 years of legendary host Alex Trebek at the helm of "Jeopardy!," it was a difficult feat to fill his shoes upon his passing in 2020 (via The New York Times).
Over the past two years, "Jeopardy!" has seen a confusing and controversial rotation of hosts, including Mike Richards, who came under fire for discriminatory remarks, as reported by NBC News. "Jeopardy!" legend and host Ken Jennings and "The Big Bang Theory" star Mayim Bialik have since been passing the torch in a temporary capacity. In July 2022, it was revealed (via NPR) that they're now permanent hosts and will alternate every few months.
Despite Bialik being a household name thanks to her decade-long tenure as Amy Farrah Fowler on the hit CBS sitcom, many "Jeopardy!" fans don't think she's a good fit for the long-running game show. On Reddit, several viewers criticized her hosting abilities. U/General_Tso75 said, "Nothing personal against her, but it's like watching a robot speak." U/GFK2K added, "She just seems to try way too hard ... We're not into it. I don't know what else to say; it's nothing against her, it just seems like she's overdoing it."
It seems Bialik is here to stay regardless of the audience's feelings toward her. However, "Jeopardy!" showrunners have implemented a change to make her delivery appear more authentic.
Mayim Bialik no longer pretends announcer Johnny Gilbert is on set
In 2021, Michael Davies was named executive producer of "Jeopardy!" following a two-decade stint in the same role for "Who Wants to Be a Millionaire" (via IMDb). Davies revealed in an interview with the "Inside Jeopardy!" podcast that one of his first orders of business was helping game show newbie Mayim Bialik come off as more authentic in her opening remarks. At first, Bialik would glance over to Johnny Gilbert, the longtime announcer of "Jeopardy!," and thank him. It turns out she was speaking to nobody since Gilbert records his clips from the comfort of home.
"I think on a show about fact, it wasn't right that we were looking over to an imaginary Johnny, and instead, we thank him — because we should thank him at the beginning of the episode — but we thank him right down the camera, right down the lens, because we know he watches every single episode," said Davies.
It's possible that subtle changes like this and more time spent in the role will help Bialik better resonate with the masses. She revealed to Entertainment Tonight in May 2022 that she's still finding her footing in the high-profile hosting gig: "You know, sometimes I'll say things, and I'll be like, 'How did that come out of my mouth and why?' But that's sort of me in life in general," she said, adding that the job is getting easier with practice.