Joe Pesci Only Booked One Animated Movie And You Probably Never Saw It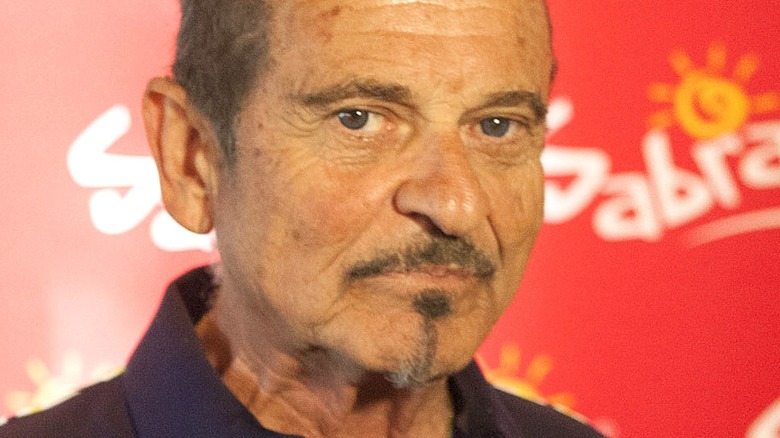 Michael Bezjian/Getty
Joe Pesci is an actor that has won acclaim for both his dramatic intensity and comedic timing. With memorable performances in Martin Scorsese's "Raging Bull," "Goodfellas," for which he won the Academy Award for best supporting actor in 1991, "Casino," and "The Irishman," the actor brought a level of gritty intensity or quiet fortitude when working with the famous director. But Pesci's acting range went far beyond the ferocity of his usual on-screen characters, and he could also be charmingly humorous. For every cold-blooded gangster he played, he would follow it up with a bumbling buffoon in 1990's "Home Alone" or a fish-out-of-water attorney in "My Cousin Vinny."
Before his return to working with Scorsese on 2019's "The Irishman," we seldomly ever heard from Pesci, who decided to semi-retire from acting in the late-1990s, minus a handful of performances in the 2000s and 2010s. But during this slow period in Pesci's career, he decided to do a first in his long filmography — voice acting in an animated film that never quite caught on with American audiences.
Pesci voiced Komar the Mosquito King in Savva. Serdtse voina
For his only big-screen voice acting role thus far, Joe Pesci lent his talents to a 2015 animated film from Russia known as "Savva. Serdtse voina," also known as "Hero Quest" or "A Warrior's Tale" in English. For the overdubbing for English audiences, Pesci voiced the character Komar the Mosquito King, the sidekick to the swashbuckling Semi-Baron Fafl (Geoffrey Cantor). His vocal inflections and persona for the character are quirky, irreverent, and decidedly unique depending on how you interpret the largely comedic animated character.
The notoriously press-shy actor does not like to submit to interviews, so his feelings about the film are not exactly known. But his exuberant antics in the movie are noteworthy; while he was recently lauded by The New York Times for his restrained performance in "The Irishman," he's been known to play over-the-top characters like Tommy DeVito in "Goodfellas" and Nicky Santoro in "Casino." 
Apart from top-notch production techniques and sterling CGI animation, "Savva. Serdtse voina" is not well-known outside of Russia. The movie only grossed roughly $5.6 million worldwide (via Box Office Mojo). In addition to Pesci and Cantor, the English language version also features the voice talents of Whoopi Goldberg, Milla Jovovich, and Sharon Stone. The film is currently available to stream on Peacock and Tubi.