Who Plays Evander Holyfield In Hulu's Mike?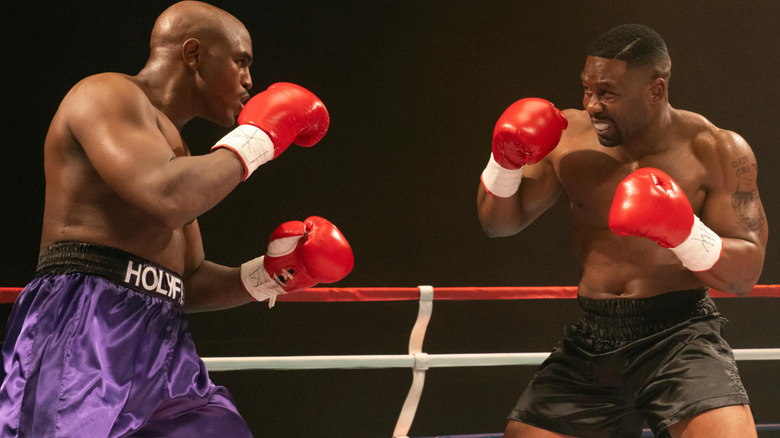 Alfonso Bresciani/Hulu
Hulu's "Mike" is an upcoming limited series aiming to offer an in-depth look into the life of famous heavyweight pro boxer Mike Tyson. And honestly, given his meteoric rise and fall in boxing, it makes sense why the streaming service would center a biopic around him. Unfortunately, "Iron Mike" himself isn't a fan of the project, as he feels Hulu did not get his blessing. But we can't deny the intriguing career as one of boxing's greatest pugilists to ever step inside the ring. Based on the "Mike" trailer released so far, the limited series should cover many familiar beats from Tyson's life. The trailer hints at scenes of coaching and mentorship from trainer Cus D'Amato and the numerous bouts that saw many of his opponents crumple to his peek-a-boo style fighting. There are also shots of his controversial time outside of the ring, including his stint in prison.
The trailer also shows that the series will examine one of Tyson's most notorious incidents inside the ring against Evander Holyfield. Per ESPN, Tyson and Holyfield met for a 1997 fight, but following alleged headbutts from Holyfield, Tyson infamously bit off a chunk of his ear in the third round. It remains one of boxing's most surreal and visceral moments. Eagle-eyed viewers may have spotted an actor donning purple trunks with the Holyfield name. But if he seems familiar, that's because you've likely seen him brawling in numerous other films thanks to his impressive career in stunt work.
Johnny Alexander performed stunt work for the Avatar and Black Panther sequels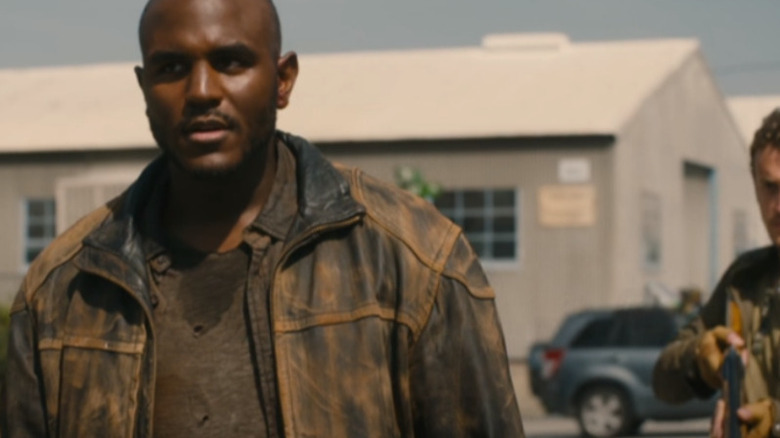 Fox/YouTube
Whether it's a captivating biopic or brutal slugfest found in a movie such as "Rocky," the fighting has got to look realistic. Fortunately, for the part of Holyfield in Hulu's "Mike," they've got the right performer to bring in that sense of realism. Johnny Alexander, who plays Holyfield, has been throwing countless punches, kicks, and all sorts of impressive action moves for over a decade. Per IMDb, Alexander's stunt work has been featured in projects such as "The Orville," "Luke Cage," and "The Mandalorian." In fact, in "The Orville," Alexander served as a stunt double for Peter Macon in the boxing scene for the episode "About A Girl." 
As seen in his demo reel, Alexander is under all the prosthetics and make-up for the Bortus character. And he gets humorously knocked out of the ring by Alara. In addition, we'll be seeing more of his stunt coordination and capture work in some anticipated sequels. Alexander is credited for working on "Avatar: The Way of Water" and "Black Panther: Wakanda Forever."
Alexander's onscreen appearances also extend beyond just stunt work. He's also acted in several small parts for many TV shows, including "General Hospital," "What Just Happened?," The Chi," and "Tales of the Walking Dead." In his profile for istunt, Alexander lists numerous martial arts he's able to perform onscreen like kung-fu, karate, and of course boxing. But if anyone is ready to question his skills behind the mitts, we suggest looking at his Instagram, where he posted a video of himself practicing some heavy bag work. Clearly, Alexander has put in a lot of work for his role in "Mike." As hard-hitting as his shots appear to be in the video, it's safe to say he should do Holyfield justice.