Here's When You Can Stream The Live-Action Pinocchio On Disney+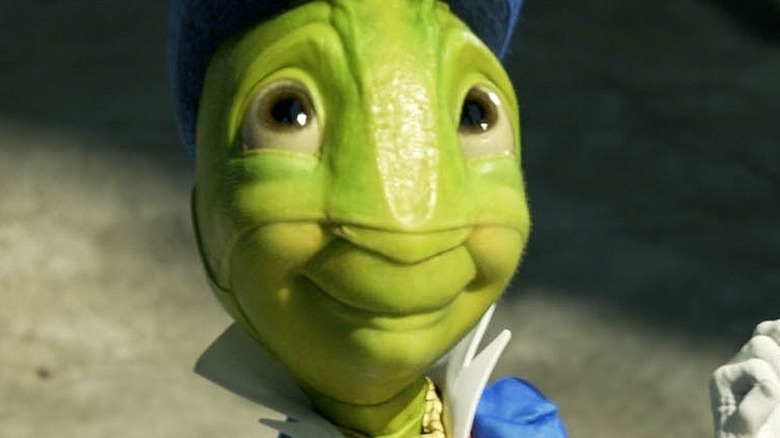 Disney Enterprises Inc
Robert Zemeckis is finally set to return to the wonderful world of Disney. The director has been a household name since the '80s when he treated audiences with "Romancing The Stone" and "Back to the Future." After two decades, Zemeckis helped Disney bring Charles Dickens' "A Christmas Carol" to life with an animated feature that saw Jim Carrey as Ebenezer Scrooge. 
While animated films have always been Disney's bread and butter, the studio has made the decision to remake several of its iconic films and give them the live-action treatment. Recent years have seen big-name directors like Guy Ritchie, Jon Favreau, and Kenneth Branagh bring classics like "Aladdin," "The Jungle Book," and "Cinderella" to the big screen with live-action spectacle. And now, Disney's latest live-action remake, "Pinocchio," is being shepherded by Zemeckis. The Oscar-winning director has tapped frequent collaborator Tom Hanks to play the irreverent toymaker Geppetto, who created Pinocchio.
The film will head directly to Disney+, like the studio's "Lady and the Tramp" live-action remake. With the marketing for the Disney+ exclusive ramping up, fans of Pinocchio will be pleased to know that the film's release is just right around the corner.
Pinocchio will be available to stream on Disney+ Day
Fans of the animated classic will rejoice knowing that Robert Zemeckis' live-action remake will be available to stream on September 8, or Disney+ Day. The official Disney+ Twitter account confirmed that "Pinocchio" will begin streaming alongside "Thor: Love and Thunder," the animated series "Cars on the Road," the behind-the-scenes documentary "Obi-Wan Kenobi: A Jedi's Return," and many more. The event will highlight upcoming films and television shows that will hit the streamer within the coming year. This year's event comes off the heels of last year's disastrous Disney+ Day, which failed the capture the imagination of several fans. 
Joining Tom Hanks in the film is Luke Evans, who appears as the nefarious Coachman who ropes in Pinocchio to come to Pleasure Island. Cynthia Erivo will star as the fairy who brings the puppet to life, while Sheila Atim will play a character created for the film. The titular character will be voiced by Benjamin Evan Ainsworth, with Joseph Gordon-Levitt, Lorraine Bracco, and Keegan Michael-Key rounding out the rest of the voice cast.
Disney recently released a brand new trailer for Zemeckis' live-action remake, which shows Pinocchio on his daring adventure to become a real boy. The footage released so far indicates that the live-action remake will stay true to the animated classic, which hit cinemas in 1940. For Zemeckis, "Pinocchio" is a full-circle moment, as the character appeared in his live-action/animation hybrid film "Who Framed Roger Rabbit" in 1988.