The Seinfeld Cast Member Fans Always Thought Was A Bad Actor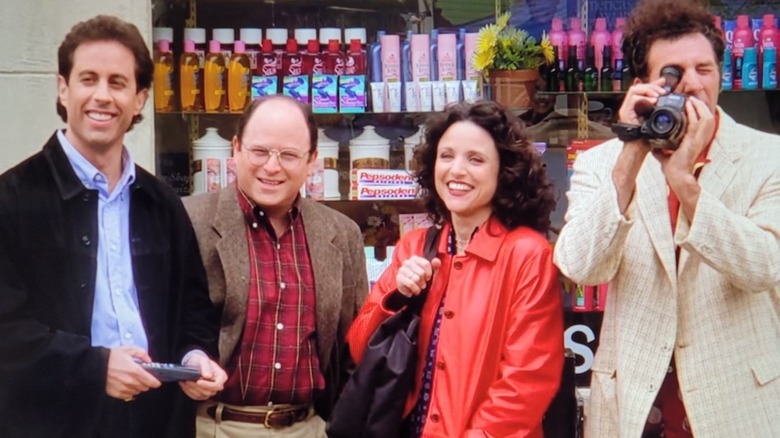 NBC
When it comes to the stars of "Seinfeld," an argument can be made for each as to why they're a good actor.
Jason Alexander, who portrays the neurotic George Costanza, has been hailed by fans as being the show's true star. In fact, after appearing in the 1990 rom-com "Pretty Woman" as lawyer Philip Stuckey, he'd get "swatted at and scolded" in the streets (via TODAY) — a testament to his acting chops. As for Michael Richards, he had the most experience in the industry prior to taking on Kramer, including a spot on the 1980s sketch show "Fridays." During his tenure on "Seinfeld," Richards took home three Emmy wins and two nominations for outstanding supporting actor in a comedy series.
Before ousting Rosie O'Donnell to play Elaine Benes, Julia Louis-Dreyfus landed the iconic role of Margo Chester, the unfortunate neighbor of Clark Griswold in "National Lampoon's Christmas Vacation." Louis-Dreyfus would go on to earn a handful of awards for "Seinfeld" and "Veep." Of course, there's also Jerry Seinfeld, co-creator and leading man of "Seinfeld." With a strong background in stand-up comedy, Seinfeld only boasted small acting jobs — like an uncredited bat mitzvah guest on "Square Pegs" in 1982 — leading up to his hit show. Still, Seinfeld earned five Emmy nominations for outstanding lead actor in a comedy series.
Though each of the core cast members has been hailed for their work on "Seinfeld" and other projects, some fans are holding fast to the opinion that one of them is actually a pretty bad actor.
Fans don't think Jerry Seinfeld is a good actor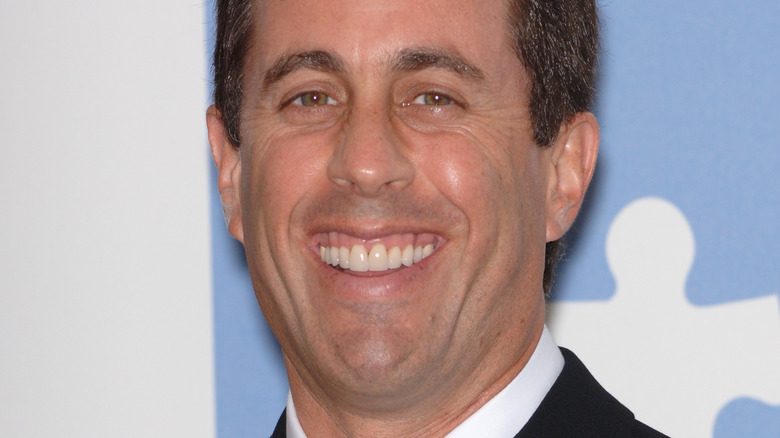 Featureflash Photo Agency/Shutterstock
On Reddit, some "Seinfeld" fans don't exactly love the show's star. One user created a thread entitled, "Jerry Seinfeld is a bad actor," and said, "If you compare his acting prowess to Richards or Julia it's crazy! He is truly awful lol. I know it's his show and just a sitcom but I just think it's interesting that it's one of the greatest TV shows of all time and the lead is really not all that."
U/Professional_Study_7 agreed and took issue with the fact that, often, Seinfeld can clearly be seen trying not to laugh, even during moments when he's supposed to be upset or angry. On the other hand, a number of fans found Seinfeld's lack of acting experience and obvious smiles to be an endearing part of the show and his character. After all, he is playing himself — not some deep, dramatic role.
U/Marsupilami_316 defended the comedian, saying, "He feels like a rather normal human being that's surrounded by crazy or strange ones." This user went on to compare Seinfeld's acting style to that of fellow "Seinfeld" creator Larry David, who plays an over-the-top version of himself on "Curb Your Enthusiasm." "If anything, both Jerry and Larry do what people who aren't great actors should do: play exaggerated fictional versions of themselves," they said.
For u/jb1000000, Seinfeld breaking the fourth wall with a smirk adds to the humor of the show. "[I]t genuinely makes me laugh that he's clearly enjoying the gags/scenes so much that he can't maintain a serious face," they said.
His laughing led to longer days on set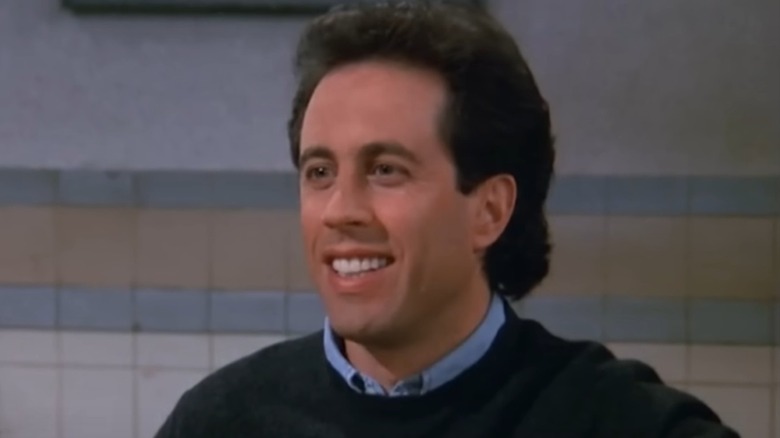 NBC
In an interview with Entertainment Weekly, "Seinfeld" guest star Bryan Cranston shared some insight into just how much Jerry Seinfeld broke character during filming. Cranston appears in several episodes as dentist Tim Whatley, who Jerry fears converts to Judaism solely for the jokes. 
"It was so much fun. We had to stop rolling the tape often because Jerry would be laughing. He was the one who cannot keep a straight face," reflected Cranston. "When you watch the show now, you'll see him smiling constantly."
According to Cranston, Seinfeld's verge-of-laughing moments didn't find their way into the final product because of laziness or oversight. In fact, much effort was taken to secure a more serious shot, but Seinfeld just found his co-stars and the material too hilarious. "That's the best take they had of him not actually laughing, just smiling and trying to contain himself," Cranston said.
Though some "Seinfeld" viewers don't enjoy the breaking of the fourth wall, it's clear that the comedian enjoyed his time starring on the sitcom. He also had a blast while creating it. In a Reddit AMA thread, Seinfeld remembered several times when he and Larry David couldn't contain the giggles as they wrote the material. A prime example is George's final monologue in Season 5, Episode 14 ("The Marine Biologist"), which Jason Alexander revealed was penned at the last minute on set. "That was a really, really long hard laugh when we wrote that," said Seinfeld.