The Fun Way The Walking Dead Cast Celebrated Character Deaths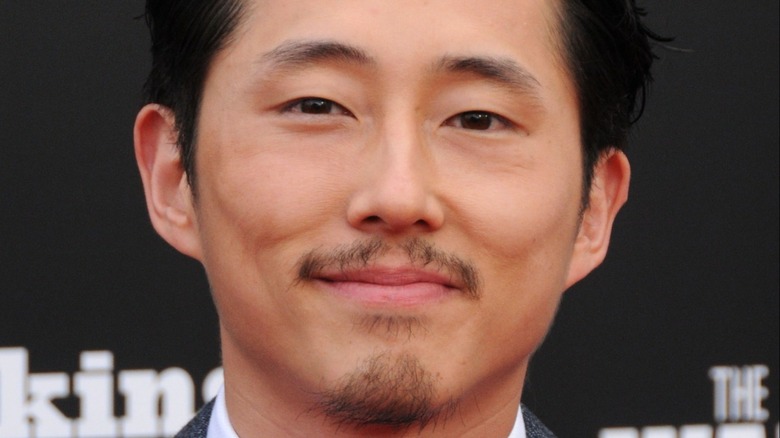 Barry King/Getty Images
Long-running television series usually run their storylines with the same cast members for years, sometimes decades. The iconic zombie-infested horror drama "The Walking Dead" works sort of like that too, with a few alterations. The thing about a world filled with reanimated corpses waiting to get a bite of living flesh is that characters have to die to keep up with the show's thrills. Whether it's death by a mouth full of zombie chompers or at the hands of a malicious evildoer, the characters on "The Walking Dead" is never entirely safe.
While "The Walking Dead" is based on the comic book series of the same name, its storyline and survivors have always deviated far from the original inspiration, and there are plenty of things the show's producer has told fans not to expect. This means audiences never really know what's coming in terms of the seemingly roulette-style way characters die on-screen.
However, just because a main character dies doesn't mean they aren't honored in some way by fellow cast and crew. Actually, the cast of "The Walking Dead" has a long-standing tradition that occurs each time a character dies on-screen and says goodbye to the postapocalyptic world riddled with zombies.
'Death dinners' have become common practice on The Walking Dead
In a 2012 interview with Rolling Stone, Sarah Wayne Callies, who portrayed the now late Lori Grimes on "The Walking Dead," revealed a show tradition that takes place whenever a character dies. "We've evolved a set of 'death dinners,'" she said. "It gives everyone a chance to get properly sauced and say, 'We're going to miss the hell out of you.'" While a death dinner may sound rather morbid, on a show like "The Walking Dead," it's completely understandable. After so many, it seems that audiences may have caught wind of them since Callies even said that they're disguised as birthday parties to prevent leaks.
Conan O'Brien of "Conan" sat down with Lauren Cohan, who plays Maggie Rhee on "The Walking Dead," to discuss some of the sadder character deaths that not only brought many to tears but also led to a much grander death dinner. The Season 7 premiere deaths of Glenn Rhee (Steven Yeun) and Abraham Ford (Michael Cudlitz) were two that left many fans feeling that "The Walking Dead" had gone too far. However, after their characters' demise, the two actors were celebrated in style, with their fellow castmates dressing in costume and performing their own rendition of "I Want It That Way" by Backstreet Boys. While it's true that no one is ever safe on a show like "The Walking Dead," at least the cast and crew know how to give a meaningful farewell to the dearly departed.