The Stranger Things Season 4 Scene That Closely Resembles A Scooby-Doo Moment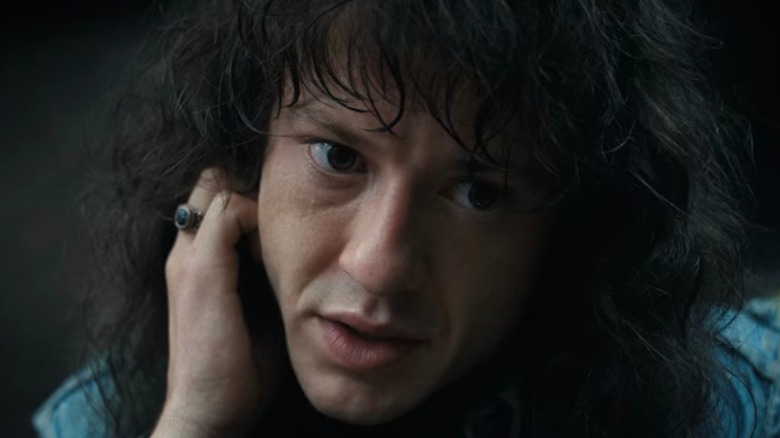 Netflix
"Stranger Things" Season 4 has been praised by critics and audiences alike for continuing to get darker and developing the characters we've come to love since "Chapter One: The Vanishing of Will Byers" back in 2016 (via Rotten Tomatoes). It even still stands in the fourth spot of Netflix's Global Top 10 streaming list at just over 35 million hours viewed six weeks after the release of Volume 2.
Season 4 has indeed been quite the ride, with the action split up all over the place. Some of the Demogorgon-fighting group from Hawkins now reside in California, but that quickly changes, with Joyce (Winona Ryder) and Murray (Brett Gelman) heading to Russia after discovering that Hopper (David Harbour) is alive and Eleven (Millie Bobby Brown) going to Nevada to regain her powers with Dr. Martin Brenner (Matthew Modine).
This ultimately leads to a three-pronged attack from Hawkins, Nevada, and Russia on Vecna (Jamie Campbell Bower), formerly known as One and the mastermind behind everything strange that has happened to the group of friends from the start. As usual, however, Hawkins is the center of everything.
The season begins with targeted killings from Vecna, about which Dustin (Gaten Matarazzo) theorizes that a small gate to the Upside Down opens each time, leading them to head to the location of Patrick McKinney's (Myles Truitt) death. Steve (Joe Keery), Nancy (Natalia Dyer), Robin (Maya Hawke), and Eddie (Joseph Quinn) then discover the gate in an interesting way that oddly enough almost identically resembles a moment from a "Scooby-Doo" project.
Stranger Things Season 4's underwater gate happened in Scooby-Doo! Mystery Incorporated
In the "Stranger Things" Season 4 episode "Chapter Six: The Dive," the group in Hawkins discovers an underwater gate to the Upside Down where Patrick was killed. Steve, Nancy, Robin, and Eddie are all in a boat together searching for the gate. Steve ultimately heads through the gate first, leading Nancy to follow after him along with Robin and Eddie doing the same. However, as pointed out by cowboinary on TikTok, this exact scene from "Stranger Things" happened once before in none other than the "Scooby-Doo! Mystery Incorporated" episode "Through the Curtain."
Fred (Frank Welker), Scooby (also Frank Welker), Daphne (Grey Griffin), Velma (Mindy Cohn), and Shaggy (Matthew Lillard) are all in a boat on the water looking for a gate to another dimension, which Velma discovers is underwater. Fred (like Steve) is the first to go through, followed by Daphne (like Nancy), Scooby, Velma (Robin), and Shaggy (Eddie), with the scene playing out nearly identically to its counterpart in "Stranger Things" Season 4, Episode 6.
Whether the Duffer brothers took inspiration from the show or if it's just a coincidence remains unclear. It's possible that they subconsciously channeled many elements of the "Scooby-Doo" franchise in their "Stranger Things" ideas given other similarities noted by fans (via Reddit). However, while speaking with The Hollywood Reporter in 2016, Ross Duffer noted Stephen King's "It" as arguably their biggest inspiration.