Jenna Ortega Aims To Finally Bring This Long-Ignored Aspect Of Wednesday's Character To The Netflix Series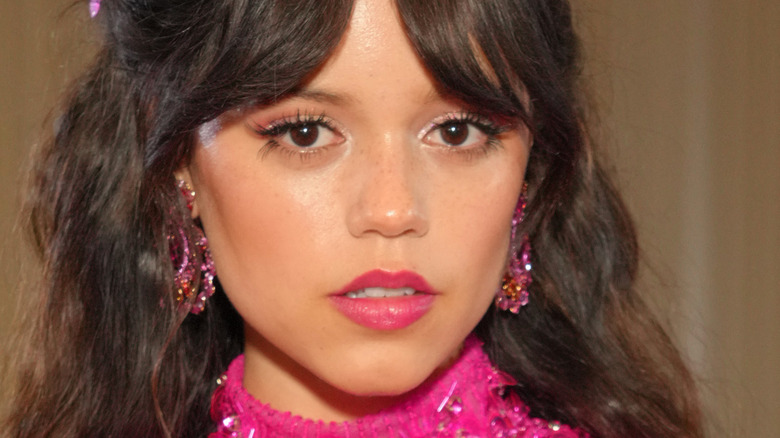 Kevin Mazur/mg22/Getty Images
The world will be once again revisiting everyone's favorite spooky and lovingly macabré family in the Netflix series "Wednesday." The show has already generated bountiful levels of internet buzz just based on the director alone. Tim Burton, known for his vibrantly dreary works of art like the 1988 hit "Beetlejuice" and 1993's "The Nightmare Before Christmas," among many other films, is directing "Wednesday," and has brought on an impressive cast to bring the Addams family to life once more.
The show's main character, Wednesday Addams herself, is portrayed by Jenna Ortega. Ortega has already won over millions with her acting abilities in television series like "You" and films like "Scream 5," so her being cast as the girl that creepy kids everywhere have idolized for generations comes as no surprise. Bringing a character to life that has been played to near-perfection by others has got to be a daunting task, and in the case of Ortega's venture into the world of Wednesday Addams, it's no different. Ortega is one of two people to play Wednesday as anything other than a child or a pre-teen. The other is YouTube creator Melissa Hunter, who briefly portrayed her own version of the character in her "Adult Wednesday Addams" series. But how does Ortega's version of Wednesday stand out from those that came before her?
Wednesday Addams is a Latina character
After the release of the trailer for "Wednesday," Netflix released an "Inside the Character" sneak peek and gave fans a glimpse into the creation of Wednesday Addams. Jenna Ortega is of Mexican-Puerto Rican descent (via Al Día) and, in an interview for Netflix, she talked about what makes her proud to play the character. "Wednesday is technically a Latina character, and that's never been represented," she said. "So for me, anytime I have an opportunity to represent my community, I want that to be seen." The sneak peek also shows Wednesday referencing how her family celebrates Dia de los Muertos — the Day of the Dead mostly observed in Mexico.
Fellow cast member Luis Guzmán, who plays the kooky yet loving husband and father, Gomez, had also touched on the subject in an interview with Latino Thought Makers Live at Morton College, where he discussed the synchronicities of the role. "It's pretty ironic that I got the first Raul Julia award ever in Puerto Rico," he said. The late Raul Julia portrayed Gomez in the 1991 film "The Addams Family" and its 1993 sequel, "Addams Family Values."
So as the torch is passed from the actors who did their own phenomenal jobs bringing the beloved Addams family to life in the past to the ones telling a new family story, a much more important detail regarding the family has been remembered and represented in the casting.