Why Mallory Book From Disney+'s She-Hulk Looks So Familiar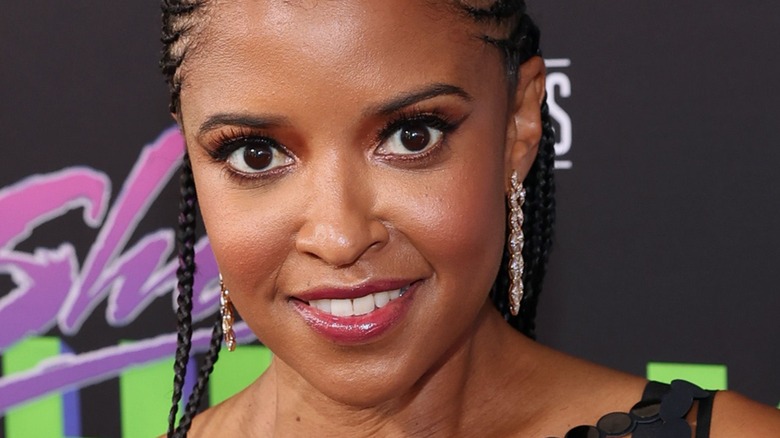 Jesse Grant/Getty Images
The following article contains mild spoilers for "She-Hulk: Attorney at Law" Season 1.
Every superheroine needs a rival, and Jen Walters (Tatiana Maslany) manages to find herself with several of them during the 1st season of "She-Hulk: Attorney at Law." There's evil influencer Titania (Jameela Jamil) and, for a while, Mallory Book.
Mallory is a former beauty pageant queen who is now one heck of a shark in the courtroom. She's a completely undefeated professional rival for Jen and they often find themselves going toe-to-toe in the courtroom. Mallory so dislikes Jen's professional behavior and finds She-Hulk to be such a menace that she joins Fourth Wall Enterprises, a multinational corporation that has dedicated its existence to humiliating the green-hued lawyer personally. In the end — and after a romantic tangle among herself, Two-Gun Kid, and Awesome Andy — Mallory ends up making friends with Jen. She even invites Jen to join her new firm. On the series, Mallory and Jen's rivalry is just beginning, giving fans plenty of time to really sink their teeth into their pas de deux.
On "She-Hulk: Attorney at Law," Mallory is played by a well-seasoned veteran of stage and screen. From dramas to sitcoms to Broadway musicals, she's done it all, which may be why she looks so familiar to you.
Renée Elise Goldsberry got her start singing for Ally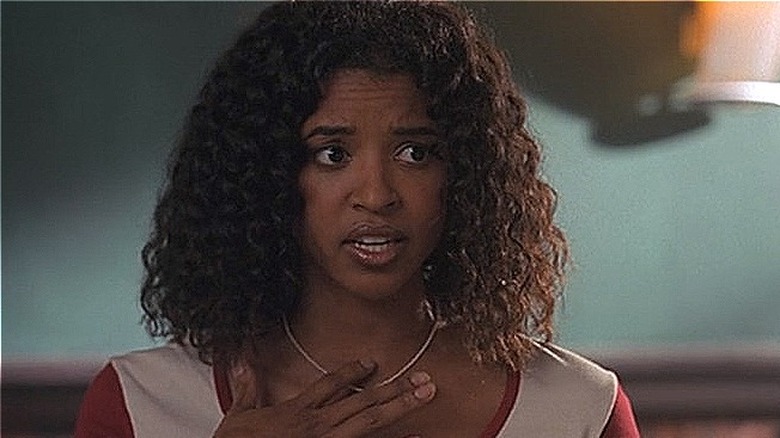 Fox
Renée Elise Goldsberry has been everywhere and done every sort of role over her 25-year-long career. Per IMDb, her first onscreen appearance had her searching her soul — as a backup singer for Vonda Shepard, the pianist and singer whose music underscores the every single thought of neurotic lawyer "Ally McBeal" (Calista Flockhart). Goldsberry was an "Ikette," one of three backup singers who performs behind Shepherd at the cleverly titled The Bar, which exists in the basement of McBeal's law firm. 
Goldsberry can be spied multiple times on "Ally McBeal" over its five-season run and Fox's half-hour re-edit of the program, entitled "Ally." She put in 44 appearances on the mothership and three on "Ally," all of which you can spy when you watch the show on Hulu. Though she mainly goes tragically ignored during her time on the show, her character does get an episode to shine; dubbed "Renee," she gets a featured part in "Woman," Episode 13 of Season 5. Hired by Nelle Porter (Portia de Rossi) to perform a duet with her, Renee gets laryngitis, forcing Nelle to ask Ling (Lucy Liu) to sing with her.
Years later, Goldsberry recalled the experience for Entertainment Weekly. "I was trying to get arrested!" she joked, recalling that at the time she was singing professionally while trying to decide between music, theater and television acting and auditioning around on top of her "Ally McBeal" duties. "In that time, I was starting to question if it would happen for me. [...] I look back at being in my mid-to-late twenties, and I was thinking erroneously that I had already aged out of something. Isn't that crazy? You know, it's never too late."
One Life To Live provided her breakthrough role
While putting in guest appearances on "Providence," "Any Day Now," "One on One" and "Star Trek: Enterprise," Renée Elise Goldsberry landed her next major role in 1999. That was the year she was selected to play hard-nosed and principled attorney Evangeline Williamson for the ABC soap opera "One Life to Live." 
Evangeline became immensely popular with the show's fanbase. Initially acting as the lawyer for cult leader Mitch Laurence (Roscoe Born), she falls in love with straight-arrow detective John McBain (Michael Easton). After that breakup, she enters into romances with clients Christian Vega (David Fumero) and then infamous grey-hatted antihero Todd Manning (then Trevor St. John). Her relationship with Christian survives their star-crossed professional relationship and a tornado that blinds Evangeline. But it's with Todd that Evangeline finds her most enduring and complicated romance. He saves her eyesight but their union is fraught because she's one of the town's most beloved and respected figures while he has a long, twisted history that included a number of villainous deeds. 
Eventually, Tika Sumpter is brought on to play Evangeline's sister, Layla. Evangeline seems poised to stay with Todd when she is the victim of a racist attack on her apartment building. The character ends up in a coma, from which she never recovers. Evangeline is ultimately removed from life support off-screen, allowing Christian and Todd to move on to new romances. Goldsberry left the program in 2007 after putting in over 200 appearances on the soap.
Being on "One Life to Live" was a joy for Goldsberry, who told Entertainment Weekly that she used to watch the show as a little girl. "Some of my favorite actors in the world are actors I grew up with on Daytime," she admitted.
Hamilton sent her into the stratosphere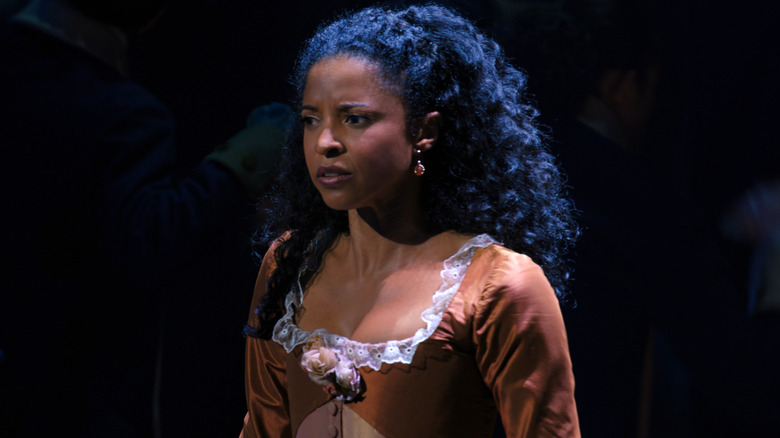 Disney+
After her "One Life to Live" role wrapped, Renée Elise Goldsberry turned her attention toward the Broadway stage. Per Broadway World, she had already established herself as a major figure on the stage during her time on the soap. She became the final actress to fill Mimi Marquez' pumps in New York's long-running production of "RENT." After it closed, she went on to portray Nala in "The Lion King" and then originated the role of Nettie in "The Color Purple."
But it was "Hamilton" that launched Goldsberry into the stratosphere. Her portrayal of the feminist Angelica Schuyler, another role she originated, won her a Tony in 2016 for best featured actress in a musical. Angelica, whose forbidden affection for her brother-in-law Alexander Hamilton (Lin-Manuel Miranda) is sacrificed in favor of her beloved sister Eliza's (Phillipa Soo) romance with the politician, delivers several memorable solos as "Hamilton" moves forward.
Goldsberry's award-winning work in "Hamilton" has been preserved forever thanks to a filmed version that became a runaway hit on Disney+ in 2020. The telefilm won Goldsberry acclaim all over again, and she was nominated for an Emmy in 2021 for outstanding supporting actress in a limited or anthology series or movie. 
In between theatrical gigs, Goldsberry guest starred on ABC's adaption of "Life on Mars," Fox's short-lived dramedy "The Return of Jezebel James," "Royal Pains," "Masters of Sex," and "White Collar." She recurred on "Law & Order: Special Victim's Unit" as defense attorney Martha Marron for three episodes and had a small part in the Amy Poehler and Tina Fey vehicle "Sisters."
She went toe-to-toe with Alicia on The Good Wife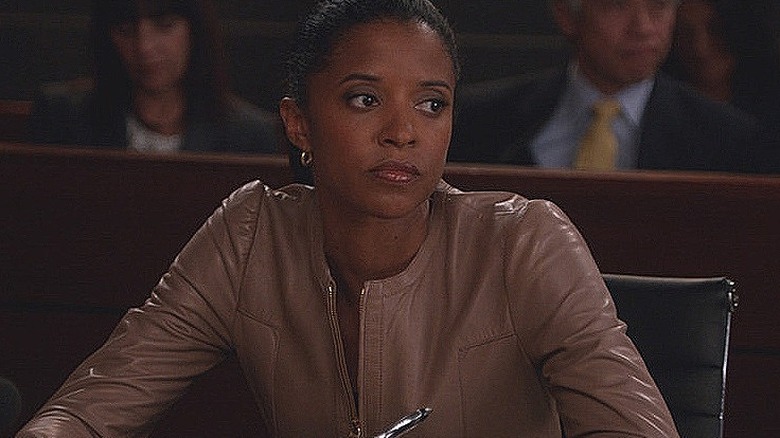 Paramount+
Renée Elise Goldsberry's next big role was in "The Good Wife." As Geneva Pine, she appeared 23 times to do battle with the folks at Lockhart Gardner, from Alicia Florrick (Julianna Margulies) to Diane Lockhart (Christine Baranski). A DA for Cook County, Illinois, she is no-nonsense and all business during most of her time on the show, and often finds herself on the losing end of her legal duels with the Lockhart gang.
Only at the very end of the series does Geneva appear as more than a temporary nuisance for the firm to deal with. In "Verdict," everyone finds out that Geneva is the mystery woman who has been having a long-term affair with Alicia's terminally ne'er-do-well husband, Peter Florrick (Chris Noth). Peter also prevented Richard Locke from turning in evidence of Peter's guilt regarding the campaign donorship scandal, which has embattled his attempt at holding public office. With Geneva now willing to testify against Peter, it seems that his days as a free man are finally numbered.
After "The Good Wife," Goldsberry appeared in "The Get Down" as Misty Holloway, and took on the titular role in Oprah Winfrey's adaption of the best-selling nonfiction tome "The Immortal Life of Henrietta Lacks." She also appeared in the Jack Black film "The House with a Clock in its Walls."
She stunned on Altered Carbon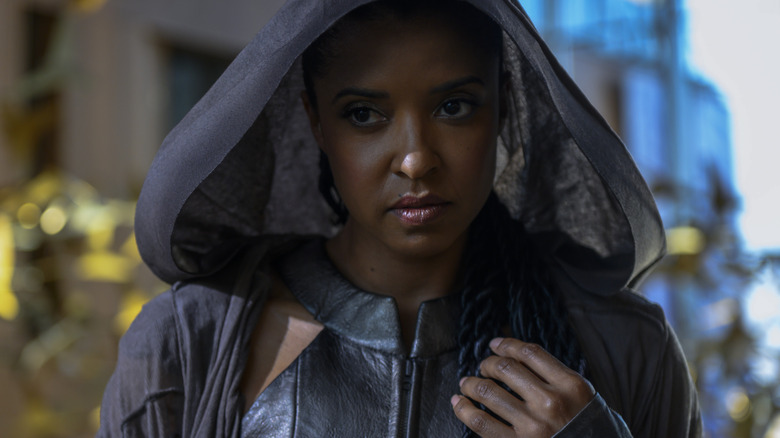 Diyah Pera/Netflix
The actress' next stop was Netflix's "Altered Carbon," which lasted for two seasons. Renée Elise Goldsberry portrayed Quellcrist Falconer on the series. The ever-rebellious Quellcrist is the leader of the Envoys, a group of supersoldiers who are at war with the United Nations Interstellar Protectorate, who act to benefit the "Meths," a rich upper class whose members trade bodies like modern Americans trade Pokémon cards. 
Quellcrist isn't just a rebel — she's the one who stirred up the technology at the center of this war. She's such a strong leader that she manages to spawn her own religious following. In a world where humanity's memories are stored on fungible discs that can transfer anyone's personality to another body, this isn't terrible far-fetched. Quellcrist is the true love of her most treasured pupil, Takeshi Kovacs (Joel Kinnaman and Anthony Mackie), whose consciousness is transferred from body to body as he tries to solve a murder.
Though "Altered Carbon" was short-lived, Goldsberry's career has continued on an upward trajectory. She appeared three times on NBC's quirky cult hit "Zoey's Extraordinary Playlist" as Ava Price, was Renée Harris in three episodes of "Evil," and had a brief cameo in the big-screen version of "tick, tick... BOOM!"
She's still splitting sides as Wickie Roy on Girls5Eva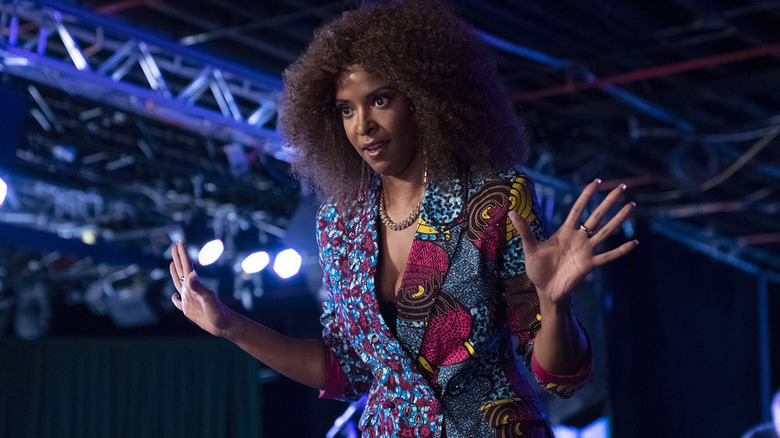 Heidi Gutman/Peacock
"She-Hulk: Attorney at Law" isn't the only currently-running streaming series where Renée Elise Goldsberry is plying her trade. That's her on "Girls5Eva" as Wickie Roy, a rebellious member of a girl group that reunites and tries to take on the world decades after they reached fame. Wickie is the one who brought vocal firepower to the group, and the one who seems most likely to forge a successful solo career. But Wickie's hopes have crashed and burned and she's working in an airport while lying about her glamorous life as an influencer. Now she must get back in her bandmates' good graces after angering them all by leaving the band without prior warning.
Goldsberry seems to be loving her role on "Girls5Eva," telling Entertainment Weekly that in a pandemic-laden world, lighthearted sitcoms like the one she's starring in can help people cope with the challenges.  "One of the most beautiful things about this show in general is that it's been such a balm in COVID, it just feels good. It's really been a blessing to be able to come together doing something that's seemingly silly but really beautiful and the music elevates it."
And Goldberry's career has only begun to be elevated toward heights unknown.