Here's Who Was Really Behind She-Hulk's Hilarious Captain America Gag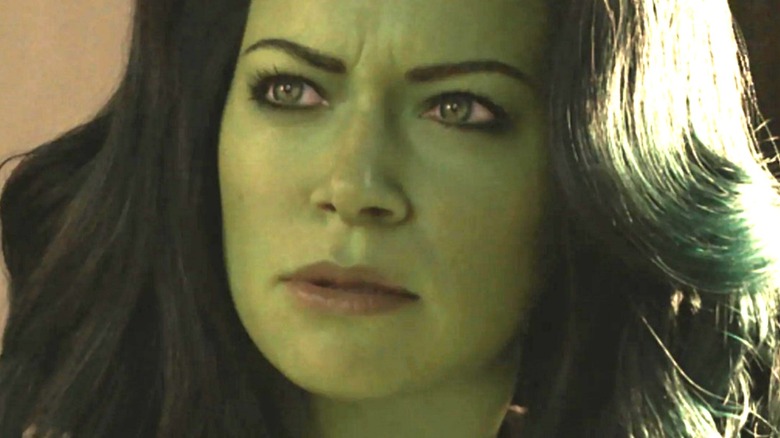 Marvel Studios/Disney+
Even though fans were skeptical about the show's use of CGI, the first episode of "She-Hulk: Attorney at Law" laid a solid foundation for the superhero legal drama we didn't know we needed. The premiere, aptly titled "A Normal Amount of Rage," explores Jen Walters' (Tatiana Maslany) initial reaction to becoming a Hulk after being exposed to Bruce Banner's (Mark Ruffalo) blood. The story manages to introduce new characters while staying true to Marvel's signature style of humor, an artful balance that supports the narrative's tongue-in-cheek tone. Of all the protégés Marvel has in development, Jen is one of the most realistic. She's working hard to shape her career and pay off her student loans while maintaining some semblance of a social life ... all while having a bit of fun in between.
A running gag throughout the first episode is Jen's fascination with Captain America (Chris Evans). Specifically, his unfortunate lack of a love life considering how much he sacrificed for humanity. As Jen waxes poetic about how handsome and noble Steve Rogers was, Bruce can only laugh at her antics. However, once they're safely ensconced at his secret laboratory/vacation home in Mexico, Bruce decides to put his cousin out of her misery. He reveals that Steve lost his virginity to a girl on the USO tour in 1943, much to Jen's delight. The validity of Steve's v-card aside, it turns out that this salacious plot detail comes from a very reliable source.
It was Marvel president and producer Kevin Feige's idea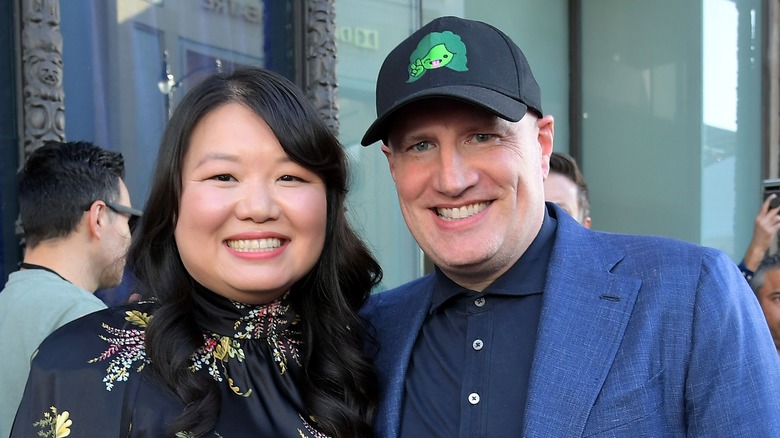 Charley Gallay/Getty Images
Captain America's love life has been up for debate for years, with Evans admitting that the hero is "probably a virgin" (via E! Online). Although "Avengers: Endgame" concludes with Steve heading back in time to reunite with Peggy Carter (Hayley Atwell), "She-Hulk: Attorney at Law" finally sets the record straight about the character's experience in the bedroom. According to series creator Jessica Gao, this revealing element of the star-spangled hero's past was approved by none other than Kevin Feige, the chief creative officer and president of Marvel Studios (via Deadline). In a recent interview, Gao elaborated on Jen's interest in Captain America and how Feige helped to incorporate those details of the character's history into the show.
"There are all these little moments where she's clearly been pestering her friends, talking about [Captain America's virginity] ad nauseam. It was just an obsession for her," Gao explained to Collider. "And it was actually Kevin who voluntarily said, 'Let's give them the answer.' And I was like, 'What do you mean? There's an answer, and we can tell people?' He was the one who actually pitched that. Kevin has such great ideas."
If anyone knows the answer to that elusive question, it's Feige, who worked as a producer on "Captain America: The First Avenger" and a lengthy list of other Marvel projects (via IMDb). Thanks to him, fans can rest easy knowing that Steve Rogers took full advantage of life's many pleasures.