The Handmaid's Tale Season 5 Trailer Sets Up The Showdown Fans Have Been Waiting For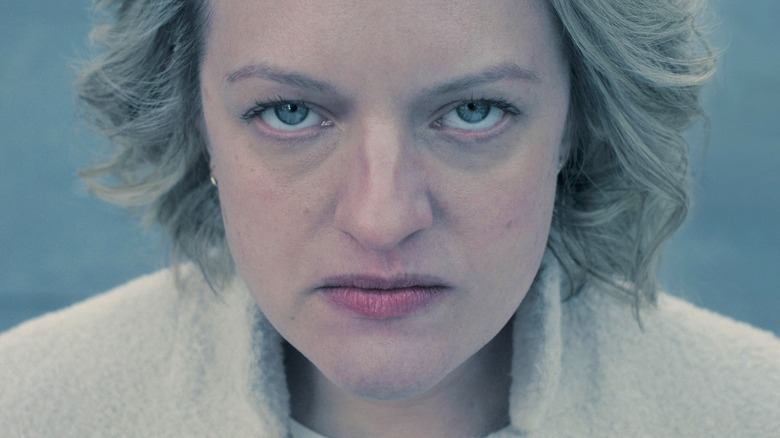 Hulu
The 5th season of "The Handmaid's Tale" — the dystopian Hulu series based on the 1985 novel of the same name by Margaret Atwood — is nearing its release date of September 14. Last season finally saw June (Elisabeth Moss) escape Gilead and make it to Canada, where she was reunited with her husband Luke (O. T. Fagbenle), her best friend Moira (Samira Wiley), and her Gilead-born infant daughter, Nichole. Through much of the season, June struggled with adjusting to a life outside of Gilead, still filled with rage over what happened to her and still determined to get her other daughter, Hannah (Jordana Blake), who is stuck in the totalitarian country living with a new family. 
The season ends with June and a group of other former handmaids capturing her former commander (and abuser) Fred Waterford (Joseph Fiennes) and beating him to death. In the final moments of the season, June returns home covered in Fred's blood, much to Luke's shock.
After a long wait since the Season 4 finale, we finally have a look into what happens next for June, as Hulu has just released the Season 5 trailer — here's what it teases for viewers.
June prepares to go back to Gilead in the Season 5 trailer
The opening moments of the trailer for Season 5 of "The Handmaid's Tale" show the climatic moment from Season 4 when Commander Waterford meets his demise, as June narrates that he needed to pay for what he did. Then, it cuts to a scene from the new season, which sees June confessing to Luke, "I killed him. And I loved it so much."
We then see clips of the other characters reacting to the death of Waterford — a now-pregnant Serena (Yvonne Strahovski) looks over her husband's body in a morgue, Moira (who did not partake in killing him) angrily speaks to Luke about what June and the others did, and June declares that she needs Serena to know that she is the one who killed Waterford. We also see U.S. government operative Mark Tuello (Sam Jaeger) saying to June, "I think you scared Gilead as well, a handmaid killing her commander. I don't think they'll be able to let that stand." Proving that Mark's speculation is correct, Nick (Max Minghella) warns June over the phone to keep herself safe.
Further, it seems as though a few characters will be returning to Gilead. When Luke discusses going into the country in an attempt to finally save Hannah, June declares she'll go with him. There's a lot going on in the trailer, but it looks clear that June has scores to settle with the Gilead elite, and they are just as eager to make her pay for what she did to one of their own.
"The Handmaid's Tale" Season 5 premieres on Hulu on September 14.