The Handmaid's Tale Season 5 - What We Know So Far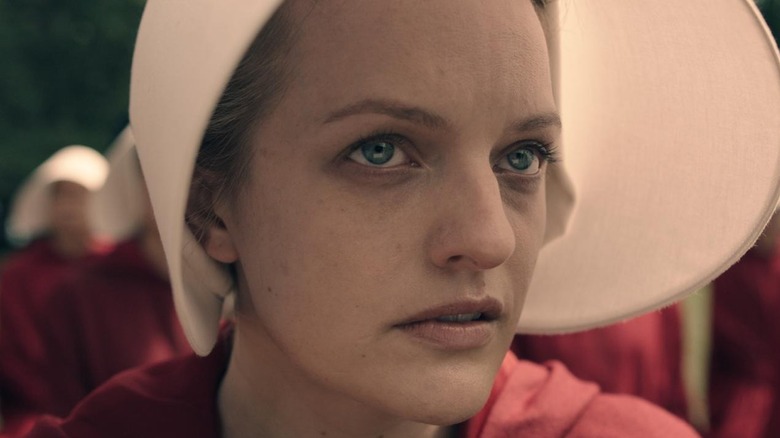 Hulu
The Hulu dystopian drama "The Handmaid's Tale" now has four seasons under its belt, and a fifth that premiered on September 14, 2022. Based on the 1985 novel of the same name by Margaret Atwood, the series is set in a near-future in which society is experiencing rapidly decreasing fertility rates. In the new nation of Gilead (which occupies most of the former United States), the small percentage of women still able to bear children are forced into becoming "handmaids." These handmaids are assigned to a wealthy couple in the hopes of getting pregnant by the "Commander."
The series centers on June Osborne (Elisabeth Moss), who is known in Gilead as Offred — as in, "Of Fred" because she is considered property of her Commander, Fred Waterford (Joseph Fiennes). June takes orders from the Commander's wife, Serena Joy (Yvonne Strahovski), while all of the handmaids are overseen by Aunt Lydia (Ann Dowd). Other prominent handmaids include Emily (Alexis Bledel), Janine (Madeline Brewer), and Moira (Samira Wiley). The cast is rounded out by O-T Fagbenle and Max Minghella, who play June's two love interests, Luke and Nick.
Season 4, which aired its finale in June 2021, certainly left viewers wanting more. The episode ended with June (who had finally escaped to Canada earlier in the season) and other handmaids killing June's former abuser, Commander Waterford, then hanging him on the wall within Gilead. Lucky for us, more episodes are coming — here's everything we know so far about "The Handmaid's Tale" Season 5.
Who is in Season 5?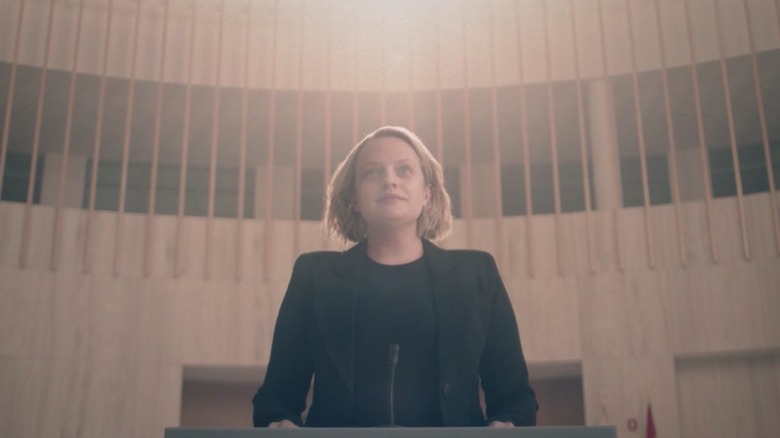 Hulu
The majority of the cast returns for the fifth season of "The Handmaid's Tale," including, of course, Elisabeth Moss, who plays our protagonist June Osborne. Additionally, Yvonne Strahovski returns as June's former mistress, who is now a widow as a result of Commander Waterford's death. Ann Dowd returns as the brutally vicious Aunt Lydia, while Bradley Whitford reprises his role as the conflicted Commander Lawrence. 
Both of June's love interests will show up in Season 5, as O-T Fagbenle returns as June's husband, Luke Bankole, while Max Minghella reprises his role as June's lover from Gilead, Nick Blaine. The rest of the returning cast members are Madeline Brewer as former handmaid Janine Lindo, Amanda Brugel as former "Martha" Rita Blue, and Sam Jaeger as Representative of the U.S. Government-In-Exile Mark Tuello (via The Hollywood Reporter).
Notably, Alexis Bledel is not in Season 5. In a statement, Bledel said, "After much thought, I felt I had to step away from 'The Handmaid's Tale' at this time. I am forever grateful to [showrunner] Bruce Miller for writing such truthful and resonant scenes for Emily, and to Hulu, MGM, the cast and crew for their support" (via THR). Bledel, who played fellow handmaid Emily (or, as she was first introduced, "Ofglen"), won an Emmy for her work on the show in 2017.
What is Season 5 about?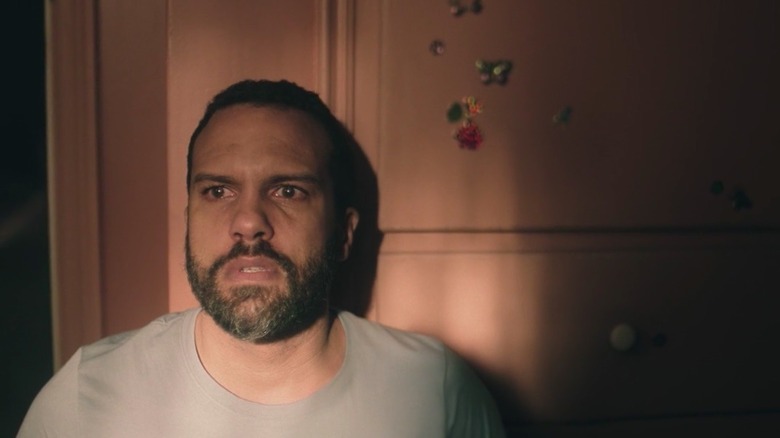 Hulu
According to The Hollywood Reporter, the official synopsis for Season 5 reveals that June will not get away with killing Commander Waterford and will have to face the consequences for leading the other handmaids in the attack.
Meanwhile, Serena, now pregnant with her only child after losing Nichole to June, is mourning her husband while trying to integrate herself (and her ideals) into Canadian society. Back in Gilead, Aunt Lydia and Commander Lawrence are working together to get Gilead back on track, while June, Moira, and Luke fight back against Gilead's regime and work toward freeing Hannah (Jordana Blake).
Further, the season ended with a shocked Luke watching as a bloody June held her second child, Nichole (who Luke has been helping to raise). Season 4 saw the two of them struggle to return to the kind of relationship they had pre-Gilead with June changed from her experience as a handmaid — and still harboring feelings for Nick. In Season 5, we'll likely see this complicated dynamic play out further.