Four Other Characters Came Close To Being Only Murders In The Building's Season 2 Killer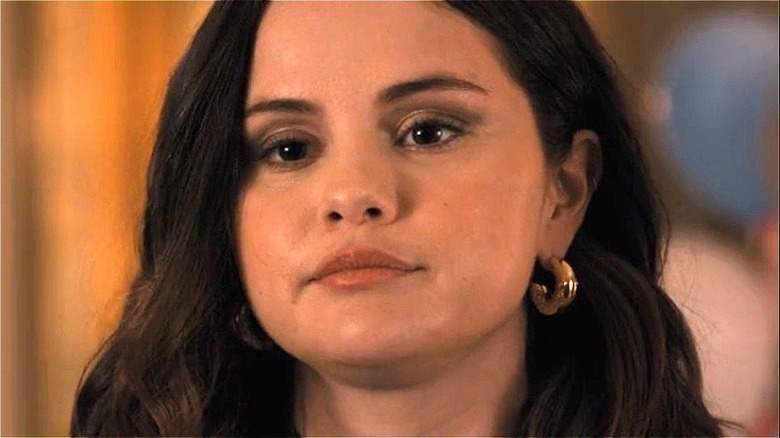 Hulu
Spoilers for the season finale of "Only Murders in the Building" Season 2 
True crime podcasts have certainly enjoyed runaway success over the past few years. The Everyday notes that each subsequent year sees an increase in the consumption of this form of media, with nearly 2,800 true crime podcasts in circulation, and a dramatic increase in books about the subject, acknowledging that in 2016 only 976,000 true crime books were sold. But by 2018, over 1.6 million were sold. Needless to say, true crime has quickly become a very lucrative endeavor.
"Only Murders in the Building" is a comedy-drama that follows three tenants of the building Arconia. Consisting of Charles-Haden Savage (Steve Martin), Oliver Putnam (Martin Short), and Mabel Mora (Selena Gomez), an unlikely friendship forms when a fellow tenant is murdered in Season 1, and the trio thinks it would make a great basis for a podcast as they take it upon themselves to investigate the death. They eventually expose the murderer in the first season after going through several suspects, and a similar scenario happens in Season 2 when another person is murdered. The friends consider many people living in the Arconia as viable perpetrators, which include Mabel's new girlfriend Alice (Cara Delevingne). Suspicion is even cast at Mabel at one point, but this is simply a frame-up. However, it seems as if the series' creators had several potential characters in mind when it came to the ultimate villain of Season 2, but who were they?
A series co-writer listed four other potential murderers that were considered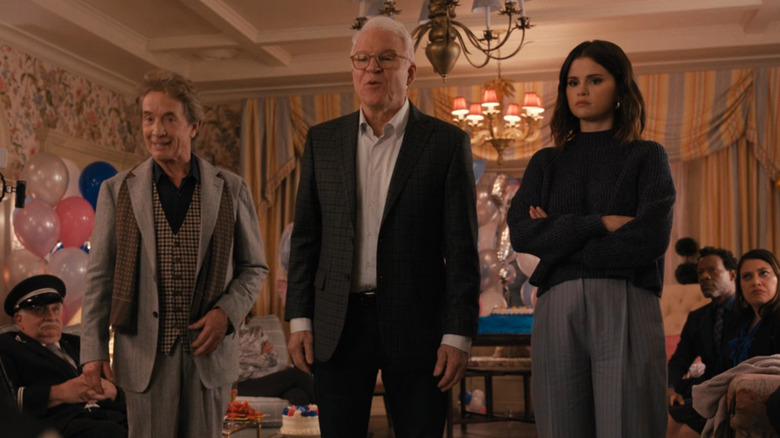 Hulu
Now that the final episode of Season 2 has aired, the real villain has been revealed during a murderer-reveal-party. Although there were plenty of suspects throughout Season 2, the real culprit turned out to be Poppy White, aka Becky Butler (Adina Verson). It is established that Poppy is an assumed identity and that her original persona was the subject of the podcast from Cinda (Tina Fey), but she faked her death and used her knowledge of her previous crimes to get close to Cinda and become her assistant. Obsessed with podcasts, Poppy killed Bunny Folger (Jayne Houdyshell) in order to craft her own podcast about the crime while at the same time framing somebody else for the murder.
Speaking with Variety, series co-writer John Hoffman said that Poppy had been considered the villain of Season 2 after Season 1 had wrapped but added that others could have potentially been the murderer. He clarified his statement: "We made tracks for many characters. We thought of Cinda. We wondered about Teddy — Teddy (Nathan Lane) certainly had a motive. We thought of Theo (James Caverly), who had a motive. We thought of Jan (Amy Ryan), even in prison, finding a way to make that happen."
John Hoffman said that Poppy was ultimately the best choice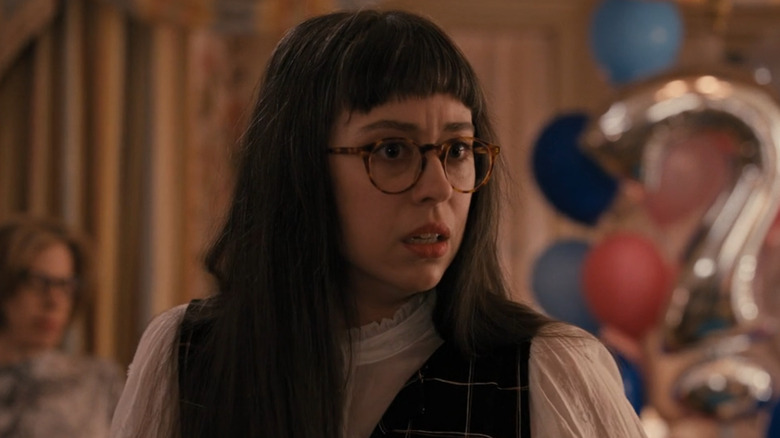 Hulu
John Hoffman continued, "I definitely liked the notion that because they were sister seasons, they were necessarily tied, that it'd be a character we knew already. Making Poppy the killer also allowed this season to delve deeper into the culture of true crime podcasting. There's a critique running through the episodes about this obsessive consumption of death." Although these four individuals could have had the potential to be the murderer of Season 2, Poppy makes the perfect meta-choice as a critical look at the fervor surrounding fame and true crime podcasts.
Hoffman added that Poppy was ultimately chosen as the killer because of the meta-commentary and elaborated on the visual clues left behind for astute viewers. He spoke of the opening scene of Episode 6, which sees Poppy narrating and sitting on a bench, and above her is a poster that says, "Where is Becky Butler?" Ultimately, Poppy is an excellent foil for the trio of Mabel, Oliver, and Charles-Haden, but the ending could have looked significantly different had any of the other characters been chosen to be the killer of Season 2.