The Untold Truth Of Martin Short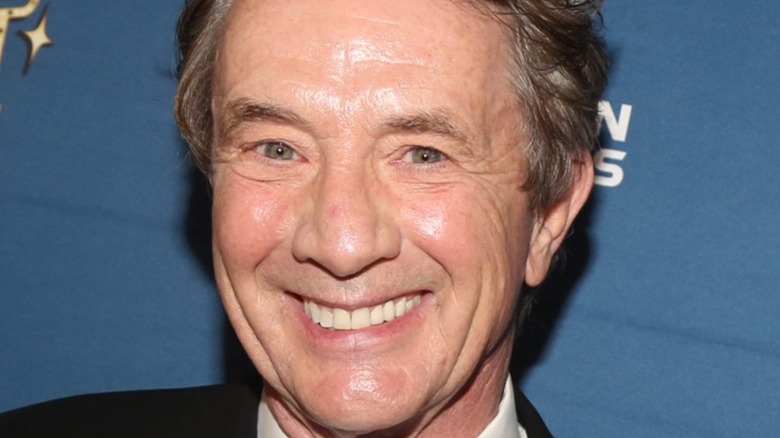 Bruce Glikas/Getty
In the pantheon of comedic actors and performers from the past 50 years, it would be difficult to select one as richly talented and unique as the hilarious Martin Short. Contemporary audiences might know him from his role as Oliver Putnam in the recent hit series "Only Murders in the Building," or perhaps his portly, obsequiously unfiltered alter-ego Jiminy Glick, but true comedy heads know him from the early days of "SCTV" and his brief but brilliant tenure as a "Saturday Night Live" cast member. 
Short's peerless Jerry Lewis impression and the Olympic Synchronized Swimming sketch, featuring fellow '80s "SNL" players (and comedy legends in their own right) Harry Shearer and Christopher Guest, are just some of the comedic delights to spring forth from his time on television.  Of course, Short has also given us the gift of the most effusively enthusiastic, triangle-playing, Pat Sajak-stanning nerd ever, the gravity-defyingly coiffed Ed Grimley. 
As legendary as his television career has been, Short's talents have not been confined to the boob tube. He's also been a celebrated performer on stage, in film, and as a voice artist in animation. Despite a daunting series of tragedies in his personal life, Short continues to share his immense comedic gifts and generosity of spirit with the world. Let's take a closer look at the untold truth of the "completely mental" comedic genius Martin Short.
His first break was in a legendary production of Godspell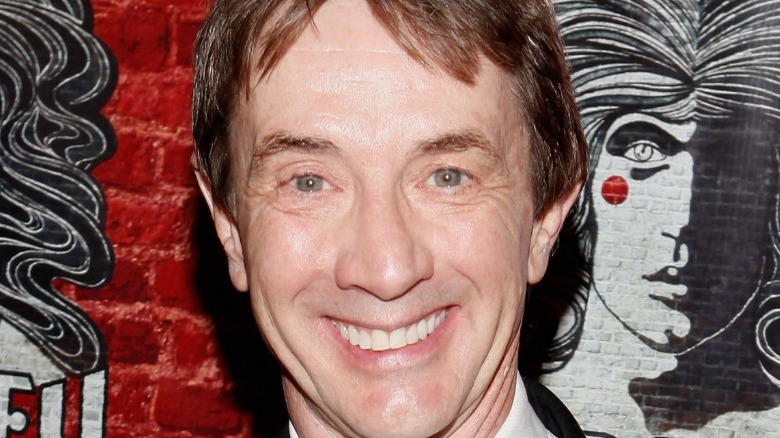 Cindy Ord/Getty
Martin Short's first big break in show business was in a now-legendary production of the musical "Godspell." Short writes for Vanity Fair that after graduation from McMaster University in 1972, he made a deal with himself that he would give himself one year to make it as an entertainer. Urged on by his friend Eugene Levy, Short earnestly pursued his performance career and soon he and Levy were auditioning for the Toronto production of "Godspell." Both Levy and Short were cast in the musical, joining a roster of up-and-coming talent that included Victor Garber, Gilda Radner, Andrea Martin, Dave Thomas, and musician Paul Shaffer.
In the Washington Post's oral history of the Toronto production of "Godspell," composer Stephen Schwartz notes that the play is designed to change with each new cast. Selecting actors with good improvisation skills helped shape the production, and Short brought his talent for impersonation to "Godspell." His comedic antics would leave castmates in fits of laughter, sometimes during performances. Andrea Martin said her and Short's penchant for unscripted giggles was "terribly unprofessional," but they were well-hidden in the show's "goofiness." "Godspell" ended its run in Toronto in 1973, and of his time in the production, Short told the Washington Post, "I think we were terribly delighted that we were making money. That we could make each other laugh."
As a child, he dreamed of show business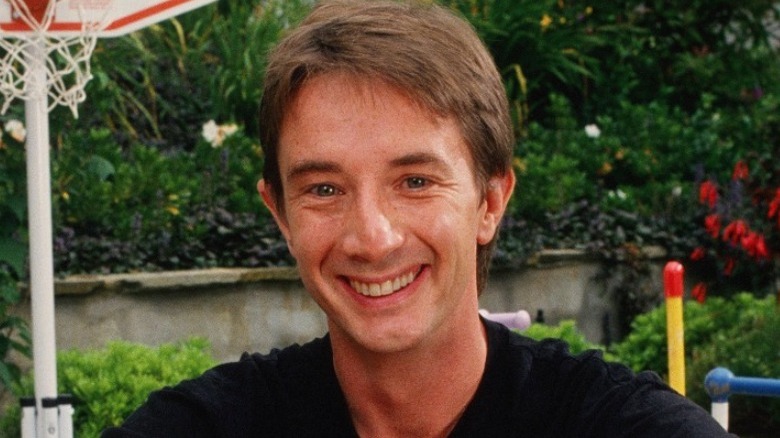 George Rose/Getty
Growing up in Hamilton, Ontario, Canada, Martin Short already had an entertainment career, albeit only in his imagination. In his memoir, "I Must Say: My Life As a Humble Comedy Legend," Short recalls idolizing crooners like Mel Tormé, Tony Bennett, and Frank Sinatra. Locked away in his attic and kitted out with a tape deck and professional microphone, Short recorded his own cover version of Sinatra's 1965 album "September of My Years" and called his version "Martin Short Sings of Songs and Loves Ago." While hip teenagers were rocking out to '60s rock and roll, Short spent his days imagining himself not only as a singer, but a titan of showbiz, crafting a fantasy variety program called "The Martin Short Variety Hour," complete with witty host banter, musical interludes, and charming celebrity guests.
Of course, his attic recordings never hit the charts and his television show didn't top the Nielsen ratings, but for Short, playing Hollywood proved to be a formative experience for his career as a multi-talented performer. While his parents were supportive of his fantasies, Short himself didn't actually believe he could make it as an entertainer. He writes in his memoir that stardom seemed distant to him as a Canadian kid. Luckily, adult Short found his foothold on stage and screen, his hours spent in the fictional setting inside his head paying off.
He helped revitalize Saturday Night Live
Martin Short may have only been a cast member of "Saturday Night Live" for one season, but his tenure on the show saved it from the brink of cultural irrelevance. Having already established himself as a versatile performer on "SCTV," Short signed a one-year contract to join the NBC sketch-comedy series during a turbulent time in its history. After executive producer Lorne Michaels left "SNL" in 1980, followed by an infamous season under Jean Doumanian, NBC executive Dick Ebersol took charge in 1981. With the departures of popular players Eddie Murphy and Joe Piscopo in 1984 and the show's hipness in question, Ebersol sought a new strategy: hire known comedic talent at top dollar. Short writes in his memoir, "I Must Say," that he was convinced to join "SNL" because Billy Crystal, Christopher Guest and Harry Shearer all signed as players, mixing with relative newcomers like Julia Louis-Dreyfuss, Jim Belushi, and Mary Gross.
"SNL" was important for Short's career and the show, but it came at a price. He told Vulture, "The pressure of the 'SNL' weekly format was a lot for me, which is why I only did the show for a year." Armed with his established "SCTV" characters like Ed Grimley, Jackie Rogers Jr., and Irving Cohen, Short was a smash on "SNL," but he writes in "I Must Say" that the strenuous production schedule almost caused him to quit before the season was over. He didn't, but he left after his contract was complete. Lorne Michaels returned to "SNL" the following season, its coolness secured once again.
His personal life is filled with love and loss
Kypros/Getty
An effervescent, good-natured comedic presence, Martin Short's cheerfulness belies a personal life scarred by tragedy. Short's childhood was marked by a series of personal losses. In 1962, when Short was 12 years old, his beloved older brother David died in a car accident. After David's death, Short writes in his memoir that life was "a blur of sadness and confusion." Yet in his grief, he learned a valuable life lesson, "that something terrible can happen to you, and yet, the day after this something, the sun still rises and life goes on." He was soon reacquainted with familial loss, with his mother Olive dying in 1968 and his father Charles dying in 1970. With both parents gone by the time he was 20 years old, Short measures time in his life as "Zero to 20, Marty with Parents; 20 to the Present, Marty without Parents."
As an adult, Short's family life flourished. He married actress Nancy Dolman in 1980 and together they adopted three children. They remained dedicated partners and devoted to each until Dolman's death from ovarian cancer in 2010. Of his decades-long marriage to Dolman, Short told AARP Magazine that "our marriage was a triumph."
He had his own cartoon show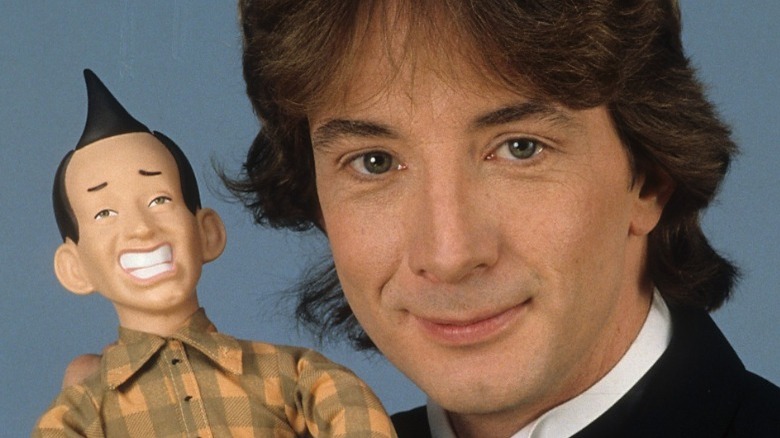 Donaldson Collection/Getty
Martin Short has showcased his talents in a number of media, including television, movies, theater. He had his own children's television cartoon based on one of his most beloved and recognizable characters, Ed Grimley. The overly enthusiastic Pat Sajak superfan Grimley was the star of the animated series, "The Completely Mental Misadventures of Ed Grimley." According to Vulture, "Ed Grimley" was NBC's answer to "hip" children's programming of the late 1980s like "Pee-Wee's Playhouse" and "Hey, Vern, It's Ernest!" Produced by children's animation powerhouse Hanna-Barbera, "Ed Grimley" followed the banal exploits of dorky Ed as he navigated his way through daily foibles and blunders. Ed's calamities were interspersed with segments like "The Amazing Gustav Brothers" and "Count Floyd's Scary Stories."
"The Completely Mental Misadventures of Ed Grimley" featured not only the voice of Short as Ed Grimley and Emil Gustav, but also a number of his former "SCTV" co-stars. Catherine O'Hara, Andrea Martin, and Joe Flaherty rounded out the show's regular cast, with Flaherty even reprising his "SCTV" character Count Floyd during the show's live-action "show-within-a-show" sequences. Only 13 episodes of "Ed Grimley" were produced for NBC's Saturday morning cartoon lineup. NBC aired other "SCTV" alum-related cartoons, like "Camp Candy," starring John Candy and "Gravedale High" featuring Rick Moranis, but neither could match the inventiveness or joyously bizarre humor of "Ed Grimly."
His creative friendship with Steve Martin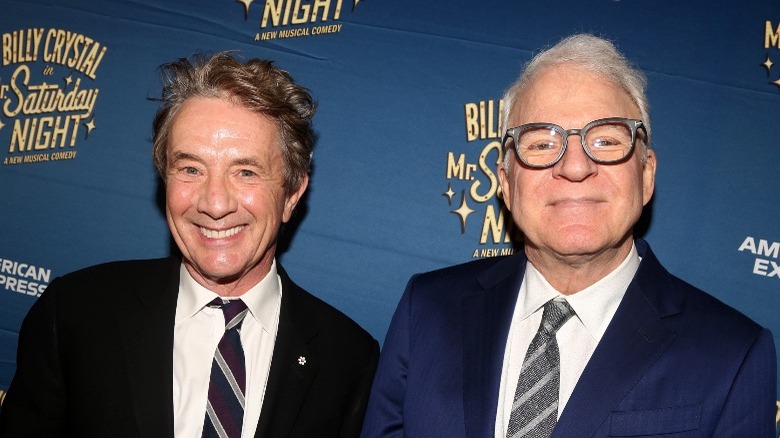 Bruce Glikas/Getty
Martin Short and Steve Martin's decades-long friendship and creative partnership has been a gift to comedy lovers everywhere. By the time the pair met on the 1986 movie "¡Three Amigos!," both were established comedians in their own right. Short, coming off his one season on "SNL," was jump-starting his movie career, while Martin had walked away from his phenomenal stand-up comedy career to become a moderately successful Hollywood actor, with memorable '80s films like "Planes, Trains, and Automobiles," "Dirty Rotten Scoundrels," and "Roxanne" still in his future. Short and Martin became fast friends and appeared together on the big screen again in "Father of the Bride" and "Father of the Bride Part II," with both also doing voices for the animated movie "The Prince of Egypt."
It was Martin who came up with the idea to make a comedy performance for the stage. According to CBS News, after the death of Short's wife Nancy Dolman in 2010, Martin suggested he and Short work together as a way for Short to process his grief. Martin and Short regularly tour together, even releasing a Netflix special of their act, "An Evening You Will Forget For The Rest of Your Life," in 2018. Their creative partnership continues to thrive with their hit Hulu series, "Only Murders In The Building," which according to Emmys.com, generated the streaming service's largest-ever audience for a comedy premiere. Even though Short and Martin have been pals for decades, it seems like they're just hitting their stride.
He's received many awards and honors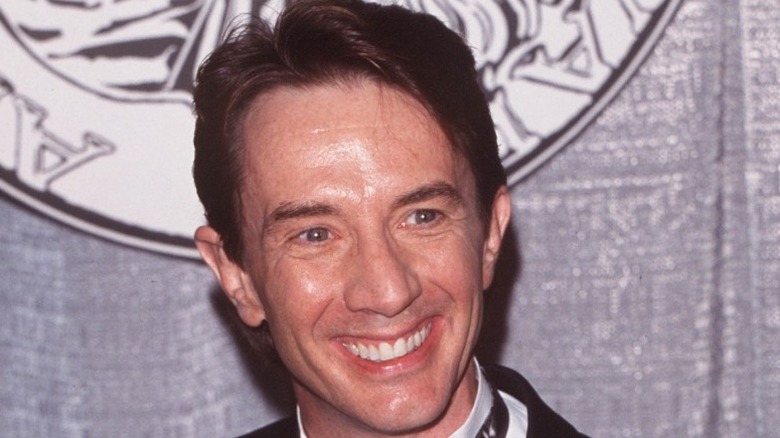 Evan Agostini/Getty
Martin Short's decades-long career has been recognized by many awards organizations. For his work in television, Short has been nominated for 12 Primetime Emmys and received two wins, his first in 1983 as a writer for "SCTV" and his second in 2014 as the host of the variety special "AFI Life Achievement Award: A Tribute to Mel Brooks." His most recent nomination was in 2020 for his guest appearance on the Apple TV+ drama series "The Morning Show." He's also been nominated for a Golden Globe, Screen Actors Guild award, and Critic's Choice Award for his work on the TV series "Only Murders In The Building." For his work on Broadway, Short has been nominated for several Tony Awards, winning in 1999 for his lead performance in the musical "Little Me."
Short has also been lauded numerous times by his home country of Canada. In 1994, Short became a Member of the Order of Canada. The Governor General of Canada gave him the Canadian equivalent of British knighthood for making laughter an "important Canadian export" and for his "generosity of spirit" in supporting numerous charitable organizations. He also appeared on a series of Canada Post stamps as part of their Great Canadian Comedians series (via CBC). Short was also inducted into Canada's Walk of Fame in 2000. Clearly, Short has done Canada proud.
Short hosted a short-lived talk show
Called "the hardest working talk-show guest in the business" by The New Yorker, it's no surprise that Martin Short had a shot at hosting his own chat show. In his own way, Short had been preparing to helm "The Martin Short Show" for most of his life. According to his memoir, "I Must Say," Short played pretend showbiz in his attic, telling the Washington Post, "I was on television since I was 14 in my mind." By the late 1990s, Short's television career was not merely a figment of his imagination. He had become an established television performer on shows like "SCTV," "SNL," and even had his own sitcom, also called "The Martin Short Show."
With all his performance experience, it seemed like Short was a shoo-in for syndicated talk show success. "The Martin Short Show" launched in 1999, and Short writes in his memoir that its mix of "SCTV"-inspired comedy and traditional chat show wasn't quite ready for daytime — or anytime, quite frankly, as the show fell victim to inadequate scheduling. Even his new character, Hollywood sycophant Jiminy Glick, couldn't save the show's declining ratings. "The Martin Short Show" never found its niche, was canceled after one season, and has become just another credit on Short's illustrious resume.
He's stayed close with his SCTV co-stars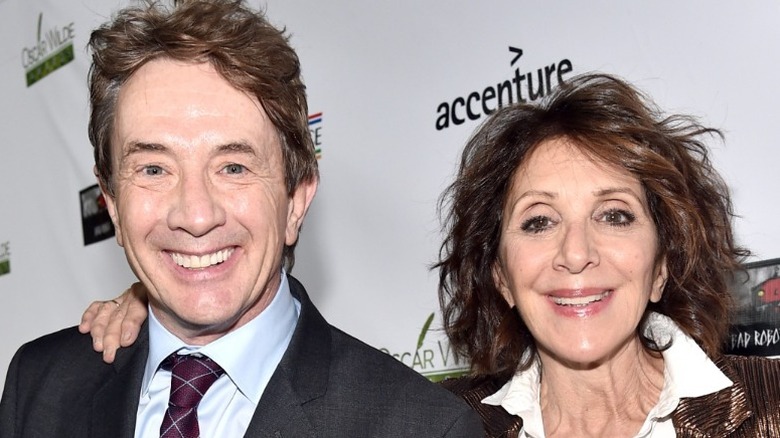 Alberto E. Rodriguez/Getty
Martin Short's time on the sketch-comedy series "SCTV" was the culmination of years of working on the Canadian comedy scene. Short has been friends with fellow "SCTV" stars Eugene Levy and Dave Thomas since his days at McMaster University in the early 1970s. All three men acted in the 1972 Toronto production of "Godspell," a performance that linked them to many future "SCTV" players. Andrea Martin also appeared in "Godspell" and Short's then-girfriend Gilda Radner's ex-boyfriend was the brother of Catherine O'Hara. Short, Levy, Thomas, Martin, and O'Hara went on to perform at Second City Toronto and they would make the leap from stage to TV with "SCTV."
"SCTV" made its television debut in 1976, but Short didn't join the show until 1982. He notes in his memoir, "I Must Say," that working on the show was like working with family, and for Short, he literally was working with relatives. Andrea Martin was married to Bob Dolman, the brother of his wife Nancy, and Short's brother Michael was a staff writer. When "SCTV" ended in 1984, for many of the cast, it was just the beginning of their comedy success. In the subsequent decades, "SCTV" players' careers have intersected in a number of TV shows and movies. A formal homecoming has been in the works for years, with hopes of Martin Scorsese's long-delayed "SCTV" reunion special to someday be released on Netflix.
His character Jiminy Glick was inspired by a real person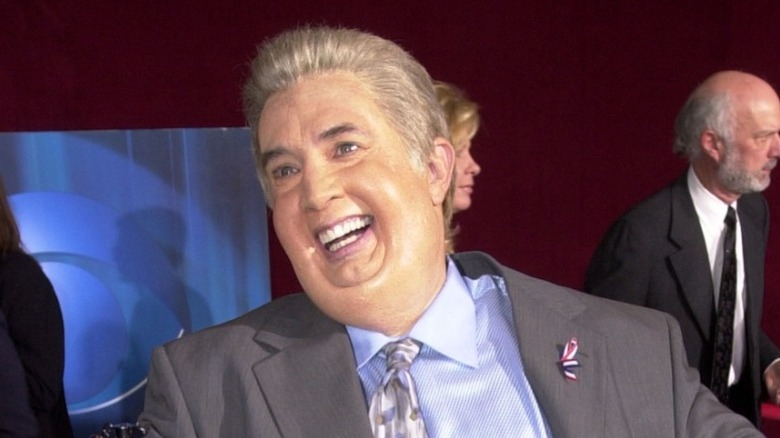 Vince Bucci/Getty
Jiminy Glick, Martin Short's delusionally acerbic Hollywood gadfly, is one of the comedian's most recognizable character creations. An entertainment reporter more interested in himself than his celebrity interview subjects, Glick's bullishly ignorant line of questioning lampoons the often-absurd world of the showbiz press circuit. First launching on Short's talk show, "The Martin Short Show," Jiminy's toxic mix of sycophantic eagerness and bloviating ignorance is in line with other Short creations like nightclub singer Jackie Rogers Jr. Glick's schtick proved so popular that he was spun off into his own television series, "Primetime Glick," and the movie "Jiminy Glick in Lalawood."
Short pulled from a number of sources to create Jiminy Glick. In an interview on "The Off Camera Show," Short says that Jiminy is a riff on "morons with power" that he encountered while making "The Martin Short Show." In "I Must Say," Short writes that he pulled from a childhood neighbor, entertainer Merv Griffin, legendary Hollywood agent Swifty Lazar, and even his father for Jiminy's demeanor and look. It's also been noted that Jiminy Glick was inspired by celebrity interviewer Skip E. Lowe and his public access show "Skip E. Lowe Looks at Hollywood." Short told David Letterman that Glick was "a little bit of Skip E. Lowe," adding that Lowe "talks to people but he gets confused with tremendous enthusiasm" (via Hollywood Reporter).
Martin Short's relationship with Gilda Radner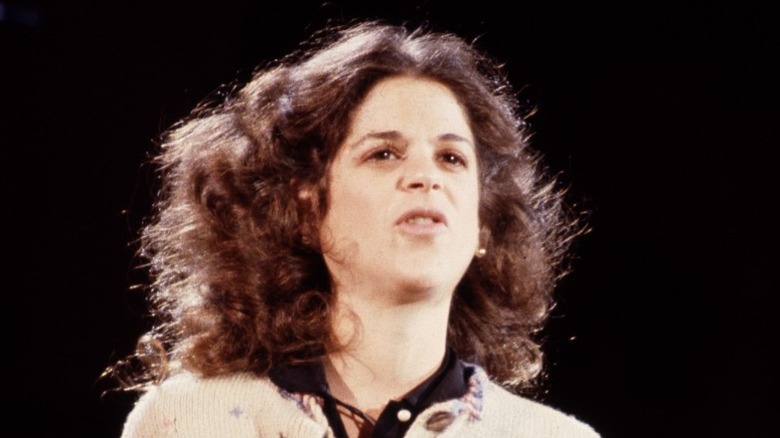 Michael Putland/Getty
Before his 30-year marriage to actress Nancy Dolman, Martin Short was romantically linked to comedy legend Gilda Radner. He met Radner while performing in the fabled 1972 Toronto production of "Godspell." Both were in relationships when they first met, but during "Godspell," Short and Radner quickly fell for each other and were soon living together at her place. They were an on-again, off-again couple for nearly two years. In "I Must Say," Short recalls being affected by both Radner's "exuberance" and her "dark moods," noting that his relative immaturity limited his ability for compassion.
Short and Radner broke up soon after the end of "Godspell" in 1974. Their relationship petered out, with Short moving on with Dolman and Radner moving to the United States, soon to be launched into the comedic stratosphere as an original cast member of "Saturday Night Live." Short says he and Radner remained close friends until her death from ovarian cancer in 1989. Of his time with Radner, Short writes in his memoir that it was "love, real love."
His movie Clifford flopped, then became a cult classic
Which film about a devilishly precocious 10-year-old boy played by a 40-year-old man was beloved by both Nicolas Cage and Elizabeth Taylor? It's Martin Short's 1994 film "Clifford," a comedy that tanked at the box office and was panned by critics, yet has gone on to become a beloved cult classic decades after its initial release. Short writes in "I Must Say" that "Clifford" suffered from numerous streaks of bad luck. For one, the movie, actually made in 1990, sat on the shelf for years due to the demise of its studio, Orion Pictures. When it finally hit theaters in 1994, most critics hated it, with Roger Ebert declaring it "irredeemably not funny" and a "movie that shouldn't have been made."
Despite its incredibly harsh reception, "Clifford" was already cultivating a dedicated following upon its release. In his memoir, Short remembers being approached by freshly-minted Oscar winner Nicolas Cage about his love for "Clifford," exclaiming that he watched the movie so much that the tape jammed in his VCR. Screen legend Elizabeth Taylor also loved the movie, telling Short she was "a total 'Clifford' freak." Hollywood celebrities aren't the only fans of "Clifford," as the movie has received a cultural reassessment in recent years. Vulture called it "beautiful, crazy, misunderstood" and the A/V Club has deemed it "the only movie that let Martin Short be Martin Short."