Spencer Grammer Was Asked To Quit Rick And Morty, And She Had The Perfect Response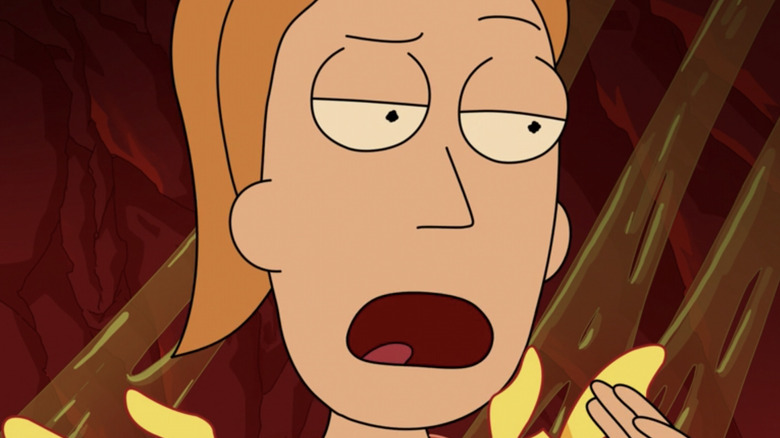 Adult Swim
Although Spencer Grammer (daughter of legendary "Frasier" actor Kelsey Grammer) has been a part of numerous film and television projects over the years, there's no question that she is most well-known as the voice of Summer Smith in "Rick and Morty." Summer is the older sister of Morty Smith and the granddaughter of Rick Sanchez (both of whom are voiced by Justin Roiland). When we first met her in Season 1, she was simply a stereotypical American teenager: obsessed with her own popularity and constantly hung up on high school drama.
Yet, as the series has progressed, Summer has started to emulate some of the more narcissistic and sociopathic qualities of her grandfather — murdering numerous aliens without emotion, and brutally insulting her father, Jerry (voiced by Chris Parnell), with the same cruelty as Rick himself. Now, as the series enters its highly-anticipated sixth season, Summer has become one of the show's most complex (and consistently hilarious) characters, and is sure to be an essential part of the series for many years to come.
Considering just how important Summer is to "Rick and Morty" as a whole, it might surprise some fans to learn that Spencer Grammer was once asked to quit the series for another role.
Grammer's response seems like a line from Summer Smith herself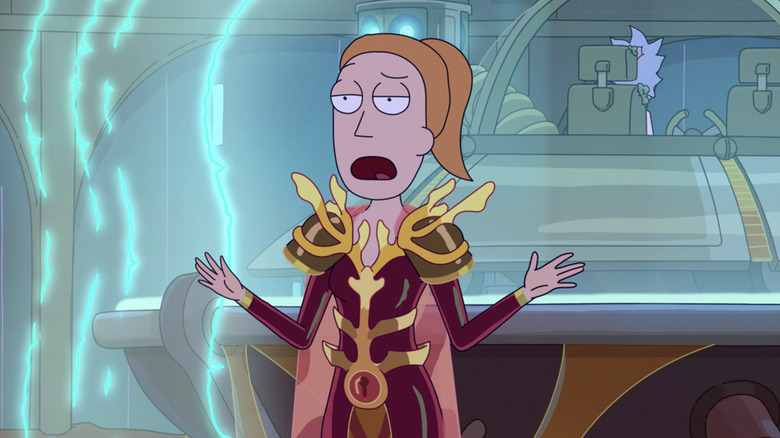 Adult Swim
During a roundtable interview with Screen Rant and CBR, Spencer Grammer revealed that she was once told that she would have to quit "Rick and Morty" to work on another series — and she responded with a bluntness that would make Summer Smith herself proud.
"I had been in a situation where I had done another show and they were like, 'Sorry, you're gonna have to leave this,' and I was like, go f*** yourselves, this is the only thing I like," the actor explained. "I don't even care if I don't make money on this show. This show brings me joy every time I read a script." Grammer went on to reiterate just how much she loves working on "Rick and Morty," claiming that she would rather get a job in an office than have to say goodbye to the series.
Perhaps the greatest part of Grammer's blunt response to this situation is the way it mirrors Summer's own straightforward attitude within the series. It's very easy to imagine Summer Smith responding in the exact same way as Grammer, had she been asked to leave something that she enjoyed — though perhaps she might have thrown in a few more expletives here and there. In any case, Grammer's candid response is perfect because it shows her immense passion for the series while sticking to the straightforward attitude of her character.