Farrah Fawcett Once Revealed Her Fondest Memory Of Charlie's Angels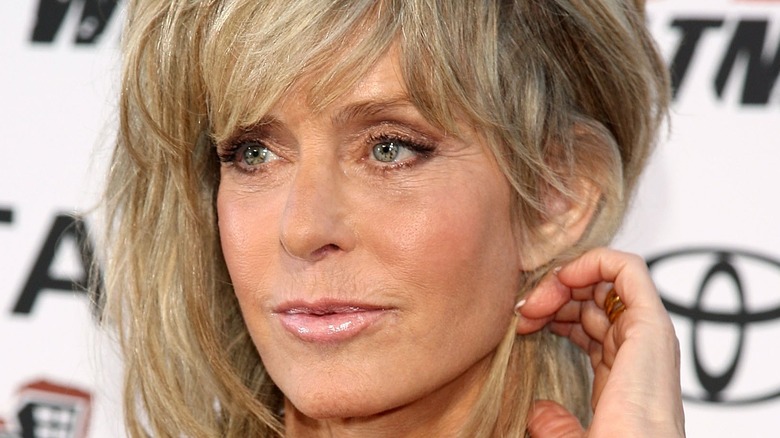 Kevin Winter/Getty Images
Farrah Fawcett is synonymous with "Charlie's Angels" despite only appearing in 29 of the original show's 110 episodes, per IMDb. Fawcett ultimately left the show in 1977 though she would go on to make sporadic appearances later on. These appearances happened after her announcement that she was leaving, setting off a contractual battle with producers, according to The Washington Post. 
There may have been drama at the time, but Fawcett remains perhaps the most recognizable face of the franchise. Her famous 1976 swimsuit poster and other merchandise helped propel the show's popularity, with even producer Aaron Spelling later admitting Fawcett and her signature look were a big draw in the beginning. "Her hair helped make the show. It became one of our signatures," he said in 2009, according to the East Bay Times. 
Fawcett had explained her leaving was partly due to her wanting creative change in her career. "The success came before I had done what I thought was a good role. I knew that if I was going to stay in the business I had to change and I wanted to change," she said in 1984, according to ABC. Fawcett would still go on to share fond memories from the series that made her a household name, but it was in 1998 that she shared her fondest.
Fawcett's fondest memory was a Time magazine cover shoot
During ABC's "All-Star Party for Aaron Spelling," a special that aired in 1998, Fawcett shared her fondest memory from her experience on "Charlie's Angels" — where she played Jill Munroe — and it wasn't anything that actually happened in the show itself. 
"My fondest memory of the show is the day that we shot the cover for TIME magazine cover on our lunch hour. If it's true that you say 'Charlie's Angels' is your dream show, I want you to know that at that moment, you made my dream come true as well, so I will be forever grateful," she said onstage at the 1998 event while Aaron Spelling looked on from the audience.  
The TIME magazine cover Fawcett talked about was released in November 1976 and announced her, Jaclyn Smith (who played Angel Kelly Garrett), and Kate Jackson (who played Angel Sabrina Duncan) as "TV's super women." The cover was released just as "Charlie's Angels" was being let out into the world and finding huge success. An introduction to the Angels premiered on March 21, 1976, as a TV movie, and the show itself would premiere its 1st season on September 22, 1976, via IMDb.