Why 2 Broke Girls Was Art Imitating Life For Beth Behrs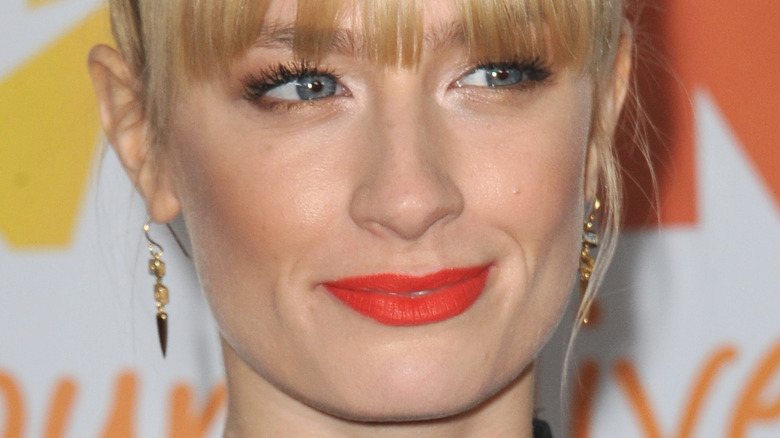 Jaguar PS/Shutterstock
One of the funniest sitcoms in TV history, "2 Broke Girls," created by Michael Patrick King and Whitney Cummings, ran for six seasons. The series follows two friends, Max Black (Kat Dennings, who everyone forgets starred in "Sex and the City") and Caroline Channing (Beth Behrs), who are also coworkers at a local diner trying to save enough money to open their own cupcake business. The two friends come from very different financial backgrounds. While Max grew up in poverty, Caroline grew up with millionaire parents before only her father was arrested for a Ponzi scheme.
Throughout its run, the show certainly didn't shy away from addressing the reality of being broke in New York City, despite being a lighthearted comedy. Further, the two leads, Dennings and Behrs, are deft at portraying, well, two broke girls. And, as it turns out, this is due to more than just acting chops, as, for Behrs, art was imitating life when she took the job.
Behrs was broke when she landed the 2 Broke Girls role
In 2021, Beth Behrs appeared on The Drew Barrymore Show, during which the actress revealed that her life pre-"2 Broke Girls" looked quite similar to her on-screen counterpart's (via People).
During the interview, Barrymore asked if it was true that Behrs was working two jobs, as a nanny and as a bartender, when she landed her role in "2 Broke Girls." In response, Behrs explained, "I was a broke girl. Seven days a week, I was working full-time." Further, she wore cowboy boots because she couldn't afford heels to wear to the audition. As a result, creator Michael Patrick King called her up before her final screen test to ask if she could wear a different outfit.
The actress continued, "I had no money because I was a real broke girl. I went to Nordstrom and kept all of the tags on my clothes and the label on the Steve Madden heels that I got. When Michael hugged me at my screen test, he's like, 'Are there tags all over your clothes? And I was like, 'Well, yes, because if I don't get this job, I have to return all these clothes. I can't afford them.'"
The creators and actors wanted 2 Broke Girls to be as real as possible
Regarding how finances were handled, the creators of "2 Broke Girls" didn't want Max and Caroline to be broke only in theory but rather try to realistically portray what the lives of two minimum wage workers might look like.
In an interview with TV Guide in 2011, Whitney Cummings said, "In most sitcoms, someone works in a coffee shop, and they live in a huge, gorgeous New York brownstone, and they're wearing Versace clothes, and it's never acknowledged, so that's something that really interested us." Michael Patrick King added in the same interview that they wanted to make sure the characters talked about money and how much things cost on screen, which is not something you see all the time.
Beth Behrs echoed these statements in a 2012 interview with Pop Sugar, stating that she thinks the show's realness is one of the most compelling aspects for audiences. The actress said, "Deep down, isn't that what people want to see? We want what we watch on TV to be real and relatable. That's what makes it fun to watch. It is a sitcom, but even if sometimes the comedy is big and broad, the writers always write from a real place. And Kat and I always try to make everything we're doing and saying as real as possible."