Ice Road Truckers' Lisa Kelly Addresses The Series' Possible Return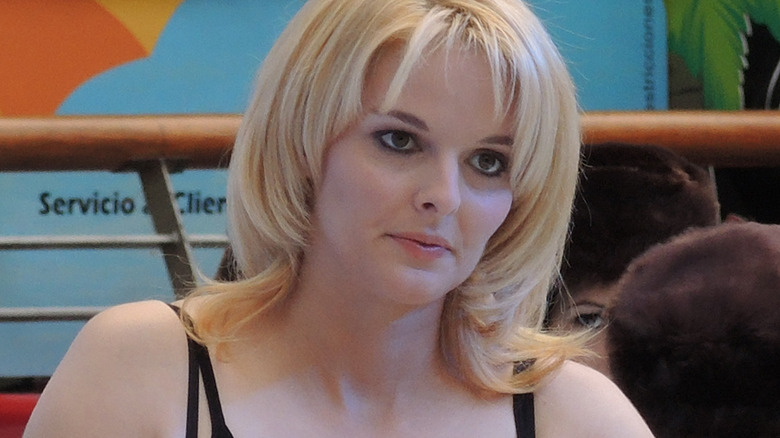 F. A. Alba/Shutterstock
"The Ice Road" was well-received when it premiered on Netflix in June of 2021. The film stars Liam Neeson as a truck driver who takes on a dangerous job transporting goods across ice-covered roads in Winnipeg. Of course, the History reality series "Ice Road Truckers" began to shine a spotlight on the real-life ice road trucking industry years prior.
Like "Deadliest Catch," which follows crab fisherman working in temperamental Alaskan seas, "Ice Road Truckers" revolves around a dangerous and perhaps seldom-discussed profession. Viewers get to know its recurring cast members over time too, and some of their personalities become just as much a reason to tune in as the insight into ice road trucking the series provides.
Lisa Kelly is one of the show's key contributors, debuting during Season 3 and appearing on eight seasons in total, in addition to a couple of spinoffs. Kelly's last appearance was on Season 11 in 2017, which as of now is also the show's last. In spite of the fact no new episodes of "Ice Road Truckers" have aired since 2017, however, History never officially announced the series' cancellation. In fact, Kelly herself broached the topic of the series' return in an interview about her profession.
Lisa Kelly claims that Ice Road Truckers is currently on a hiatus that was worsened by the pandemic
"Ice Road Truckers" star Lisa Kelly discussed the prospect of the series' return in a video interview with the trucking publication Overdrive. As their discussion was wrapping up, interviewer Max Heine asked Kelly if she had additional comments about anything that they hadn't already covered.
"The show's been on hiatus for a while, and I wish it would come back. I know there's been talk of it, but I feel like this whole COVID thing kind of put a stop on everything," Kelly said. "So, I don't know. That's kind of the whole change thing going on. I don't know what's going to happen."
Heine then asked Kelly about how the freight industry in Alaska was impacted by the pandemic. Kelly replied that the overall volume of work decreased considerably as a result of rising oil and gas prices, perhaps further clarifying why the pandemic might prohibit the return of "Ice Road Truckers" for the time being.
In a 2020 interview with Deals on Wheels, fellow "Ice Road Truckers" star Alex Debogorski revealed that he gets along with some of his series co-stars better than others, though he singled out Kelly specifically as someone with whom he keeps in contact. So, while the prospect of "Ice Road Truckers" returning is up in the air at best, Kelly and Debogorski at the very least seem to maintain a friendly working relationship.