Rick And Morty's Wormageddon Scavenger Hunt Explained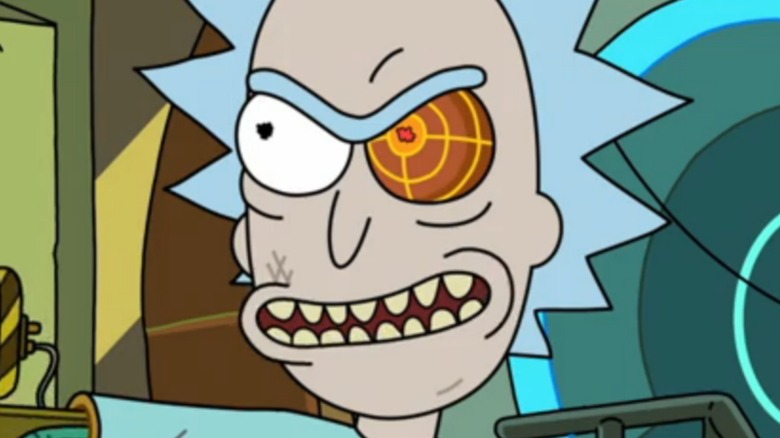 Warner Bros./ Adult Swim
Adult Swim's "Rick and Morty" certainly knows a thing or two about world, galaxy, and multiverse-spanning adventures. With Season 6 of the popular show on the horizon, fans have reached a fevered crescendo of anticipation. The fandom surrounding "Rick and Morty" is exceptionally potent, which has had real-life implications. One can hardly forget the "Mulan" nugget sauce rant of Rick (Justin Roiland) that had the unintended effect of actually getting McDonald's to bring back the promotional item. Complex reports that the sauce sells out incredibly quickly whenever it is offered, so much so that McDonald's has to deal with rabid "Rick and Morty" fans who get upset about not being able to obtain the legendary dipping sauce.
Adult Swim is not one to shy away from contests, scavenger hunts, and stealth promotional events. As noted by CNN, there was a bomb scare in 2007 surrounding the placement of blinking Mooninite characters from "Aqua Teen Hunger Force" around Boston and other cities, which caused Turner Broadcasting System Inc. CEO Phil Kent to issue a statement: "As soon as we realized that an element of the campaign was being mistaken for something potentially dangerous, appropriate law enforcement officials were notified and through federal law enforcement channels, we identified the specific locations of the advertisements in all 10 cities in which they are posted. We also directed the third-party marketing firm who posted the advertisements to take them down immediately." That whole debacle is not likely to happen with the latest "Rick and Morty" promotion, but what exactly is this new scavenger hunt all about?
The Rick and Morty scavenger hunt involves the search for remote statues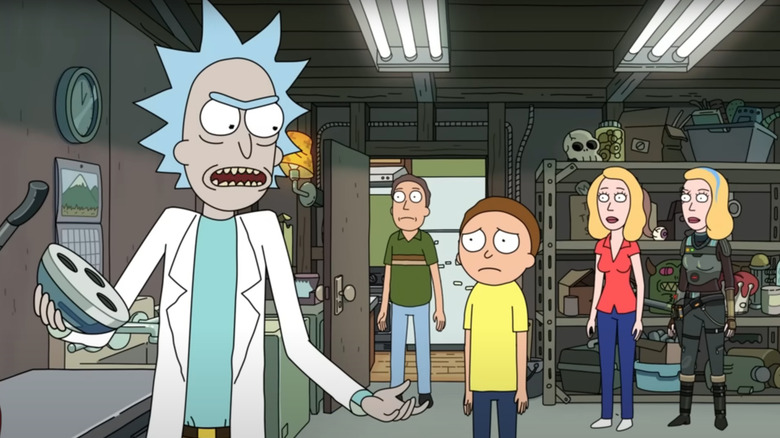 Warner Bros./Adult Swim
Although one may have seen a commercial for the "Rick and Morty" scavenger hunt known as "Wormageddon" on Adult Swim, it seems like there is a better description of the contest over at Rick and Morty's website. It turns out that the rules of the scavenger hunt are relatively simple, and the only real notes are the standard issue clause that participants must be over the age of 18. If one is considered an adult, they can mosey on over to the "Rick and Morty" website, which gives clues to the locations of nine sculptures of Rick's head, though it is important to realize that one has already been found.
However, that means that there are eight sculptures left. If one is able to ascertain the location of one by analyzing the clues, they may pursue it with the focus of an individual attempting to break the Central Finite Curve. The details of the scavenger hunt clarify that the sculptures are located in at least seven different countries, but these do not include places like Russia, North Korea, Ukraine, Venezuela, Iran, Syria, and Cuba. That means if you live anywhere else, there may be a chance that a Rick sculpture is hidden somewhere in your country. The rules also specify that the locations of the sculptures may be exceptionally remote and only available to visit during specific hours, and they might require significant physical stamina to reach.
People who find the Rick statues agree to be filmed and get to keep the sculpture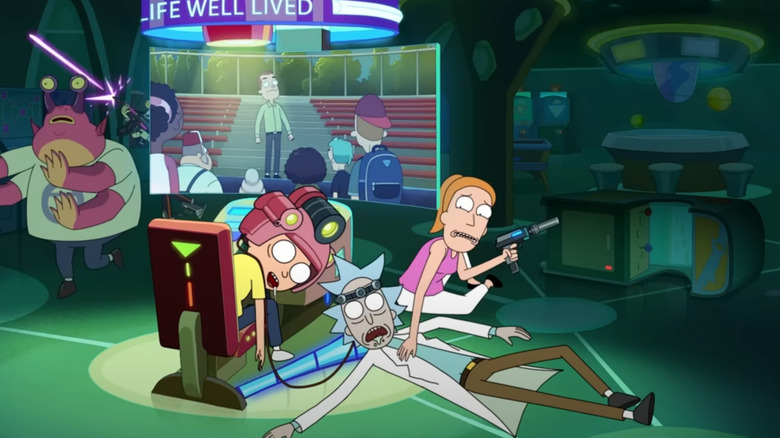 Warner Bros./Adult Swim
Upon finding one of the Rick statues, contestants must present their find to the location's event staff and recite a specific passphrase. Winners also agree to be filmed at the location and will be able to take home a Rick trophy, which has a value of around $100. That means that though there isn't some grand prize or anything of that sort, they will become a part of the living history of "Rick and Morty," which, for some fans, is probably good enough.
Running from August 23, 2022, to September 9, 2022, the "Rick and Morty" Wormageddon scavenger hunt will act as a bridge between the last episode of Season 5, which saw the Citadel destroyed by Evil Morty (also voiced by Justin Roiland) and the premier episode of Season 6, which involves the hunt for a worm across the globe, hence the title of the contest. Speaking with USA Today, Roiland said of the contest, "The engagement side of it with the fans, and the hunt on a global level of trying to find these locations is just really insane in the coolest way, and I'm excited to see what the reaction is going to be." Ultimately, the "Rick and Morty" scavenger hunt is a great way to promote Season 6 and give fans a chance for an adventure. Just stay away from the Whirly-Dirly or thoughts that feel "spidery."