She-Hulk Episode 2 Just Added The X-Men Character We've All Been Waiting For To The MCU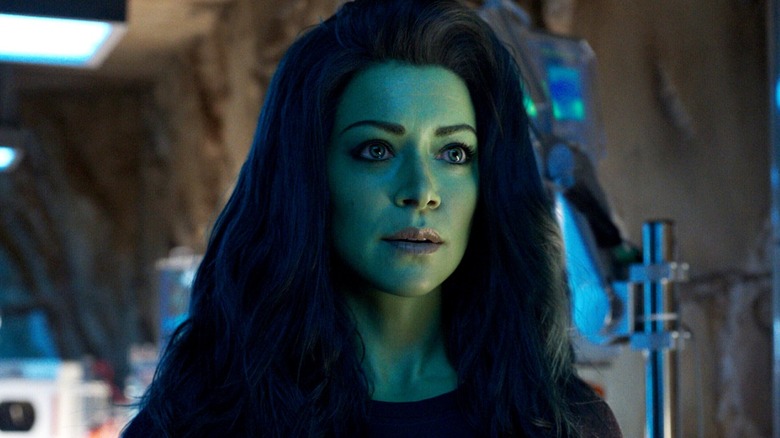 Marvel Studios/Disney+
Contains spoilers for "She-Hulk: Attorney at Law" Season 1, Episode 2
The world may be crumbling around Jennifer Walters, aka She-Hulk (Tatiana Maslany), but that isn't stopping Marvel Studios from expanding on its cinematic universe any chance it gets. Sure, the plucky attorney with a gamma-radiated edge might have fallen on hard times, but at least we've got Easter eggs, and the latest episode of "She-Hulk: Attorney at Law" gave us a big one. After "Doctor Strange in the Multiverse of Madness" and "Ms. Marvel" casually dropping the word "mutation," it was made clear that X marks the spot that Kevin Feige and the bajillion-dollar franchise are aiming for in the future.
Besides the brief whiplash-worthy cameo from Charles Xavier (Patrick Stewart), there's been no sighting of other known mutants from Marvel Comics making an appearance. For the time being, the high expectation is that potential "Wakanda Forever" villain Namor (Tenoch Huerta) will align with his heritage as "Marvel's first mutant" in the upcoming sequel, but that's the only bit of Homo-superior action that was in the cards — or so we thought. This week, during Jen's panic-stricken online job hunt, a web page not only references a notable spot from "Moon Knight" and a prominent "Eternals" detail fans have hoped would come up but also gives a discreet but downright mind-blowing mention of one of the most iconic mutants in Marvel's history.
She-Hulk confirms Wolverine is here and already the best at what he does in the MCU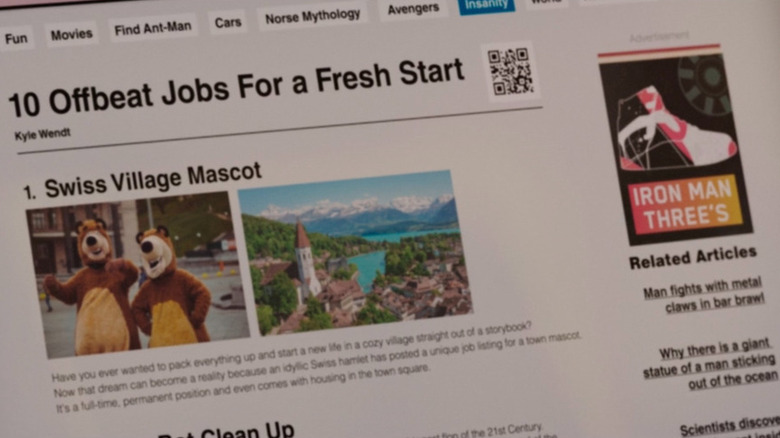 Marvel
Following Jen's umpteenth job rejection, she's seen viewing a web page detailing a position in a picturesque Swedish village accompanied by some fascinating news stories before she finally gets a new one. Firstly, yes, that quaint little spot is the same place Steven Grant woke up during his first adventure as Moon Knight, but what's even more interesting are the related articles accompanying it. Above the piece titled "Why there is a giant statue of a man sticking out of the ocean" (nice "Eternals" nod), there's one titled "Man fights with metal claws in bar brawl." You really don't need to attend Xavier's School for Gifted Youngsters to know whom it's referring to.
There's only one male bar-hopping hero known for getting sharp should his beer be interrupted (it's literally the teaser trailer for Insomniac's upcoming PlayStation game). It's none other than X-Man and part-time Avenger Wolverine, who coincidentally debuted in "Incredible Hulk" #181. Currently, Marvel Studios has yet to assign a star to its character iteration, although Taron Egerton has expressed interest in taking over where Hugh Jackman's iconic take on Logan left off. Nevertheless, the mention of the mysterious clawed character will not only get fans excited but also give an interesting indication of just what kind of stage mutant integration into the MCU is at.
The mention of Wolverine might undo theories about mutants in the Marvel Cinematic Universe
When Evan Peters reprised his role (but not quite) as Quicksilver in "WandaVision," fans were quick to conclude that this was how mutants would find their way into the Marvel Cinematic Universe. Unfortunately, the ideas that audiences had pinned to corkboards and wrapped in red string were quickly cut to pieces when it was revealed that Pietro was in fact (sigh) Ralph Bohner, which (as far as we know) rules out mutants making their way in via reality-bending means. Now, though, with this fresh new mention of the mutant formerly known as Weapon X, there's a chance that this evolved group of individuals might be integrated in a way that was initially written off. They might just have been here all along.
While it's a solid argument many mutations can't be hidden due to their physical appearance and would've already been noticed in the MCU, the "man fights with metal claws" article and even Kamala Khan's (Iman Vellani) revelation might counter that. Kamala's genetic trait looks to have been dormant, and given that Wolverine's claws aren't on display, his healing abilities (going off Marvel Comics history) may have kept him hiding in plain sight for over a century. Either way, this simple headline confirms that whenever Wolverine does ever appear, he'll be further along than we may have predicted. Whatever happens, though, one thing is certain: We're going to see some serious snikt!