The Time Kit Harington Accidentally Punched His Game Of Thrones Co-Star In The Face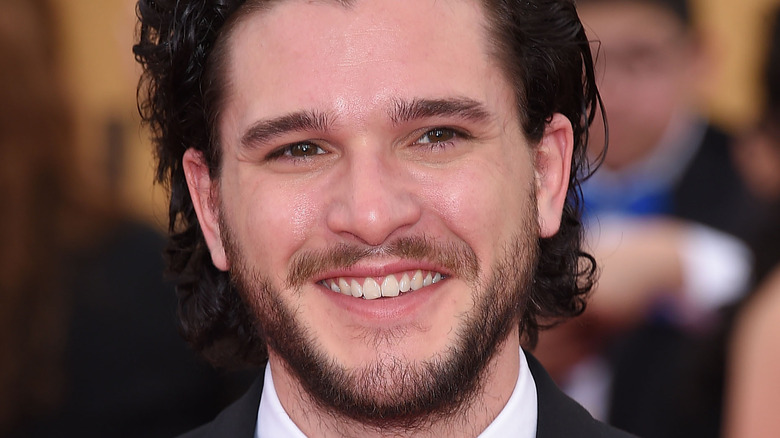 DFree/Shutterstock
Of all the massive and successful franchises that HBO has boasted over the years, among their biggest and most popular is "Game of Thrones." The dark fantasy series from the mind of author George R.R. Martin draws on the hideous cruelties of real-life noble families and royal dynasties but adds just enough of its own special spice to make it unique (via BBC).
Sometimes that spice is something small like a changed detail here and there and other times it's something a little more obvious like, say, a horde of ice zombies or a trio of fire-breathing dragons. Still, even among the often extravagant plot lines and battle sequences of "Game of Thrones," fans always returned to find out what would happen to beloved characters like Arya Stark (Maisie Williams) or Daenerys Targaryen (Emilia Clarke).
Another popular character across all eight seasons of the fantasy series is Jon Snow (Kit Harington). The bastard underdog won the loyalty of legions of fans over the years with his honorable disposition and unswerving moral compass. But while Jon was more than a capable fighter on-screen, the actor behind the character went a bit too far by accidentally punching one of his co-stars during a fight scene.
Harington accidentally hit Iwan Rheon during a crucial Season 6 battle
Iwan Rheon, who portrayed Jon Snow's nemesis, Ramsay Bolton, in "Game of Thrones" might not have quite as sterling an opinion as fans do about Kit Harington after a choreography snafu during their final fight scene in Season 6, Episode 9 ("Battle of the Bastards"). "The 'Battle of the Bastards' was quite an episode to film," Harington told Men's Journal. "A funny moment was that I punched Iwan in the face. At the end of that battle when I'm supposed to punch him and lay into him, I accidentally connected once."
Though Harington seemed apologetic as he told the story, he couldn't help laughing. Still, he must have felt at least a little bad about the mix-up as he recalled buying his fellow actor a drink after they were done shooting. "I bought him a beer after that to make up for it," said Harington. 
Well, it's only natural in a show with as many dynamic fight scenes as "Game of Thrones" boasts to have the occasional mistake. On the plus side, Rheon can at least thank the Seven that he didn't get "stuck with the pointy end," as Arya Stark would put it.