Bono Had A Hilarious Response To A Critique On The Simpsons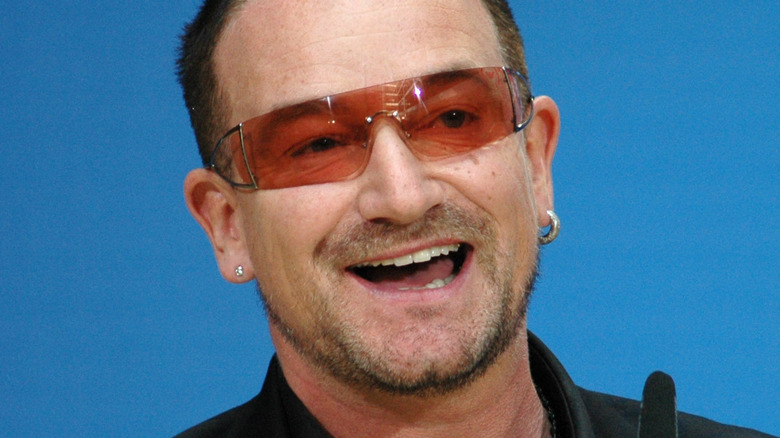 360b/Shutterstock
It didn't take too long after its premiere in 1989 before "The Simpsons" popped up on just about every TV around the globe. No matter where you turned, those yellow faces were appearing on T-shirts, backpacks, and pretty much any type of merchandise you can imagine. Its popularity was, no doubt, the powerful force pulling in celebrity guest stars, wanting in on this ever-growing animated TV series. These guest stars not only included actors but musical performers, as well.
The first major musical guest cameo, according to Billboard, came in Season 2, Episode 5 ("Dancin' Homer), when the world first got to see an animated Tony Bennett. That first appearance opened the floodgates of musical cameos, with stars like Michael Jackson, Sting, and even James Brown becoming more colorful (and 2-D) than ever before. Since then, the trend has continued, with fans today looking forward to new and exciting musical guests. For example, Season 33, Episode 15 ("Bart, the Cool Kid") featured pop star The Weeknd voicing a young influencer named Orion Hughes.
However, behind all these great "Simpsons" episodes that include musical guests, there are the real-life experiences that these stars had when recording. Just as how not every cameo on the show is particularly loved by fans, the production experience isn't always pleasant for the guests themselves. And when U2 lead singer Bono and his bandmates guested on "The Simpsons," the rock star had a rather unusual reaction to a comment from one of the show's staff members.
The best response to criticism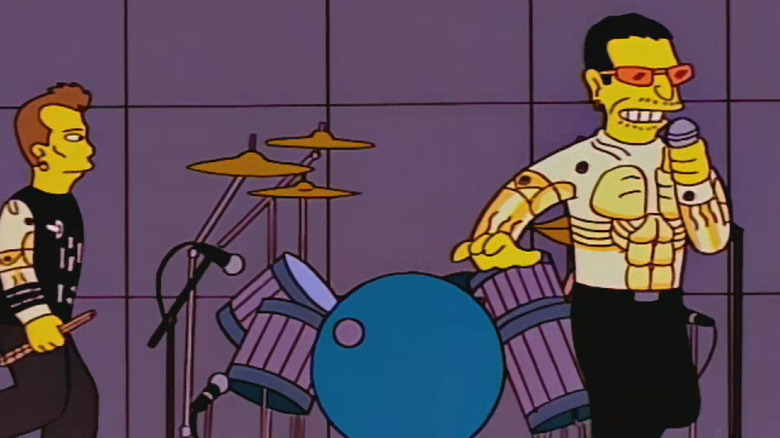 Fox
No matter how famous you are, it must be something special to find out you're going to be a guest star on one of the most well-known, longest-running TV series in history. And according to the Irish Times, when the band U2 was booked to make an appearance on "The Simpsons," the band's guitarist, The Edge, explained their excitement came from being fans of the show, themselves. The Edge said, "In fact the only thing worth watching on TV at that moment. We've been fans for a long time." As for U2's lead singer, Bono, the Irish Times went on to explain that the rock star told a reporter that "I'm here to kiss Homer Simpson's bottom." Ironically, that statement ended up being somewhat misleading. 
Season 9, Episode 22 ("Trash of the Titans") is where U2 and Bono take the animated stage. But as entertaining as the sequence was, the making of the scene was a bit different.  In an interview with Virgin Media TV, Yeardley Smith, who voices Lisa Simpson, recalled that the show's music director provoked Bono in a way that turned out to be a little over-revealing. She said, "Our music director was telling Bono, I'm not even kidding, you're a little pitchy." That critique led to a story in itself as she explained, "Bono turned around and he mooned him!"
Besides the full-moon drama that took place that day in the recording booth, the episode turned out to be one of many classic musical guest performances "The Simpsons" have collected. And it's also worth mentioning that Bono — in animated form — did reference how his rear end was showing during the episode's musical number, "The Garbage Man."