Nearly 20% Of Fans Think This Is The Least Likable Law & Order Character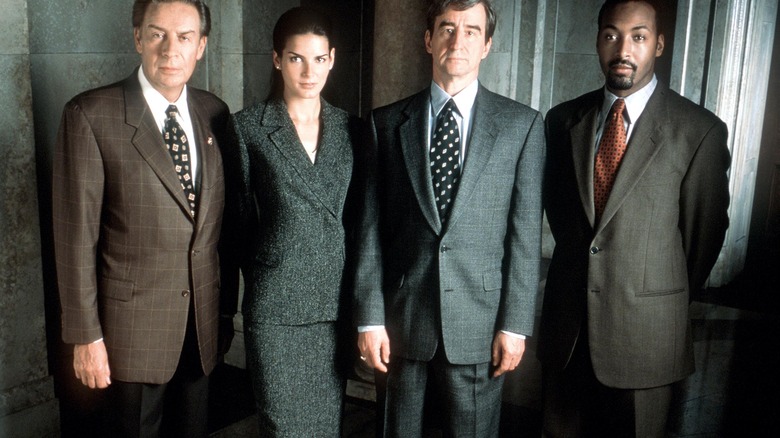 Getty Images/Getty Images
"Law & Order" has been one of television's longest-running series, and although it officially ended in 2010, the show returned with Season 21 this year. So far, this new season of "Law & Order" has been well-received by critics, but audiences aren't feeling too great about the show's return (via Rotten Tomatoes). Creator Dick Wolf has continued the tried and true methodical progression that all "Law & Order" episodes have shared over the years in Season 21, though this seemingly appears stale for some viewers.
However, everything about "Law & Order" isn't the same as it used to be, including the cast. There are certainly some very familiar faces, including Sam Waterston's District Attorney Jack McCoy and Anthony Anderson's Detective Kevin Bernard. However, there are fresh characters in Camryn Manheim's Lieutenant Kate Dixon, Jeffrey Donovan's Detective Frank Cosgrove, and Odelya Halevi's A.D.A. Samantha Maroun, amongst others (via IMDb).
The changes in "Law & Order" main cast members are always notable, and there are essentially eras of the series and specific casts that fans love most. Some likely prefer the original cast from 1990 that included the likes of Chris Noth, Steven Hill, Richard Brooks, and George Dzundza, amongst others. Others who started watching at the turn of the century might feel that Waterston, Angie Harmon, Jerry Orbach, and Jesse L. Martin make up their favorite lineup. However, almost 20% of fans in a recent survey agreed that one specific cast member over the years is certainly the least likable of anyone thus far.
20% of Law & Order fans think Detective Ed Green is the show's least likable character
According to a recent survey that Looper conducted with over 600 United States-based fans of "Law & Order," about 19.58% believe that Jesse L. Martin's Detective Ed Green is the show's least likable character. Ed was followed by Sam Waterston's Jack McCoy at 15.70%, then Elizabeth Rogers (Leslie Hendrix) at 14.24%, Claire Kincaid (Jill Hennessy) at 13.43%, Mike Logan (Chris Noth) at 13.11%, Anita Van Buren (S. Epatha Merkerson) at 12.46%, and finally, Lennie Briscoe (Jerry Orbach) at 11.49%.
It's possible that many fans didn't really like Detective Green all that much because of the way he went about his work. Green is often aggressive in his handling of suspects, drawing his weapon on them without warning and attempting to get them to confess without reading them their Miranda warning. Throughout his tenure, Green also murdered someone, although it was revealed that it was in defense of someone else. Nevertheless, Green kept secrets from the police department and the district attorney's office because of it, and nearly went to prison in the process. Instead, he quit the force during the Season 18 episode, "Burn Card."
Martin seemingly teased the return of Detective Green in Season 21 of "Law & Order" back in February of this year during an interview with The Talk, although it never came to fruition. Season 22 has been officially renewed (via Deadline), so it could still happen — to the apparent dismay of some fans.