Game Of Thrones' Kit Harington Desperately Wanted To Keep This One Prop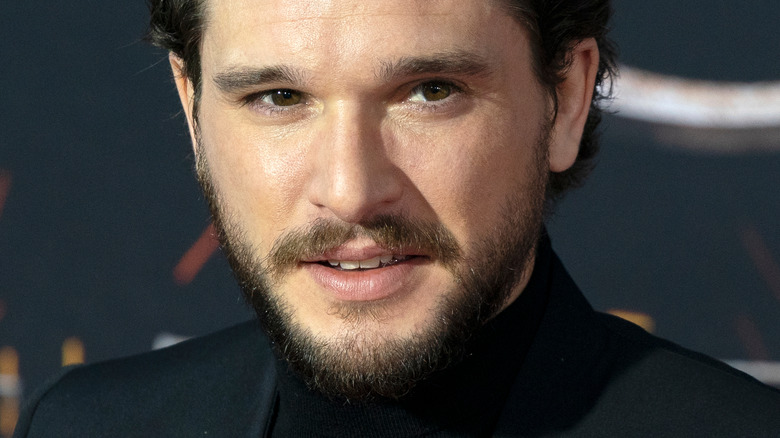 lev radin/Shutterstock
For actors and actresses, it's always tempting to pilfer a prop from the set of a TV show or movie. It's not just a memento from a job, it's a one-of-a-kind souvenir that most fans would love to own. One show that was especially tempting to its performers was HBO's "Game of Thrones," the medieval fantasy series that concluded in 2019. Practically every frame was packed full of weapons, coins, candles, and all other manner of props that would look great on a mantelpiece at home.
Several "Game of Thrones" cast members have either admitted to taking props from the set, or wanting to.
Kristofer Hivju, who played Tormund Giantsbane, wanted to keep his sword, but "[I]t's very dangerous, and I could have killed people with that if I had it in my home, so they took it away."
Pilou Asbæk, who played Euron Greyjoy, admitted to walking off with a ring, while Sophie Turner (Sansa Stark) got to keep her corset. 
Liam Cunningham, who played Ser Davos Seaworth, admitted to taking practically everything that wasn't nailed down (via Entertainment Weekly)
For star Kit Harington, aka Jon Snow, there was one prop he wanted to take above all else.
Kit Harington wanted to keep Longclaw, like most of us would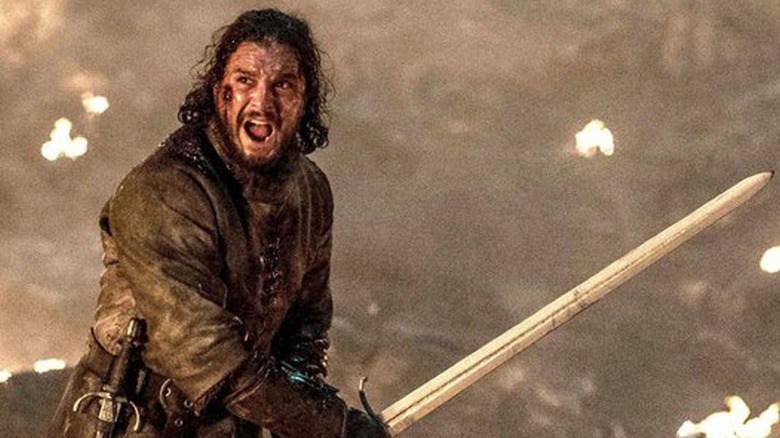 HBO Max
In 2019, The Hollywood Reporter asked Kit Harington if there were any props he wanted to keep from the set of "Game of Thrones."
"I'm still hoping for my sword!" Harington replied. "But they don't seem to be sending it to me. I'm still waiting, let's put it that way. I'm still waiting for my sword, HBO! When is it going to arrive?"
The sword in question, obviously, is Longclaw. It's made from ultra-high quality Valyrian steel, the recipe for which has been lost by the time "Game of Thrones" takes place. It's one of the rare weapons capable of killing White Walkers, so it's highly valuable. Longclaw originally belonged to Jorah Mormont (Iain Glen), who gave it to his father Jeor (James Cosmo), commander of the Night's Watch. Ser Jeor then gives it to Jon during Season 1, and Jon wields it for the rest of the series.
Longclaw is an iconic weapon, so Harrington was unfortunate not to get to keep it. "House of the Dragon's" lead actor was a bit luckier. Matt Smith got to keep his own sword from the show–his is also a Valyrian steel sword, named "Dark Sister." Maybe Longclaw just got lost in the mail?