Where You've Seen The Cast Of Charmed Before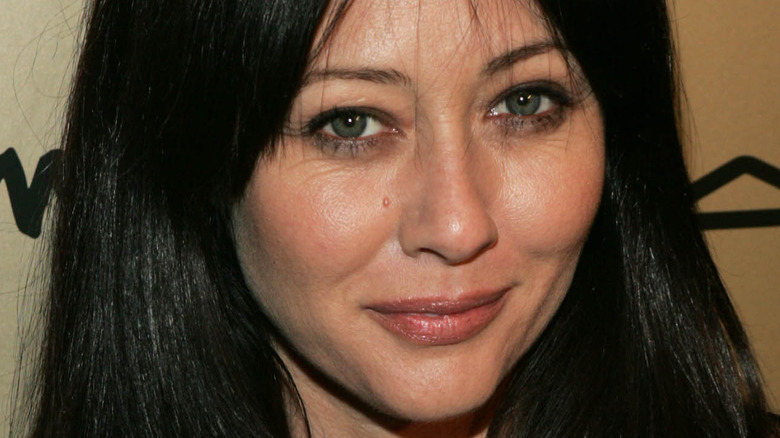 Paul Hawthorne/Getty Images
Starting from the late '90s and into the '00s, the supernatural drama "Charmed" enchanted audiences for eight magical seasons. What started out as an attempt by the fledgling network The WB to lure bigger female teen audiences to their airwaves (the fact that it debuted after "Dawson's Creek" certainly didn't hurt), "Charmed" turned into a pop culture phenomenon in its own right. The series follows the Halliwell sisters, also known as "The Charmed Ones," as they use their powerful witching skills for good. Thwarting demons, warlocks, and other evil beings, Prue (Shannen Doherty), Piper (Holly Marie Combs), Phoebe (Alyssa Milano), and Paige (Rose McGowan) balance their supernatural abilities with the comparatively mundane complications of being human. The popularity of the show has definitely remained consistent, and possibly even grown since the final episode of "Charmed" aired in 2006. With an expanded universe that includes novels, comic books, and even a tepidly received "Charmed" reboot, the franchise continues to cast a spell over fans.
While you might have been familiar with stars like Doherty and Milano at its onset, other actors have a distinct "where have I seen this person before" face. Indeed, many cast members of "Charmed" worked extensively in entertainment before and after their time as witch-protecting "Whitelighters" and sinister demons. Movies, primetime procedural dramas, and especially soap operas — the alumni of "Charmed" have done it all. Let's take a closer look at the cast of "Charmed" and discover their work outside of the beloved series.
Shannen Doherty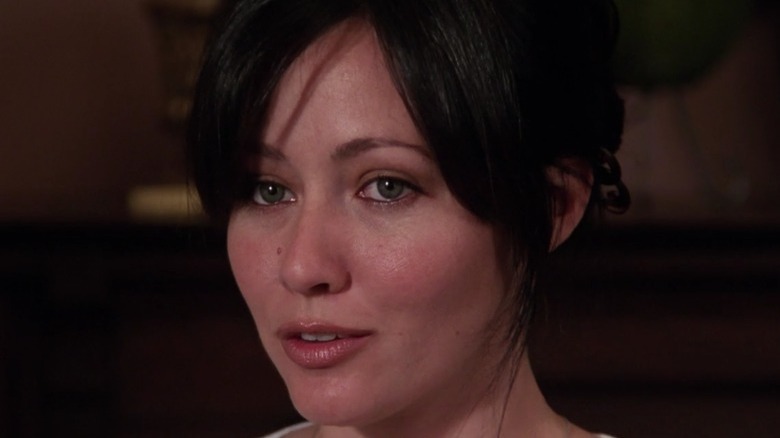 The WB
Shannen Doherty brought her prodigious television acting skills to "Charmed" as the oldest Halliwell sister, Prue. Gifted with the powers of telekinesis and astral projection along with some serious hand-to-hand combat skills, Prue keeps a watchful eye over her sisters. A veteran actor by the time "Charmed" kicked off in 1998, Doherty started her Hollywood career as a child performer, voicing Teresa in the 1982 Don Bluth-directed animated feature "The Secret of NIHM." She also starred as the precociously pigtailed Jenny Wilder in the final season of "Little House on the Prairie," in addition to plenty of guest stints on '80s television hits like "Magnum, P.I.," "Highway to Heaven," and "Airwolf." As far as cinema goes, she played a crucial supporting role in the 1989 dark comedy cult classic "Heathers," and acted in 1985's "Girls Just Wanna Have Fun" in addition to a handful of other films.
But before she was battling warlocks and demons, Doherty took on something some find equally scary — high school. She landed the iconic role of rebellious, strong-willed Brenda Walsh on "Beverly Hills, 90210" in 1990. Doherty was infamously fired from the show after four seasons, but she has guest starred on The CW reboot similarly titled "90210" and returned as Brenda for the meta-continuation series "BH90210." She's also a member of Kevin Smith's "View Askewniverse" acting in "Mallrats" and "Jay and Silent Bob Strike Back." In recent years, Doherty tends to appear in TV movies like Lifetime's "Dying to Belong," but also starred in the Mel Gibson 2022 action project "Hot Seat."
Holly Marie Combs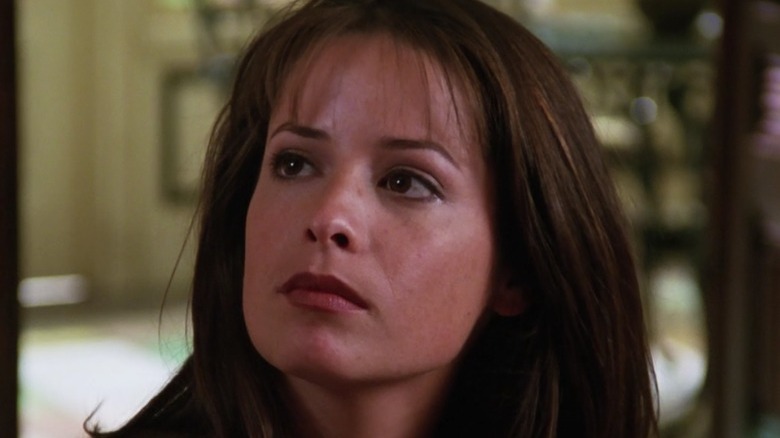 The WB
In "Charmed," Holly Marie Combs plays Piper Halliwell, the sweet-natured middle sister of the Halliwell clan who eventually takes on the role of elder protector. Armed with the power to manipulate molecules, Piper balances her work as a restaurateur and nightlife impresario with her magical life as a Charmed One. Before she played Piper, Combs starred as teenager Kimberly Brock on the quirky CBS drama series "Picket Fences." Called a "show about values" by executive producer Michael Pressman in a conversation with the Los Angeles Times, "Picket Fences" tackles issues of contemporary '90s life through the small-town lens of Rome, Wisconsin.
If "Picket Fences" passed you by in the '90s, perhaps you're up to date on 21st century teen dramas. If so, you've probably seen Combs as Ella Montgomery in the ABC Family-Freeform series "Pretty Little Liars." Following a group of high school girls who are rocked by the disappearance of their clique leader, "Pretty Little Liars" became a teen television sensation, spinning off into the shows "Ravenswood," "Pretty Little Liars: The Perfectionists," and "Pretty Little Liars: Original Sin." While Combs' time in the "Pretty Little Liars" universe ended with the original series, she's dropped into "Grey's Anatomy" for a guest spot since then and has more projects on the way.
Alyssa Milano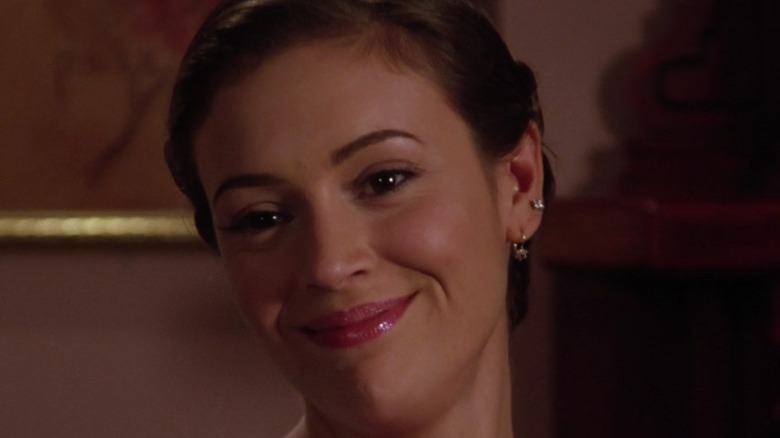 The WB
Alyssa Milano was a bona fide star at the onset of "Charmed" in 1998. Before she became Phoebe Halliwell, Milano was charming audiences as Samantha Micelli on the ABC hit comedy "Who's The Boss." She also had early success in film, playing Arnold Schwarzenegger's daughter in the action flick "Commando." If you didn't see Milano on TV or on the big screen, you might have heard one of her songs ... if you were in Japan, that is. From the late '80s through early '90s, Milano was giving mall songstresses like Debbie Gibson and Tiffany a run for their L.A. Gear sneakers by releasing a number of "idol" albums in Japan. Her second album, "Alyssa" actually went platinum (via The Awl). These days, Milano has taken to social media to celebrate her idol heyday.
Throughout the decades, Milano has kept her television career apace, popping up on hit shows like "Melrose Place," "My Name Is Earl," and "Wet Hot American Summer: 10 Years Later" and starring in series such as "Mistresses," "Romantically Challenged," and "Insatiable." At the movies, Milano has shown up in everything from the '90s thriller "Fear" to the goofy comedy "Dickie Roberts: Former Child Star." Recently, she's navigated to Netflix in the movies "You Are My Home" and "Brazen." If you are not a fan of network television, maybe you've seen Milano at the baseball stadium. She blogged for MLB, started her own sportswear clothing line, and even penned a memoir about her love of America's pastime, "Safe at Home: Confessions of a Baseball Fanatic."
Rose McGowan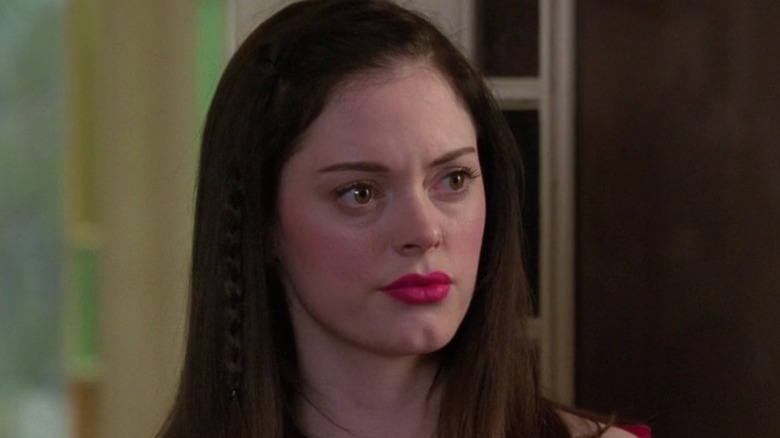 The WB
Rose McGowan joined the cast of "Charmed" in Season 4 as the Halliwell sisters' younger half-sibling, Paige Matthews. Taking the "Power of Three" space left vacant by the death of Prue, Paige's telekinetic orbing powers and her Whitelighter-witch parentage make her a formidable presence in the world of magic. "Charmed" was McGowan's first regular television role, and before she became a "sister-witch" on the small screen, you might have seen her at the movies during the '90s in some era-defining flicks. McGowan's first credited screen role was as high school student Nora in 1992's "Encino Man," and she later went on to appear in another Pauly Shore-starring comedy, "Bio-Dome." While Shore's movie stardom might have petered out by the decade's halfway point, McGowan was just getting started, scoring herself featured roles in the original "Scream," the sci-fi horror romp "Phantoms," and the teen black comedy "Jawbreaker."
McGowan's film career picked up again after "Charmed" ended its run in 2006, collaborating with then-boyfriend director Robert Rodriguez on the double-feature film release "Grindhouse." She starred in Rodriguez's "Planet Terror" as Cherry Darling, a zombie-battling go-go dancer with an assault rifle attached to her leg. McGowan also had a featured role in director Quentin Tarantino's contribution to the project "Death Proof" playing Pam, a victim of the murderous Stuntman Mike (Kurt Russell). McGowan is also a short film director, helming the female-focused "Dawn," "Woman's Womb," and "Ruth."
Brian Krause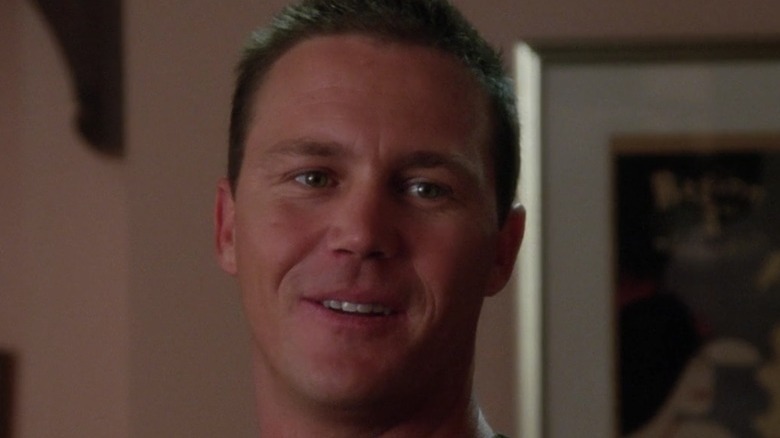 The WB
Brian Krause's kindly Leo Wyatt is a fixture on "Charmed" for most of its run. A Whitelighter assigned to protect the Halliwell sisters and aid in their good witchery, Leo is also Piper's love interest. Their once-forbidden love, tumultuous path to marriage, and the effects their relationship have on Leo's role in the magical realm are central narratives in the series.
Krause had plenty of experience as a hunky beau before casting spells on "Charmed." You might have caught a younger Krause as a lusty teen marooned on a tropical island in "Return to the Blue Lagoon," the much-derided sequel to 1980's "The Blue Lagoon," which currently sits at 0% on Rotten Tomatoes. Perhaps you've seen him in the '90s low-budget erotic thrillers "Naked Souls" and "Mind Games." On the tamer side, Krause was one of several actors to tackle the role of Matthew Cory on the NBC soap opera "Another World."
If you're a fan of the horror movie genre, chances are you've encountered Krause's work. Since starring in the lead role in the Stephen King-penned film "Sleepwalkers" in 1992, Krause has been a regular player in some seriously creepy flicks. With credits in films like "Toolbox Murders 2," "Haunted Maze," and "Be Afraid," Krause has leaned into terror for years. He's also managed to scare up a number of guest roles on popular television shows like "CSI: Miami," "Mad Men," and "The Closer."
Dorian Gregory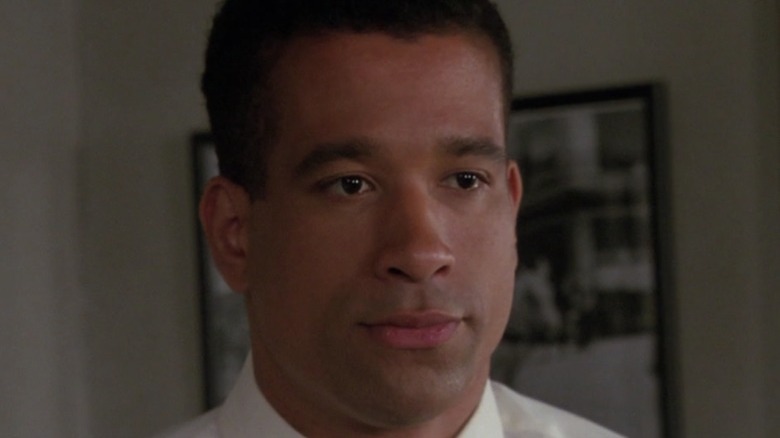 The WB
Dorian Gregory played lieutenant Darryl Morris on "Charmed" for seven seasons, but it wasn't his first role as a supernaturally attuned justice-seeker. If you were a fan of syndicated TV in the '90s, chances are you ran across the "Baywatch" spinoff "Baywatch Nights," a sci-fi detective show that decided to morph into a second-rate "X-Files." Gregory played paranormal expert Diamont Teague in Season 2 of "Baywatch Nights." As luck would have it, audiences didn't take to David Hasselhoff battling monsters-of-the-week in "Mali-Boo," so the show was axed in 1997. But Gregory was not without work for long, as he moved on to "Charmed" the following year.
Gregory had plenty of other acting credits in the '90s besides "Baywatch Nights," including guest-starring roles on "Beverly Hills, 90210," "Living Single," and "Sister, Sister." And he kept busy while co-starring on "Charmed" with a side hustle as co-host of the daytime talk show "The Other Half," the early-'00s male answer to "The View." These days, you can catch Gregory acting in projects like the holiday romcom "Christmas Matchmakers" and the Lifetime Original Movie thriller "The Wrong Real Estate Agent."
Julian McMahon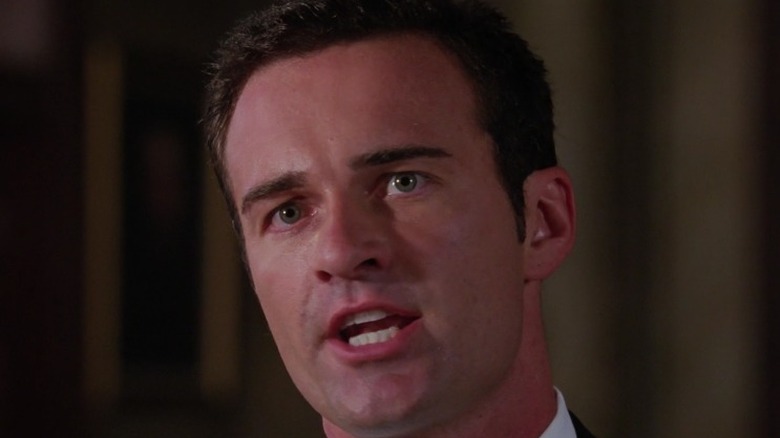 The WB
Julian McMahon's turn as half-demon Cole Turner made him a "Charmed" series regular during the middle of the show's run. A lawyer and former demonic assassin known as Belthazor, Cole is initially assigned to kill The Charmed Ones; instead, he falls in love with Phoebe and marries her, pulling him into a tug of war between good and evil. Like fellow "Charmed" cast members Brian Krause and Debbi Morgan, McMahon's early TV credits include plenty of soap operas. In his native Australia, McMahon played a handsome army corporal in "Home and Away." Stateside, his role as vengeful Ian Rain on "Another World" kept him working during the mid-'90s. He eventually moved on from daytime melodrama to primetime crime as one of the stars of NBC's "Profiler."
After McMahon's run on "Charmed" ended, he quickly moved onto another popular series — the USA Network's "Nip/Tuck," one of Ryan Murphy's first hit TV shows. At the same time he was advising plastic surgery patients on "Nip/Tuck," McMahon tapped into his electrifyingly villainous side as Victor Von Doom in 2005's "Fantastic Four" and its sequel, 2007's "Fantastic 4: Rise of the Silver Surfer." Doom wasn't McMahon's only stop in the Marvel Universe, as he also played the enigmatic Jonah in the Hulu series "Runaways." In recent years, McMahon joined the Dick Wolf Universe, starring as Special Agent Jess LaCroix in the CBS series "FBI," "FBI: International," and "FBI: Most Wanted."
Debbi Morgan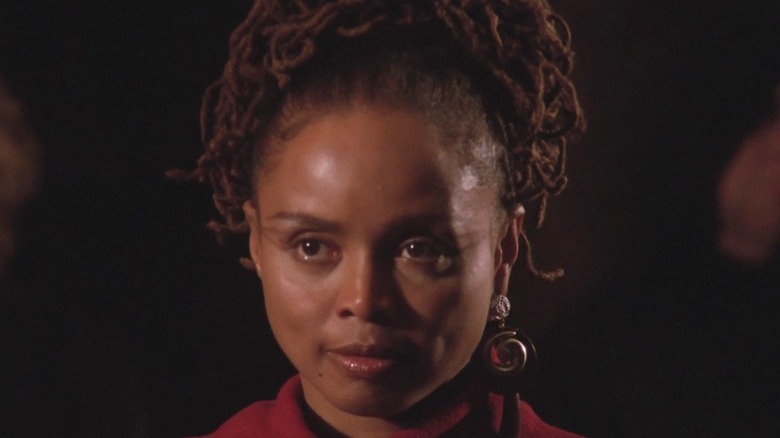 The WB
Veteran film and television actress Debbi Morgan had plenty of acting credits to her name before she joined "Charmed" as the manipulative and powerful demon The Seer in 2002. Starting her acting career in the 1970s with roles in "Good Times," "What's Happening!!" and "Roots: The Next Generation," Morgan quickly moved into perhaps her most iconic role, that of Angela Baxter Hubbard, on the ABC soap opera "All My Children." Beginning in 1982, Morgan played Angela not only on "AMC," but on the soaps "Loving" and its spinoff "The City." She continued the part well into the 2010s and won a Daytime Emmy for in 1989. She also had roles on ABC's "General Hospital," its spinoff "Port Charles," and the CBS daytime dramas "The Bold and the Beautiful" and "The Young and the Restless."
As prolific as her soap opera career has been, Morgan's acting has not been centered on lunchtime dramatics exclusively. She has appeared in plenty of films, including the '90s movies "Eve's Bayou" and "She's All That," and "The Hurricane," as well as the sport-centric "Love & Basketball" and "Coach Carter" from the '00s. Her recurring roles as Estelle Green in Starz's "Power" and its spinoff "Power Book II: Ghosts" and Aunt Piggy in "Our Kind of People" have showcased Morgan's formidable talents for a new generation of drama lovers.
Ted King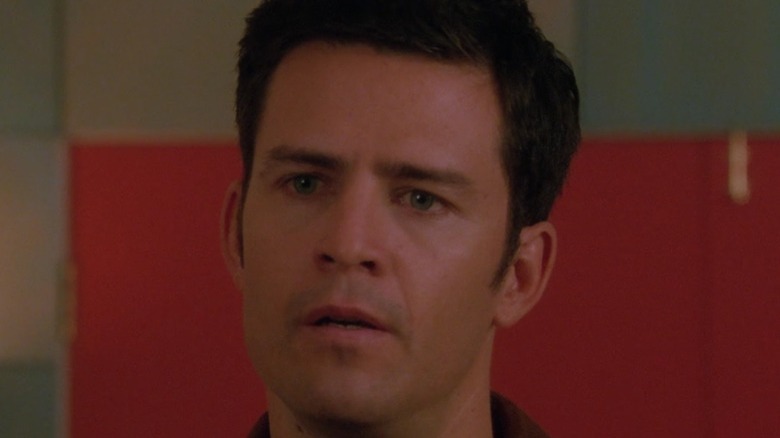 The WB
Ted King was only a member of the "Charmed" cast for one season, but his role of detective Andy Trudeau remains at the center of one of the show's most-loved romances. Prue and Andy are childhood friends-turned-lovers, with Prue initially shunning Andy in order to protect him from the potential dangers of her newly discovered witch identity. Prior to his stint in supernatural drama, King honed his melodramatic skills on the daytime soaps "Loving" and its spinoff "The City," appearing in episodes with future "Charmed" actress Debbi Morgan. And like Morgan, King continued acting in soap operas after "Charmed," taking on roles in "General Hospital," "One Life to Live," and "The Bold and the Beautiful."
If you haven't caught King on a soap opera, he's done plenty of work outside of daytime television. You might recognize him as Samantha's (Kim Cattrall) waxing-obsessed beau Brad in "Sex and the City," or the assassin Downey in "Prison Break." King has dropped in on plenty of popular network TV series including "Law and Order: Special Victims Unit," "NCIS," and "Hawaii: Five-0."
Drew Fuller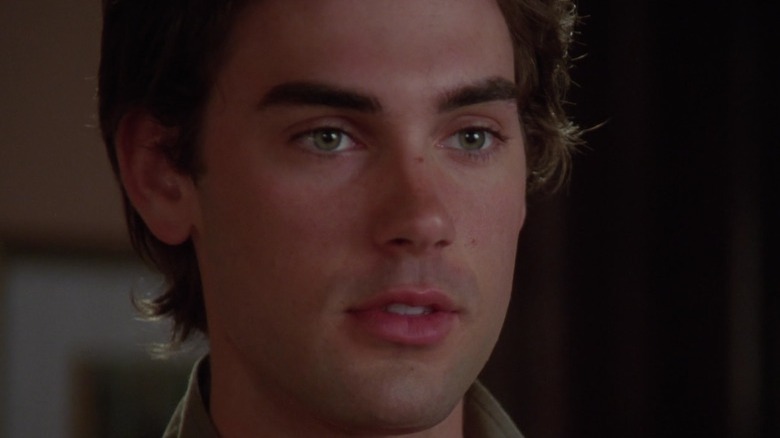 The WB
Drew Fuller was a late entry to the "Charmed" cast, boarding the series as Chris Halliwell in Season 5 as the time-traveling second son of Piper and Leo. Before Fuller's model good looks made him an easy casting choice in early-'00s music videos for Lindsay Lohan and other pop stars. He even had a role in the pilot of the seminal '00s teen drama "The O.C." In 2006, the same year his stint on "Charmed" wrapped up, he starred in the movie "The Ultimate Gift" co-starring with a number of Hollywood heavyweights including James Garner, Bill Cobb, Brian Dennehy, and Abigail Breslin.
Fuller made the leap from The WB to Lifetime with a main role in the drama series "Army Wives." He plays Second Lieutenant Trevor LeBlanc, the husband of Roxy LeBlanc (Sally Pressman), a woman who finds herself quickly immersed in the life of a military spouse. "Army Wives" was a hit for Lifetime and according to TV Guide, it was the highest-rated drama on basic cable among women in key demographics during its fifth season. After the end of "Army Wives," Fuller has mostly been spotted in made-for-TV romcoms like "Perfect on Paper," indie action flicks such as "Fatal Instinct," and the seasonally themed charmers "Love, Fall & Order" and the upcoming "Holiday Twist."
Karis Paige Bryant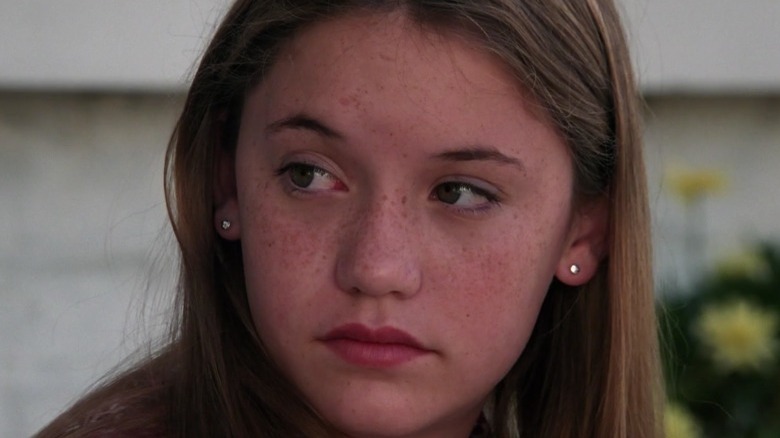 The WB
Karis Paige Bryant had a brief tenure of "Charmed," playing friend and neighbor of the Halliwell sisters, Jenny Gordon. With not much to do besides being a mortal teenager, Jenny only appeared in four episodes of Season 2 before being written off the show. Most of Bryant's acting credits are pre-"Charmed" made-for-TV movie dramas, but for such a young performer, she shared the screen with some pretty serious stars. Her first role was in "A Killing in a Small Town" starring Barbara Hershey, Brian Dennehy, and Hal Holbrook and directed by Stephen Gyllenhaal, father of movie stars Maggie and Jake Gyllenhaal. Bryant also co-starred in television movies alongside actors like Lea Thompson, Faye Dunaway, Cybill Shepherd, and Farrah Fawcett.
When not flexing her dramatic chops alongside some great actors on TV, she co-starred with "The Muscles from Brussels" Jean-Claude Van Damme and '90s wrestling star Bill Goldberg in 1999's "Universal Soldier: The Return." The movie was panned by critics, with Rotten Tomatoes Critics Consensus saying it "fails on almost every level." Morgan only has two listed roles after her time on "Charmed" — one is the horror film "From the Dark" and the other an episode of the true crime series "Final Witness." It seems these days, she's leading a private life outside of the Hollywood soundstage.
Kaley Cuoco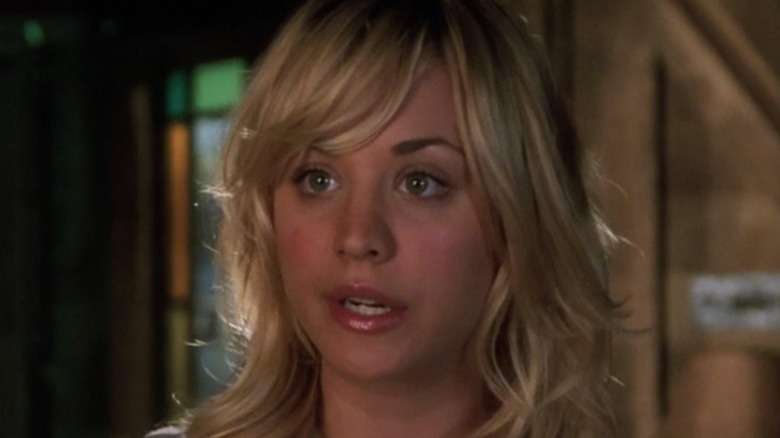 The WB
When Kaley Cuoco was on "Charmed" during its last season as college student and budding witch Billie Jenkins, she was already a television veteran with multiple shows under her belt. Before she played Billie, you might've gotten to know Cuoco as the sassy teen daughter of flummoxed sitcom dads in the short-lived CBS comedy "Ladies Man" and the far more successful "8 Simple Rules." Even though Cuoco was making a name for herself on TV, she told Yahoo Entertainment that being the new girl on an established show was really hard, but co-star Alyssa Milano made it easier with a warm reception.
"Charmed" finished its eight-season run in 2006. The following year, Cuoco scored a role of a lifetime as street-smart Penny on the CBS sitcom juggernaut "The Big Bang Theory." She followed up the success of "The Big Bang Theory" with her HBO Max series "The Flight Attendant," starring as flight attendant and murder suspect Cassie Bowden, a role for which she's received several Emmy nominations. While Cuoco does plenty of work in front of the camera, chances are you've also heard her voice bringing cartoons to life. She's lent her vocal talents to shows like "Brandy & Mr. Whiskers," "Bratz," "Monster Allergy," and "Harley Quinn."