Coco Beats Justice League At The Black Friday Box Office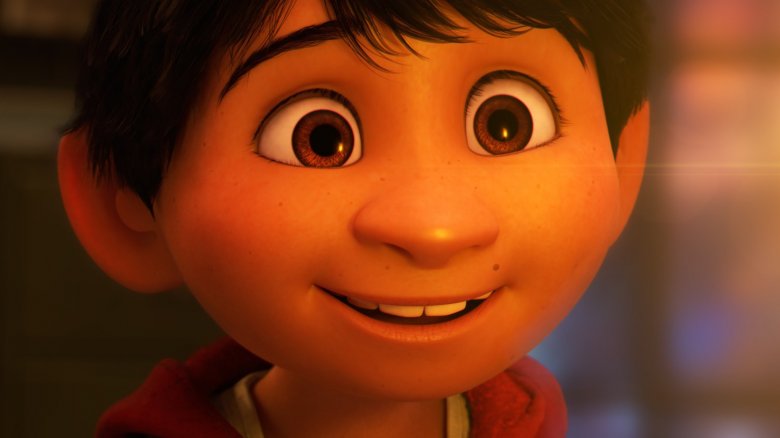 Disney-Pixar
It's Disney-Pixar versus Warner Bros. and the DC Extended Universe at the box office this weekend, and the bright and cheerful cinematic world has just taken the lead.
As reported by Variety, Pixar Animation Studios' Coco topped Justice League this Black Friday, taking home $18.6 million across 3,987 theaters in North America, securing a win with a $2.1 million margin. 
Coco landed an A+ CinemaScore from moviegoers who caught the flick during its Wednesday opening, and is outperforming all pre-release expectations. The adorable animated flick yielded $40.8 million in its three-day opening turn (Wednesday, November 22 to Friday, November 24), while Justice League scraped up $35.5 million in the same window. Past projections show Coco on a clear trajectory to clear the five-day Thanksgiving holiday period with around $71 million, towering over Justice League with an extra $12 million in revenue. The film follows just a few steps behind fellow Disney-Pixar flicks, including the global phenomenon Frozen ($93 million in 2013) and Moana ($82 million in 2017). 
Directed by Lee Unkrich and co-directed by Adrian Molina, Coco takes place on the traditional Mexican holiday Día de Muertos, or Day of the Dead in English, and follows an ambitious 12-year-old boy named Miguel Rivera (newcomer Anthony Gonzalez) whose biggest goal in life is to become a successful musician like his idol, the late Ernesto de la Cruz (Benjamin Bratt). The only problem? Miguel's family of shoemakers despise music due to the fact that his great-great-grandfather abandoned his Mama Imelda (Alanna Ubach) and their daughter, Miguel's Mama Coco (Ana Ofelia Murguia), to pursue his showbiz career. With a heart full of determination and a yearning to play in front of a crowd for the first time, Miguel makes a bold move that lands him in a strange and magical world that opens his eyes to the truth of his family's history.
Coco sits at a 96 percent approval rating on Rotten Tomatoes, with 97 percent of audience members enjoying the film as well. The voice cast also features Gael García Bernal as Hector, Renée Victor as Abuelita Elena, Alfonso Arau as Papá Julio, Selene Luna as Tía Rosita, Dyana Ortellí as Tía Victoria,Herbert Siguenza as Tío Felipe and Tío Oscar, Jaime Camil as Papá Enrique, Sofía Espinosa as Mamá Luisa, Edward James Olmos as Chicharrón, Luis Valdez as Tío Berto, and Lombardo Boyar as a friendly Mariachi Miguel comes across in Santa Cecilia Plaza. 
As for the rest of the box office fare, Justice League opened with a B+ CinemaScore and is currently the lowest-performing film in the DC Extended Universe. The film wrapped its first eight days with a total domestic gross of $147.3 million, trailing behind Wonder Woman's $163.5 million and Suicide Squad's $192.2 million over their respective eight-day openings. The Jacob Tremblay-led drama Wonder has an eight-day total of $59 million (against a modest $20 million production budget); Taika Waititi's Thor: Ragnarok has brought its 21-day domestic yield to $267 million, thanks to an additional $6.6 million on Black Friday; and Sony's Denzel Washington-starring legal thriller Roman J. Israel, Esq. nabbed $4.8 million, boosting its anticipated weekend gross to $6.5 million.
Check back with Looper on Sunday for full weekend box office results.