In Leon Vitali's Career, One Role Stands Above The Rest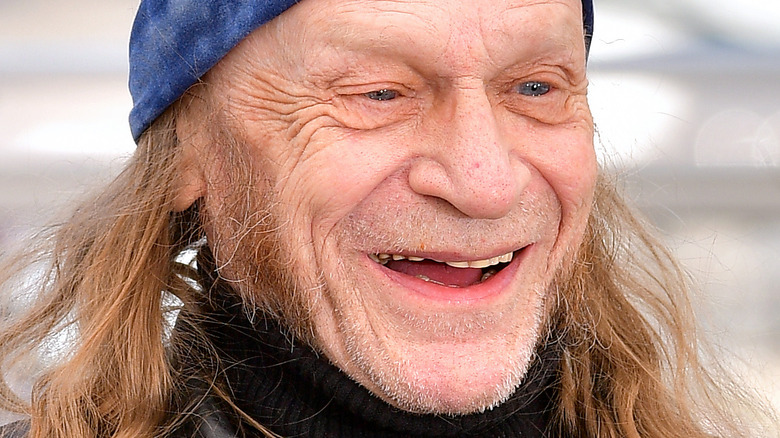 Matt Winkelmeyer/Getty Images
The Stanley Kubrick estate announced on social media earlier this week that Leon Vitali had passed away at the age of 74. Vitali's cause of death is unknown. Born in England, Vitali began a close friendship with director Stanley Kubrick in 1974, when the actor was cast in "Barry Lyndon." The 2017 documentary "Filmworker" (via Rolling Stone) details how the two became close friends and collaborators, with Vitali ultimately becoming his assistant. Throughout his career, Vitali wore many hats during Kubrick's numerous productions. He notably served as the casting director on "Eyes Wide Shut" and "Full Metal Jacket," in addition to fulfilling his role as a personal assistant (via IMDB).
"Filmworker," directed by Tony Zierra, also sheds light on how Vitali had become an instrumental asset in restoring the late director's films. Despite ensuring that one of the greatest director's work is presented properly, Vitali wasn't compensated for his efforts. "This is because I love Stanley. That's why I do it. Because I love him," Vitali says in the documentary (via Dazed).
Since his death, several actors Vitali had worked with have come out to share their respect for the late actor/creative. Matthew Modine, who worked with Vitali on Kubrick's "Full Metal Jacket," praised the collaborator on Twitter, describing him as "An artist in every aspect of his life. A loving father & friend to so many. A kind, generous & forgiving nature." While most know Vitali as Kubrick's closest collaborator, his passing reminds viewers of his most iconic performance to date, which paved the way for him to reach superstardom within the filmmaking community.
Leon Vitali's most iconic role saw him appearing in Barry Lyndon
While Leon Vitali is best remembered as one of Stanley Kubrick's closest collaborators and friends, one can't deny the Englishman's acting chops. Vitali's first major role was in Kubrick's "Barry Lyndon," which served as their first collaboration together. Critically acclaimed upon its release, the 1975 period drama nabbed four Oscars. Despite its accolades, some staunch Kubrick fans even believe that "Barry Lyndon" is one of the director's most underrated, per Reddit.
In the film, Vitali plays Lord Bullingdon, the step-son of the titular Redmond Barry Lyndon (Ryan O'Neal), who cons his way into marrying his mother, Lady Lyndon (Marisa Berenson). The two are frequently at odds with one another, especially after it's revealed that Lord Bullingdon will inherit his mother's estate should she die.
Despite getting his big break in a major Kubrick production, Vitali ultimately left acting behind to work full-time with the director as his personal assistant. "Well, you get called on the day you're going to shoot and you do your thing and that's it," Vitali told Cinema Daily US in 2021. "But the thing about watching all this work going on around you [...] you were there from beginning to end of the process. That for me was much more stimulating, really." Vitali later appeared in Kubrick's "Eyes Wide Shut" as the Red Cloak and made a brief appearance as the Apothecary in the Hailee Steinfeld-led "Romeo & Juliet."