12 Best Movies Like The Invitation That Fans Should Check Out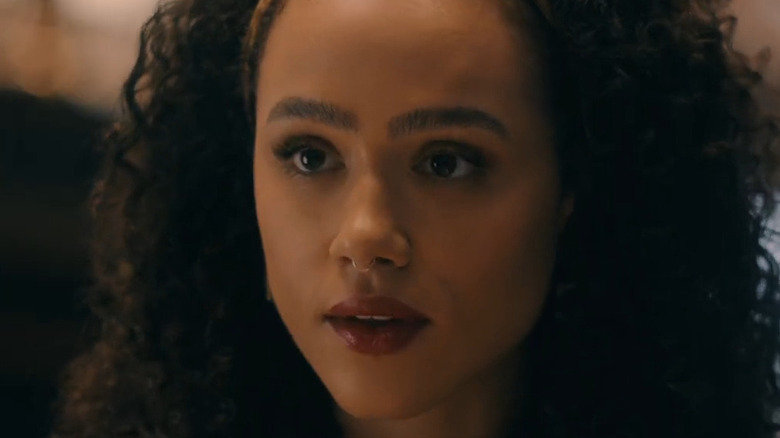 Sony
In the 2022 horror film "The Invitation," directed and co-written by Jessica M. Thompson, Evie (Nathalie Emmanuel of "Game of Thrones" fame) takes a DNA test following the death of her mother. She discovers she has a cousin, a wealthy British man named Oliver (Hugh Skinner). After she gets in contact with this unexpected relative, he invites her to a wedding in England. Things are uncomfortable enough for Evie as a biracial woman surrounded by creepy white aristocrats, but soon she discovers that her new family are all vampires, and that she's set to be the "bride" of the seductively evil Walter (Thomas Doherty) at this wedding!
"The Invitation" is loosely inspired by Bram Stoker's original "Dracula" novel, so those who enjoy the film should be well aware of the many other "Dracula" adaptations released over the years, from F.W. Murnau's "Nosferatu" to Francis Ford Coppola's "Bram Stoker's Dracula." However, this list won't be focused on those rather obvious choices for comparison. Instead, we will look at other vampire films, horror movies centered around Black protagonists, evil families, twisted relationships, weddings from Hell, and other great movies featuring a connection to Thompson's "The Invitation."
Get Out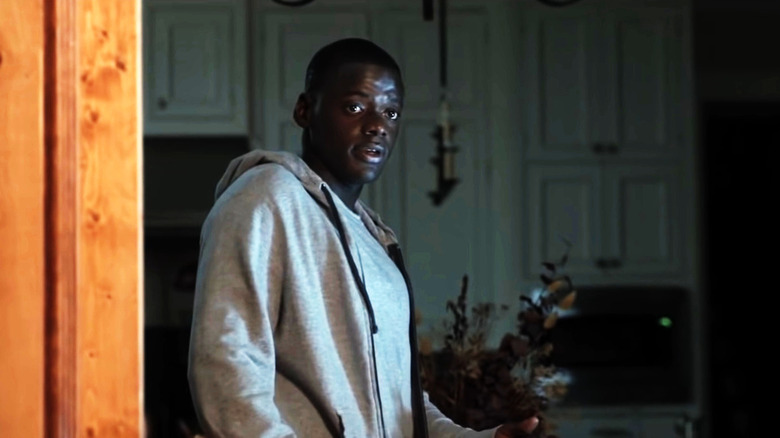 Universal
If the trailer for "The Invitation" had stopped before it revealed that the white family members are vampires, most viewers' immediate point of comparison would be to "Get Out." Jordan Peele's 2017 surprise blockbuster and Oscar winner deserves a ton of credit for the current wave of racially conscious horror films that are now making their way through both the major studios and the indie film circuit.
Like Evie in "The Invitation," Chris Washington (Daniel Kaluuya) is the one Black person attending a gathering of wealthy white people. Whereas Evie is invited to the wedding via a familial connection and finds herself seduced by one of the men there, Chris is invited to the Armitage estate by his girlfriend Rose (Allison Williams). In both characters' cases, their romantic connections initially seem to be the bright spots amidst an otherwise unnerving situation, but it eventually becomes clear to both protagonists that their white partners do not have their best interests at heart.
Both scary and satirical, "Get Out" gave us fresh language for discussing the subtler aspects of white supremacy and established comedian Jordan Peele as this generation's master of horror. In 2021, the Writers Guild of America went so far as to declare it the best-written movie of the 21st century.
Ganja & Hess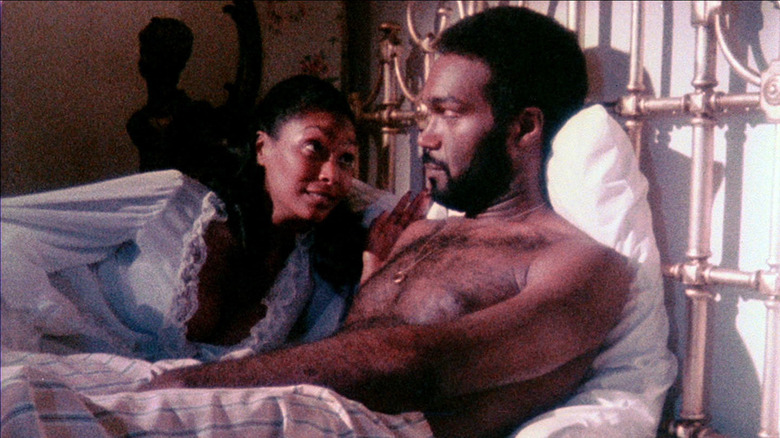 Kelly-Jordan Enterprises
If you're looking for movies about Black vampires, you can go the traditional, campy route with "Blacula" or the Marvel action blockbuster route with the "Blade" series, but the highbrow cinephile's pick for the best Black vampire movie tends to be "Ganja & Hess." Director Bill Gunn's 1973 blaxploitation horror romance was a critical but not a commercial success, and for many years was only available to the public in a butchered drive-in version retitled "Blood Couple." Thankfully, the directors' cut, preserved and remastered by the Museum of Modern Art, has come to be appreciated as a classic of experimental independent film.
Gunn's film presents vampirism as an "addiction to blood." It explores violent, sexual, and religious ecstasy through the characters of anthropologist Dr. Hess Green (Duane Jones), who was turned into a vampire after being stabbed repeatedly with an ancient African dagger, and his lover Ganja Meda (Marlene Clark), whom he turns into a vampire. "Ganja & Hess" was made on a low budget and it shows (even the remastered version has inconsistent visual and audio quality), but despite the limited production value, the filmmaking is artfully captivating and the use of music is exceptional.
Only Lovers Left Alive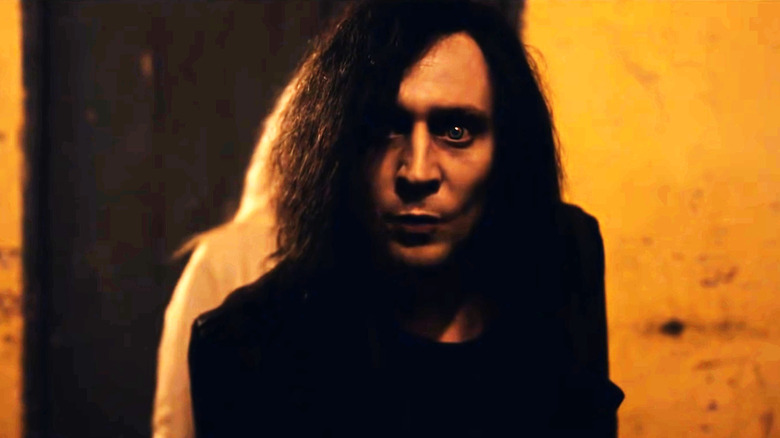 Sony Pictures Classics
If you're looking for a very different approach to a vampire movie, Jim Jarmusch's "Only Lovers Left Alive" stands out as arguably the coolest one ever made. Premiering at the Cannes Film Festival in 2013 before eventually being released in the United States in 2014, "Only Lovers Left Alive" is less a traditional horror movie and more a minimalistic, dryly comedic character study. Not much actually happens in its two-hour run time, but it's the sort of film where the characters are so interesting and the writing so clever that the lack of a proper plot doesn't impact audience enjoyment in the slightest.
The main aspect of the vampire mythos that seems to interest Jarmusch in this film is how one would cope with the prospect of immortality. Adam (Tom Hiddleston) has kept himself busy by playing music and tinkering with inventions, but has also grown increasingly tired of eternal life and cynical about the state of the modern world. Even drinking people's blood isn't as fun anymore in the 21st century — too much pollution and contamination. His on-again-off-again lover Eve (Tilda Swinton), a literary genius who has been a vampire for much longer than he has, makes it her mission to cheer him up. 
Ready or Not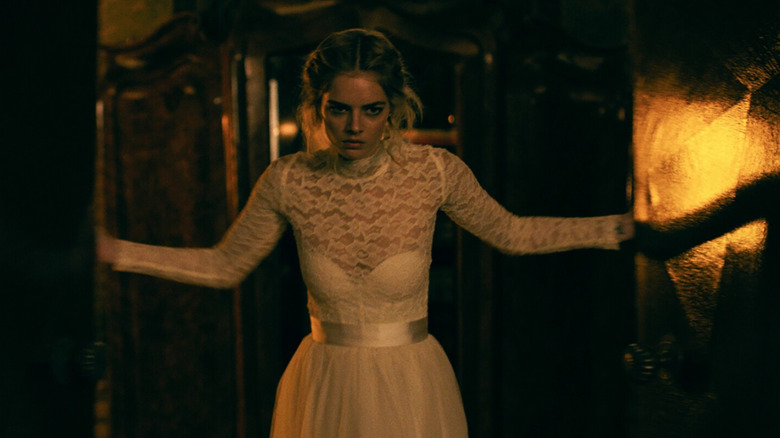 Fox Searchlight
Between "Parasite," "Joker," "Knives Out," and the horror-comedy "Ready or Not," 2019 was a fantastic year for movies about just how awful rich people can be. Directed by Matt Bettinelli-Olpin and Tyler Gillett (the duo who would later helm the sixth and seventh movies in the "Scream" franchise), "Ready or Not" centers around Grace (Samara Weaving), a young woman marrying into the wealthy Le Domas family. They've built their fortune as a manufacturer of board games, and it's tradition for newlyweds to play one with the whole family on their wedding night.
Grace ends up drawing the card for "Hide-and-Seek" — which is the worst card she could possibly have picked. What follows is the most violent game of Hide-and-Seek ever, where the whole Le Domas family tries to catch Grace for the sake of a ritual sacrifice they believe is necessary to prevent their own deaths. At times, her new husband Alex (Mark O'Brien) seems to be trying to help her, but in a situation like this, no one can be trusted. The film's final punchline is utterly hilarious and needs to be seen to be believed.
Midsommar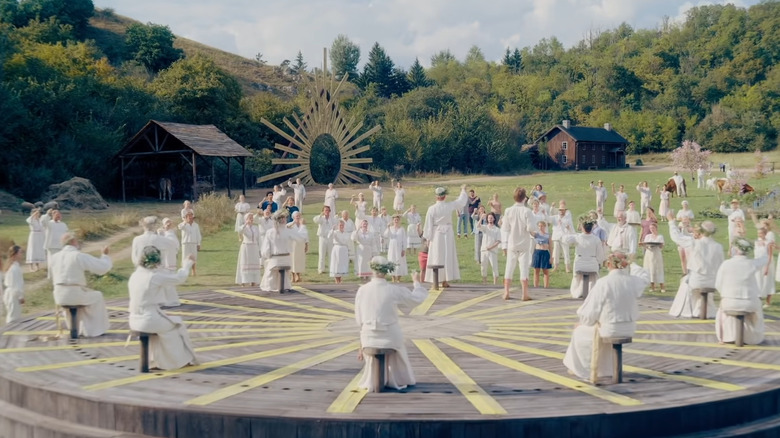 A24
Is Ari Aster's "Midsommar" a dark fairy tale about grief, an empowering "good for her" revenge fantasy against an abusive boyfriend, or a cautionary tale about how white supremacist cults prey upon the psychologically vulnerable to build their ranks? There's much left open for debate and interpretation with Aster's controversial 2019 follow-up to his breakout hit "Hereditary." Regardless of how you interpret it, what no one can deny is that this is one of the most memorably messed up folk horror movies in recent years.
Dani Arbor (Florence Pugh) is mourning the murder-suicide of her sister and parents when her anthropologist boyfriend Christian (Jack Reynor) invites her to join him and his friends on a trip to a rural commune in Sweden. Unlike most horror movies, "Midsommar" is set almost entirely in broad daylight, which only ends up making the graphic spilling of blood and guts and the surreal, obscene rituals of the cultists all the more disturbing. Younger fans of the PG-13 "The Initiation" may want to wait a few years on this "hard R" movie, which almost got an NC-17 for its extreme content. (Fans made of sterner stuff can check out the 171-minute unrated director's cut, which is available from Apple TV and in a collector's edition Blu-ray.)
His House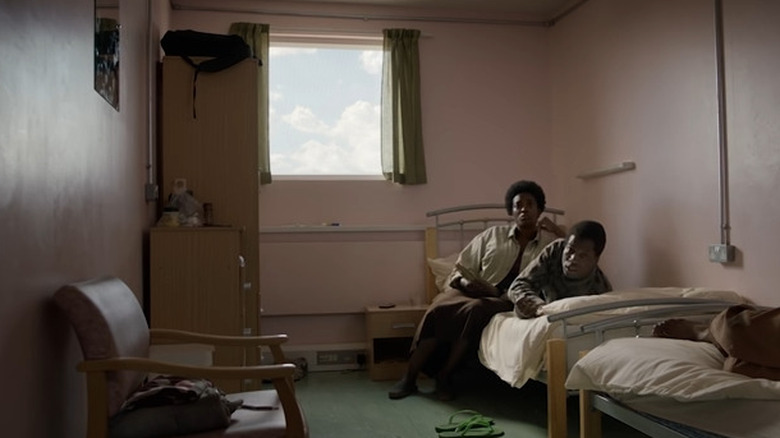 Netflix
The 2020 British horror film "His House," written and directed by Remi Weekes and released for streaming on Netflix, stands out as one of the few horror movies to maintain a perfect 100% critics score on Rotten Tomatoes. This topically-minded thriller details the lives of Bol (Sope Dirisu) and Rial (Wunmi Mosaku), a pair of South Sudanese refugees living in England who face struggles with assimilation, racism, marital strife, dark memories of the past, and possibly some sort of supernatural evil haunting their house.
The big twists towards the end of the film are expertly done and make a deep emotional impact. With its intense depiction of the effects that war has on civilians, "His House" proves to be the sort of story that would give people nightmares even if it wasn't also a full-blown horror movie with ghosts and witches. As is, the more traditional horror elements help to make all sorts of heavy subject matter more accessible and approachable. It's easy to understand why "His House" received such universal critical acclaim: Even if it's not one of your favorite horror movies, it's a hard one to dislike.
Fresh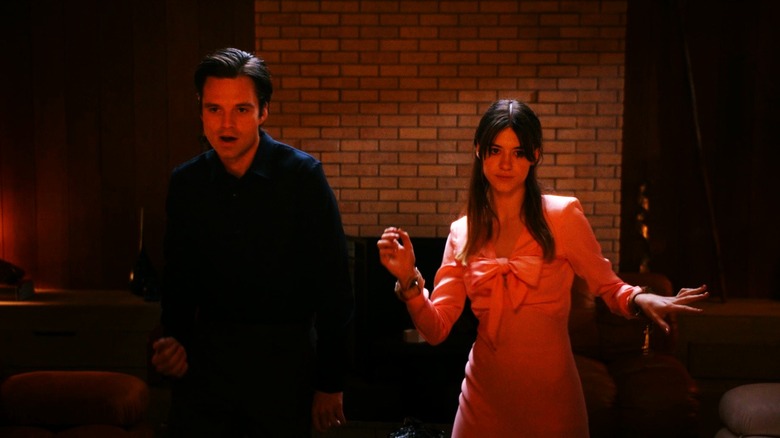 Searchlight/Hulu
What's scarier than being eaten by vampires? Being eaten by another regular human person. 2022 may go down as a banner year for cannibalism at the movies, with  "Bones and All" and "The Menu" releasing right at the height of awards season. This trend was already emerging at the start of the year, though, with the Sundance premiere of "Fresh," the debut film of director Mimi Cave which was released to streaming exclusively on Hulu.
Somewhat similar to "Get Out" in both tone and the use of certain narrative devices, "Fresh" is about cannibals on the surface, but on a deeper level it's also about the dangers women face while dating, and how the 1% can get away with literal murder. Cleverly playing with romantic comedy tropes, it takes its time with an extended "meet cute" first act between Noa (Daisy Edgar-Jones) and Steve (Sebastian Stan) before revealing itself to be about, well, the other sort of meat. From there on out, it's an intense but also darkly funny thrill ride as Noa figures out how she can survive and escape from her charming yet sociopathic captor.
Crimson Peak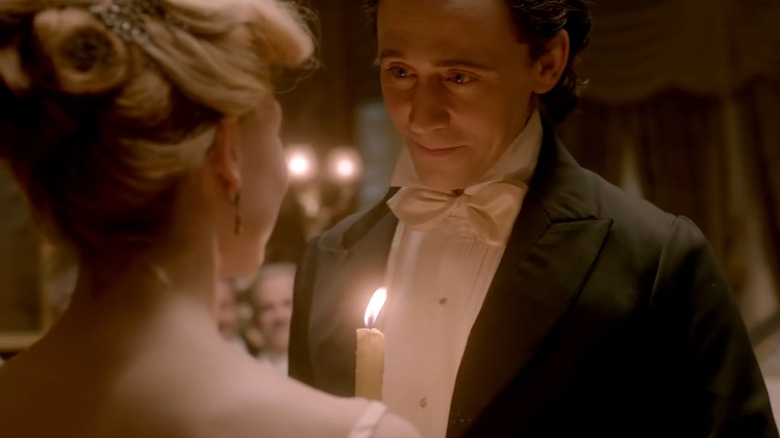 Universal
Whereas "The Invitation" is an attempt to provide a modernized take on the old legacy of "Dracula," Guillermo Del Toro's 2015 film "Crimson Peak" is a pure throwback to both the classic gothic horror fiction of the 19th century and the colorful splatter-filled Hammer Horror and Italian giallo films of the 1950s through the 1970s. The story follows an American writer, Edith Cushing (Mia Wasikowska), who falls for the English baronet Sir Thomas Sharpe (Tom Hiddleston) and travels to his dilapidated mansion known as Crimson Peak.
Crimson Peak is, of course, haunted, but as is often the case with Del Toro's films, the horror in "Crimson Peak" ultimately has less to do with its supernatural elements and much more to do with the moral depths to which living humans can sink. Thomas, it turns out, has long been working with his sister and incestuous lover Lucille (Jessica Chastain) to seduce and murder women for money. The real appeal of "Crimson Peak" ultimately has less to do with its somewhat convoluted horror narrative than with its unconventional love story, absolutely gorgeous production design, costumes, cinematography, and practical special effects.
The Gift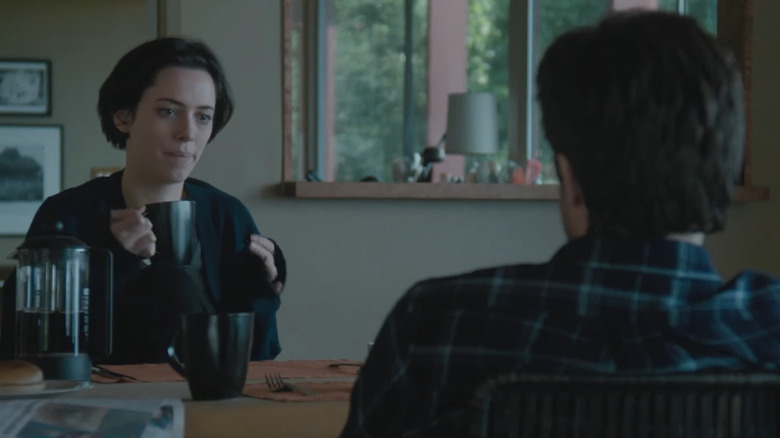 STX
"The Gift," the 2015 directorial debut of actor Joel Edgerton, is a more grounded and realistic thriller dealing with unexpected encounters and the fear of never being able to truly know (or trust) your partner. The story begins when Simon Callem (Jason Bateman) has a chance reunion with his old high school classmate Gordon "Gordo" Moseley (Joel Edgerton), who creepily starts to insert himself into the lives of Simon and his wife Robyn (Rebecca Hall) by offering gifts. Simon is instantly suspicious, while Robyn is unbothered, but she soon becomes unnerved by the gestures as well.
What exactly Gordo is doing to this couple is the film's first big source of mystery and suspense. The second source is the question of why he's doing all this. Characters aren't what they might seem at first, and the story's deeply discomfiting conclusion is designed to leave the viewer with a lot to think about. Edgerton was nominated for multiple awards for his various roles in the film's production, winning acting trophies from the Sitges Film Festival and Fangoria Chainsaw Awards.
You're Next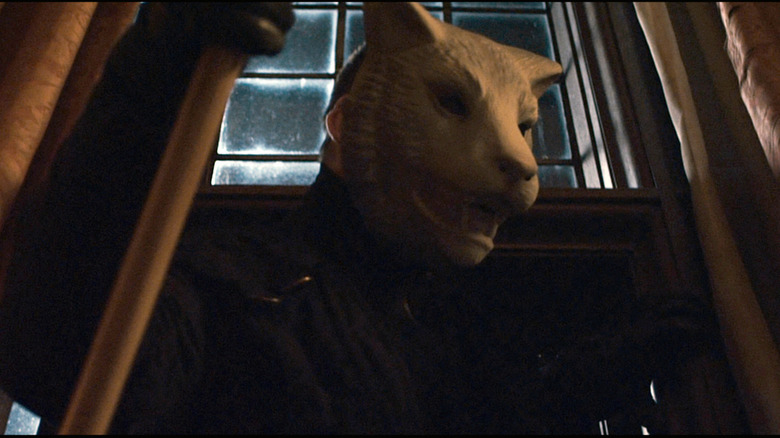 Lionsgate
Before he was handling big-budget blockbusters on the scale of "Godzilla vs. Kong," Adam Wingard was a fixture of the microbudget indie scene, bringing a grindhouse sensibility to the 2000s mumblecore movement. Wingard's breakout home invasion horror hit "You're Next," written by his regular collaborator Simon Barrett, premiered at the Toronto International Film Festival in 2011 before being picked up by Lionsgate for theatrical release in 2013. The film has continued to develop a cult following.
Similar to "The Invitation," "You're Next" places its murder and mayhem within the setting of a family reunion. Rather than a wedding, it's a wedding anniversary that's the cause for this gathering of estranged relatives. Everyone is already busy fighting with each other at dinner when suddenly a crossbow attack signals the arrival of a group of invaders wearing animal masks. The body count only escalates from there, and both the laughs and scares keep coming amidst a gory fight for survival. The film's resourceful "final girl" has been especially celebrated as one of the best examples of the classic horror trope.
The Light of the Moon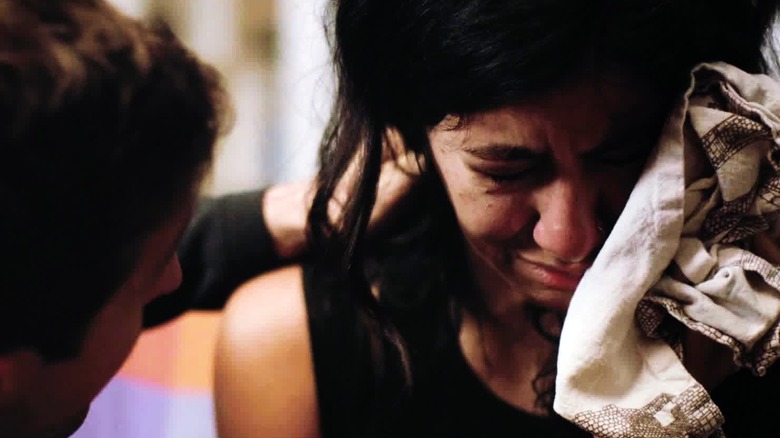 Imagination Worldwide
Unlike the other movies on this list, "The Light of the Moon" would not be considered part of the horror genre by even loose definitions. Instead, it's a drama that deals with horrific subject matter, specifically rape and the impact it has on survivors. The reason this 2017 independent film is included on this list is that it was the feature film debut of writer/director Jessica M. Thompson, who eventually went on to make "The Invitation."
Stephanie Beatriz stars as Bonnie, an architect living in Brooklyn who is sexually assaulted by a stranger in a club. The story follows Bonnie in the six weeks following the attack, showing how the justice system ends up being of no help and how her trauma impacts her relationships with her boyfriend and her coworkers. It's not an easy or entertaining watch by any means, but critics almost universally agreed that it was well worth watching.
If you or anyone you know has been a victim of sexual assault, help is available. Visit the Rape, Abuse & Incest National Network website or contact RAINN's National Helpline at 1-800-656-HOPE (4673).
The Invitation (2015)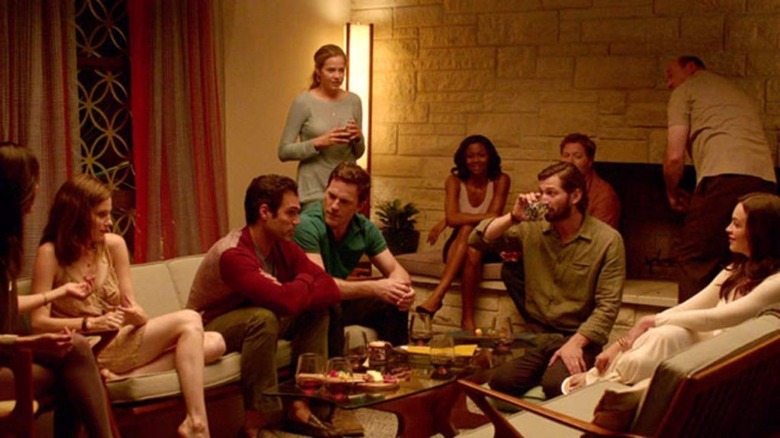 Drafthouse Films
Okay, so "The Invitation" (2015) might not share that much directly in common with "The Invitation" (2022) aside from a genre, a title, and a narrative that deals with both mourning and uncomfortable reunions. However, when there's a high-quality horror movie out there already called "The Invitation" with even loose thematic connections to this new movie, how could we not include it on a list of the 12 best movies like "The Invitation" (2022) that fans should check out?
"The Invitation" (2015) was director Karyn Kusama's return to independent filmmaking, following her struggles in Hollywood with the disappointing "Aeon Flux" and the poorly marketed "Jennifer's Body." The film's title refers to a mysterious group that party hosts David (Michiel Huisman) and Eden (Tammy Blanchard) claim can help everyone work through their grief. Will (Logan Marshall-Green), the movie's protagonist, is convinced the couple is up to something sinister at the party, an allegation immediately called into question by the fact that Eden is his ex-wife, making him perhaps a somewhat less-than-impartial narrator. But to say more about what goes on in this violent slow-burn thriller would threaten to spoil the fun.