Where You've Seen The Cast Of The Princess Before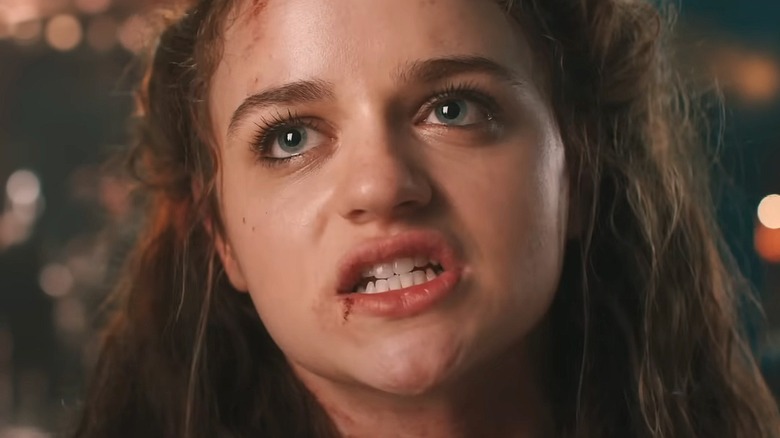 20th Century Studios/YouTube
"The Princess" is a new medieval action movie from Vietnamese director Le-Van Kiet, who previously directed the Vietnamese action film "Furie" and the Alicia Silverstone-starring shark horror movie "The Requin." It inverts a classic action premise for its main plot: Unlike the heroes in "The Raid" and "Dredd" who have to fight their way up tower-like buildings, here the titular princess (Joey King) wakes up locked in a room at the top of a tower and has to fight her way down.
She's held captive by the villainous Julius (Dominic Cooper) who had planned to marry her to become king through marriage. But when the princess (who only goes by her title throughout the movie and in the credits) leaves him at the altar, he decides that he is going to have to do things the ugly way and force her to marry him after taking martial control of the royal castle.
The movie delivers some thrilling action scenes, unsurprisingly given Kiet's action-direction chops, and has a great cast full of recognizable faces and unknowns just being launched onto the scene. Let's take a look at that great cast and see where you've seen the cast of "The Princess" before.
Joey King - The Princess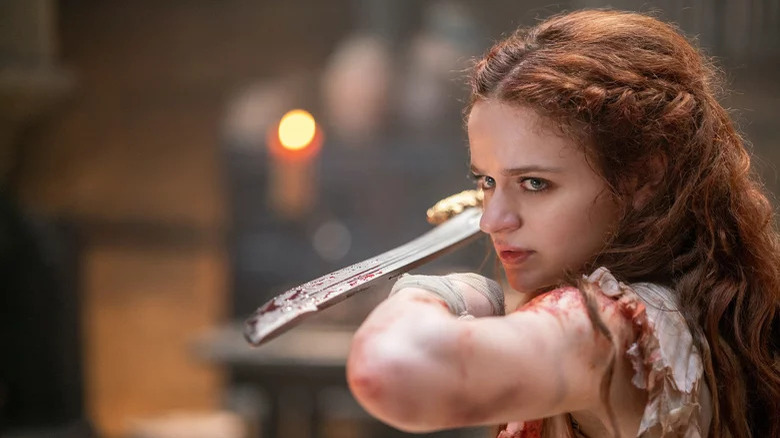 20th Century Studios
The Princess is, of course, the most important character in "The Princess." She's a headstrong, independent young woman who, despite what's expected of her, wants to learn to fight and become a warrior. She is lucky enough to find someone willing to train her in Linh (Veronica Ngo) and she uses those skills to fight her way down the tower and face off against the evil Julius.
Joey King is already genre movie royalty at just 22. When she was 12, she had a brief but essential role in "The Dark Knight Rises" as the young Talia al Ghul (played as an adult by Marion Cotillard). Just a year later she starred in "The Conjuring" as Christine Perron, one of the children terrorized by supernatural forces.
Since then, she's starred in a number of other horror movies and action blockbusters including "Wish Upon," "Slender Man," and "Independence Day: Resurgence." And in 2018, she starred as Elle Evans in "The Kissing Booth," a Netflix rom-com that launched a franchise of its own, with each movie focused on Elle's continuing romantic dilemmas. Most recently, King's performance was one of the best things about "Bullet Train," showing that she's ready to make the jump to action star.
Dominic Cooper - Julius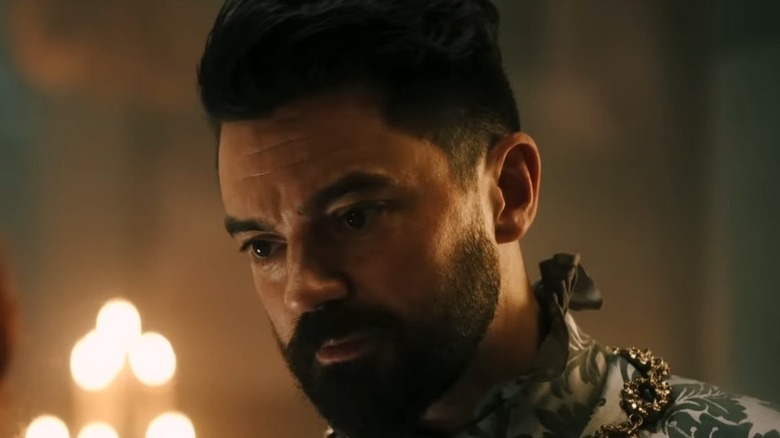 20th Century Studios
Some villains have complex back stories that we can sympathize with and may lead us to at least understand their bad behavior. Julius in "The Princess" is not one of those villains. He's a very simple man who wants to become ruler of the kingdom by any means necessary so that he can lead it in conquering other kingdoms. At first, he seems content to marry the princess and become king through marriage, but when she leaves him at the altar, he hires a group of mercenaries to violently take control of the castle, holding the princess's family hostage to force her into marriage so that his reign has at least a hint of legitimacy.
Dominic Cooper is no stranger to playing rulers. He was cast as the peace-seeking King Llane Wrynn in the movie adaptation of "Warcraft," as well as the conqueror Mehmed II in "Dracula Untold" opposite Luke Evans. He's also been a part of two of the most joyous movie musicals ever made: In "Mamma Mia!" and "Mamma Mia! Here We Go Again," he plays Amanda Seyfried's love interest Sky. You can also find Dominic Cooper in period dramas such as "An Education" and "My Week With Marilyn," as well as in the Marvel Cinematic Universe, where he played Tony Stark's father, Howard Stark.
Veronica Ngo - Linh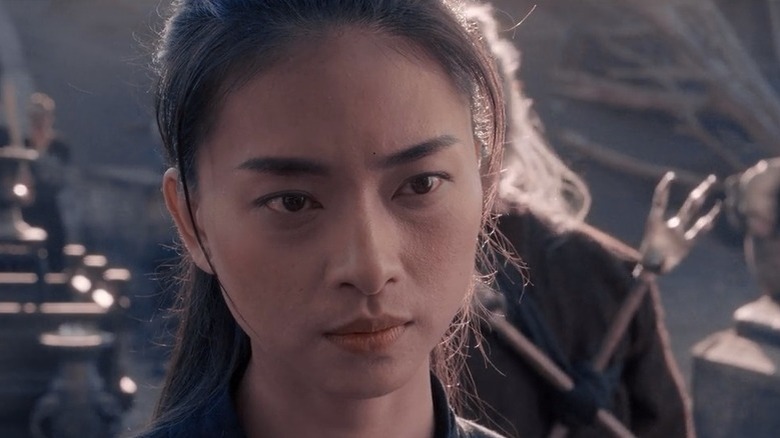 Netflix
Linh is the princess's trainer and, as such, is the entire reason that the princess is able to combat the many mercenaries who seek to stop and recapture her. But Linh also gets her own time to shine in "The Princess." She has a thrilling one-on-one fight with Julius's number one henchwoman and romantic partner, Moira (Olga Kurylenko).
It's no surprise that Veronica Ngo is great in these action scenes: She starred in Kiet's previous action movie, "Furie," as Hai Phượng, the former gang leader who is pulled back into violence when her daughter is kidnapped. She also showed off her action skills as elite warrior Mantis in "Crouching Tiger, Hidden Dragon: Sword of Destiny," and as elf enforcer Tien in "Bright."
We're hoping to see more of her as immortal warrior Quynh in the sequel to "The Old Guard," where she appeared only briefly. She also had a short but memorable scene in "Star Wars: The Last Jedi," where she plays Paige Tico, sister of Rose (Kelly Marie Tran).
Olga Kurylenko - Moira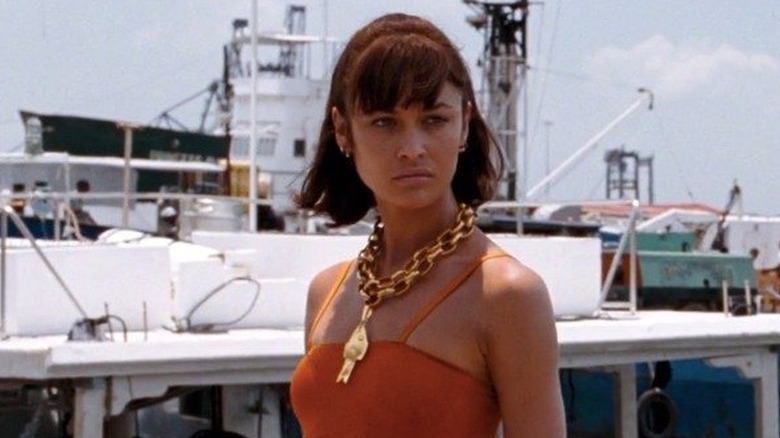 Columbia Pictures
Moira is Julius's right-hand woman in more ways than one. The two are romantically involved, and while he seems to genuinely love her, he also needs her help as a sadistic fighter to overthrow the castle's guards and force the princess to marry him. She uses a whip with a blade attached to the end to choke, slash, and even hang her enemies. But she's as beautiful as she is scary.
That beauty makes sense, given that Moira is played by Olga Kurylenko. Kurylenko started her career as a model and appeared on the covers of Elle and Vogue before the age of 18. She began acting in movies in 2005 and just three years later was cast as Bond girl Camille in "Quantum of Solace." Since then, she's appeared in a number of high-profile movies.
Her action roles include not one but two video game adaptations, playing Nika Boronina in "Hitman" and Natasha Sax in "Max Payne." She's shown a talent for comedy in movies like "The Death of Stalin," "Seven Psychopaths," and "Johnny English Strikes Again." And she is clearly interested in high-minded science fiction such as the Tom Cruise-led "Oblivion" and the small-scale "The Room."
But like Dominic Cooper, she's probably most recognizable for her role in the Marvel Cinematic Universe. In 2021's "Black Widow" she played big bad Antonia Dreykov/Taskmaster, facing off against Scarlet Johansson's super-spy.
Ed Stoppard - The King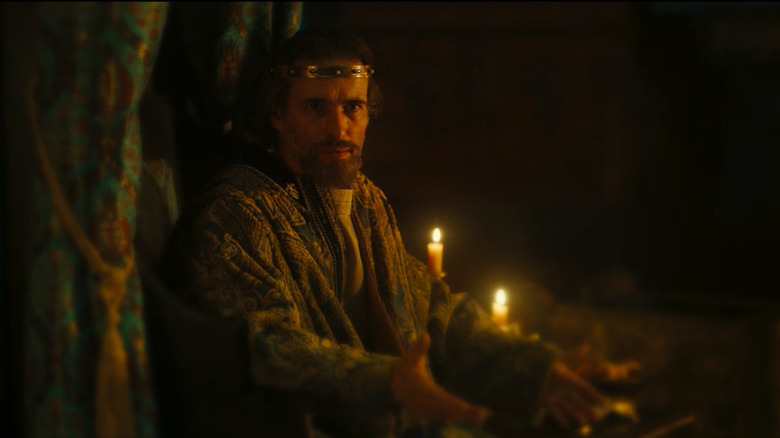 20th Century Studios
The King is a kind monarch who seeks to rule as peacefully as possible and has even opened the kingdom to outsiders like Linh and her uncle Khai (Kristofer Kamiyasu), who is not only a member of the court but one of the king's most trusted advisors. This openness doesn't extend to gender, though, as he still expects both of his daughters, Joey King's princess and her little sister Violet (Katelyn Rose Downey), to act like typical medieval ladies and focus only on pursuits that he deems suitable for women. By the end though, he's relieved and proud that his daughter has learned to fight (albeit unbeknownst to him).
Ed Stoppard is the son of playwright and "Brazil" screenwriter Tom Stoppard and multi-hyphenate medical doctor and television presenter Miriam Stoppard, so performing has always been in his blood. He's likely best known to audiences for playing Henryk, brother of the titular pianist Władysław Szpilman, in Roman Polanski's Holocaust drama "The Pianist," but he has a long resume of stage and screen acting credits. He's appeared in big screen comedies like "Youth," TV movies such as "Marple: At Bertram's Hotel" and "The Man Who Crossed Hitler," and has performed on stage in plays by Shakespeare, Chekhov, and, of course, his father Tom.
Alex Reid - The Queen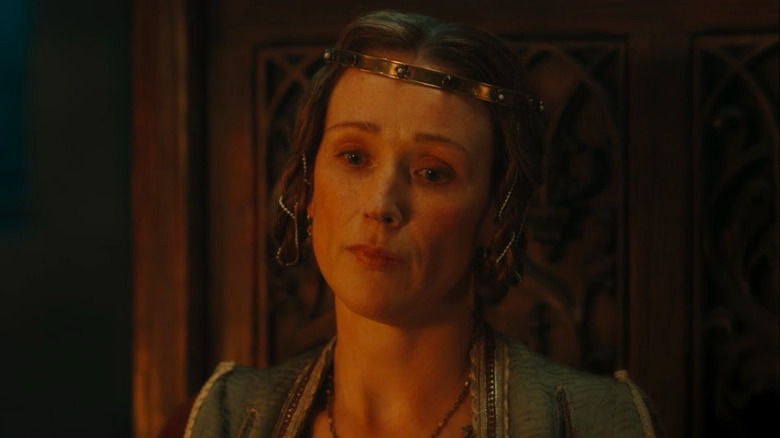 20th Century Studios
The Queen loves her husband and her daughters, and while she understands her husband's stricter beliefs around gender, she doesn't share them. Early in the princess's training with Linh, the queen discovers the two working together, but instead of insisting that she stop, she simply says that the princess should keep it from her father. As the movie goes on and the princess comes to her family's rescue, it becomes clear that the queen made the right decision in allowing her daughter to learn how to fight.
Alex Reid is likely most recognizable to most viewers for having played Beth, one of the main trio of longtime friends who go spelunking with horrifying consequences in "The Descent." She's also starred as a recurring character in a number of television shows, most prominently as probation officer Sally in the underseen superhero dramedy "Misfits" and as Leah on the award-winning Netflix drama "Unorthodox."
Unsurprisingly, given her starring role in one of the best horror movies of the 21st century, Reid has shown a great love for horror throughout her career, starring in films such as "Wilderness," "Arachnid," and "The Facility." She also appeared as the recurring character Captain Caroline Walshe in the military action drama series "Ultimate Force."
Kristofer Kamiyasu - Khai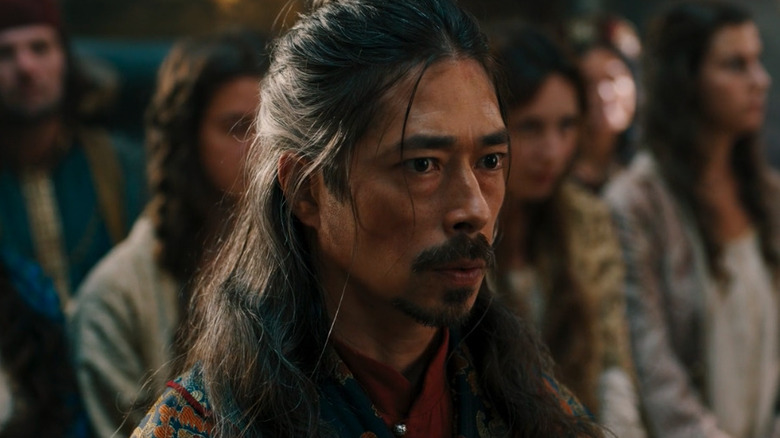 20th Century Studios
Khai is a foreigner in the kingdom, but he and his niece Linh have lived there for years. They arrived when the king opened up the kingdom to outsiders and Khai quickly became one of the king's most trusted advisors. But unlike the king, he supports the princess and Linh in their martial pursuits. In fact, he even joins them in their training in one flashback, setting his character up for a crucial role in the film's finale.
Kristofer Kamiyasu is a celebrated Swedish stage actor who made the transition to screen acting five years before "The Princess," with roles in the Swedish TV series "Veni Vidi Vici" and "Jordskott." It didn't take long for Kamiyasu to make an appearance in a Hollywood movie, though: In 2021 he appeared as hitman Zento in "Hitman's Wife's Bodyguard." He has also recently acted in the television adaptation of "Das Boot," playing Commodore Hideki Ido.
Katelyn Rose Downey - Violet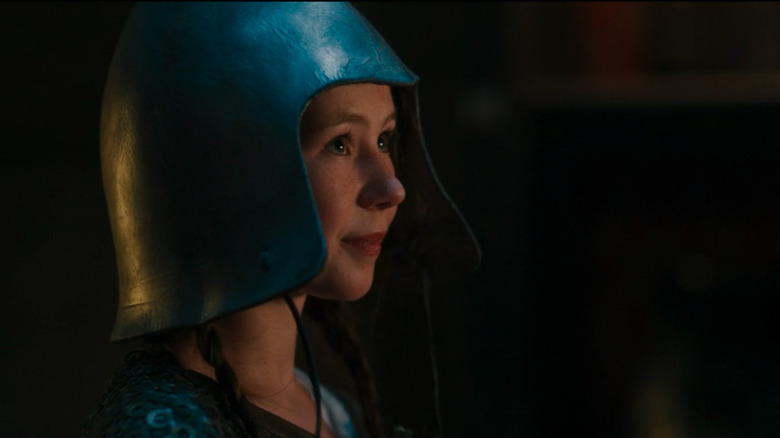 20th Century Studios
Violet is the princess's younger sister and the second-born daughter of the king and queen. She, like her sister, is a spirited girl who doesn't want to simply live the life of a typical royal maiden. As the movie goes on, we see that she and her sister are very close and when the princess refuses to marry Julius, he makes the disgusting choice to marry her child sister instead, as it will lend his kingship just as much legitimacy as forcing the older princess to marry him anyway.
"The Princess" is Katelyn Rose Downey's first appearance in a feature film, but it's not her first screen acting role. The tween can be seen putting make-up on a severed (but still living) head in Irish rapper Kokaque's "Town's Dead" music video. Downey isn't just an actress, however: She's also a world champion Irish step dancer as we can see from her Instagram account. Downey doesn't have any future roles lined up as far as we can tell, but she's great in "The Princess," so we're hoping to see her again soon.
Fergus O'Donnell - Kurr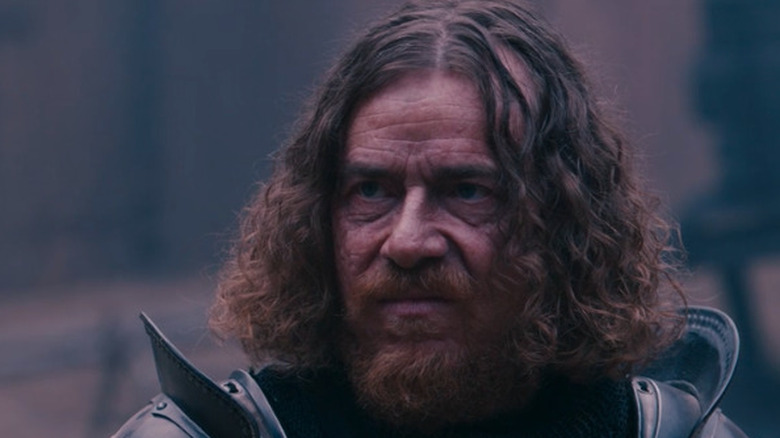 20th Century Studios
Kurr is the leader of the mercenaries that Julius hires. He commands the force around the castle and seems to thoroughly enjoy his violent work. What he doesn't enjoy, however, is that Moira is Julius's most trusted and highly valued combatant. At one point, he even goes so far as to call her a "useless harlot," but those are the last words he ever says.
Fergus O'Donnell has been acting since the 1990s, mostly on television, but with some roles in film. His most recent feature film work was a part as Fred Eastman in the Guy Pearce and Dakota Fanning western "Brimstone." On TV, he's played a variety of recurring characters on English shows like "Silent Witness," "Emmerdale Farm," and even a small part on "Downton Abbey." Most recently, he had a recurring role on the long-running English soap opera "Coronation Street" as Clint Stubbins. And to top it all off, he's contributed some voice-acting to video games like "Elden Ring" and "World of Warcraft: Battle for Azeroth," so gamers may recognize his voice before they recognize his face.
Antoni Davidov - Merc Leader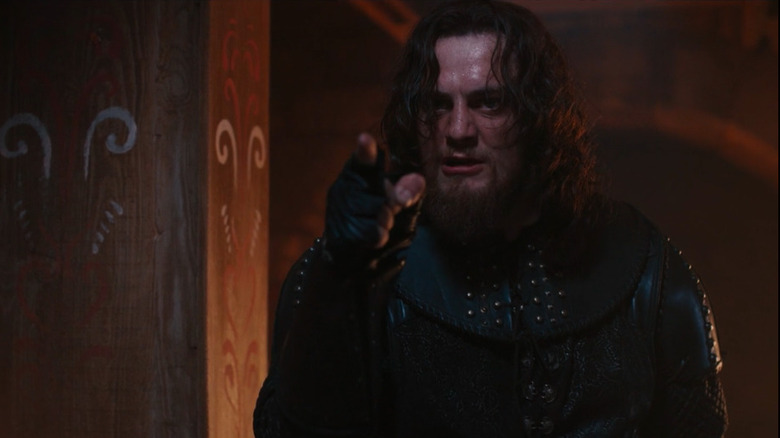 20th Century Studios
The Merc Leader's name is somewhat misleading, given that Kurr is the actual head of the mercenary group that Julius hires to help him take over the kingdom's royal castle. But between the two mercenaries who check on the princess and have a thrilling fight with her in the movie's opening moments, the Merc Leader is the more senior of the two as he bosses around his underling, credited as "Merc Brute." The Merc Leader is a confident fighter who thinks that he will be able to overpower the princess and force her to marry Julius, but things don't go his way.
Action fans have seen Antoni Davidov on screen a decent amount, but they probably don't know it, since Davidov has mostly worked as a stunt performer for most of his career. He's credited in action films like "Jolt" and "Hitman's Wife's Bodyguard," where he worked with fellow "The Princess" actor Kristofer Kamiyasu, and he's been seen on action-heavy TV shows like Netflix's "The Witcher" and the Channel 4 drama series "Chimerica." But "The Princess" isn't the first acting role that Davidov has had: Comedy fans may recognize his face from a brief appearance in the period comedy "Horrible Histories: The Movie – Rotten Romans."
Todor Kirilov - Heavy Merc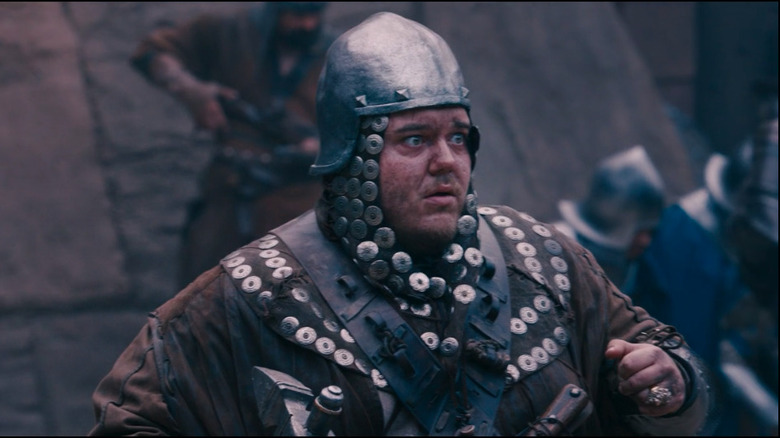 20th Century Studios
For a movie that wears its feminism on its sleeve, the Heavy Merc character is a disappointing reminder that movies still include unnecessary fatphobic jokes: He's not called "heavy" because of his armor or his weaponry, but rather because he is fat. Early in the movie, Kurr orders the Heavy Merc to go upstairs and check on the princess when Julius is informed that two of his men have been killed. The movie then cuts to the Heavy Merc a few times, always to make a joke at the character's expense about how he's winded by walking up the stairs.
Actor Todor Kirilov deserves better, even if this is one of his first roles. Kirilov, whose full name is Todor Kirilov Georgiew, only has one other credit, and it's from over a decade before "The Princess." It's a single episode of a German TV show titled "My Name Is" that seems to have been a pilot that didn't get picked up. Kirilov also doesn't have much of a social media presence, so it's hard to know what else the actor has in the works, but he's very charming, even with the disappointing material he has in "The Princess."